ARC Major Projects 2023
All graduating ARC 2023 students participated in the exhibition A Perambulation at the LAB Gallery in January 2023. The exhibition also included work by Natalia Panis Kaseker, who contributed to the programme with the support of ERASMUS. Documentation of  A Perambulation can be viewed here.
Further information on each project:
Oswaldo Alvarez
And there she was, lying on her knees on a plot of land, surrounded by pines and hills, the wrinkles in her hands reflecting the course of time, the gentle wind with a scent of wet soil soaking her rough skin, entering into her porous limbs…she started to dissolve.
Oswaldo is based in Dublin but originally from Guadalajara, México, with a background in architecture. Their growing interest in folklore, popular culture and art made them broaden their path to include exploration of music and local culture, revisiting childhood memories from Michoacán, México.
Their project focuses on p'urhépecha or p'urhé/p'uré, which means people or person. This is a dying indigenous language from México that was radically altered by colonization and the imposition of Christianity, causing the loss of words and grammar. The p'urhépecha language changed rapidly to include many new forms, and it continues to change.
The architectural and linguistic remains of a civilization, including construction techniques and systems, are central to the understanding of ongoing family connections and heritage.
The barn, originally called Troje (or Trójarhu), was once an important and strong icon in the p'urhépecha culture.  As their culture and language changed radically, people started to create stories where they related anthropomorphically to the barn, perceiving and describing the building as a person with a body and limbs. This project examines conceptual and linguistic connections between the structure of the barn and the human body, focusing on gaps and missing parts.
Shannon Carroll
Shannon Carroll is recipient of the 2021 ARC LAB Curatorial Scholarship. This opportunity involves working with The LAB Gallery Curator, Sheena Barrett, on gallery programming and curatorial strategies in addition to her self-directed MA research. She is currently developing a curatorial project, Molecular Revolutions, to be presented at The LAB Gallery in March 2023.
As part of her scholarship role, Shannon worked as coordinator of the video interview series, Speaking of Which, Series II – The Ecological Edition, a project produced in collaboration between the LAB Gallery and The Dock Arts Centre. This is the second series in a set of interviews where artists explain what inspires them and how they make their art. In light of global climate changes and the current ecological crisis, twelve artists were chosen based on ecological concerns within their practices. Shannon composed questions for the artists that explore their reasons for making art, the methods they use and most importantly, what it means to them to be an artist during this time of crisis.
These artists draw inspiration from many sources; the books they read as children, the places they grew up, the environments that they have visited, conversations they have had and their experiences studying art in school. The artists are Bassam Al-Sabah and Jennifer Mehigan, Mark Clare, Claire Donohoe, Cathy Fitzgerald, Laura Fitzgerald, Vanya Lambrecht Ward, Catherine McDonald, Maria McKinney, Rosie O'Reilly and The Project Twins – James and Michael Fitzgerald.
Michael Croghan
Michael Croghan is a visual artist who works primarily with photography. Throughout his work there is a focus on place and in-between spaces. For over ten years, he has been developing a long-term project where he documents his own locality in the midlands of Ireland in county Longford. He investigates continual change in this locality, with a formalist style adaptive to the everyday vernacular, building up an extensive archive. He also collaborates with local communities to explore social tropes and hidden histories, reconfiguring the familiar to draw attention to the poetry of the common place. More recently, Michael has focused on aspects of County Longford's Development Plan, 2021-2021, such as the 'rural settlement cluster zones'. His project, Rural Area, examines various ways in which the experience of space is structured and organised. He is particularly interested in the hierarchy of statutory bodies involved in the planning process and in the potential disconnection between this hierarchy and the everyday lived experience of people in county Longford. In Rural Area, he draws on his local knowledge and his extensive photographic archive to investigate these zones through a conceptual installation. Michael's work has been selected for various exhibitions, including the upcoming Rotterdam Photo Festival 2023.
Mel Galley
Mel constructs unreal places, each growing from an early (and on-going) love of science-fiction and anti-/utopian literature. Sci-fi as a genre openly encourages curiosity, often asking existential or philosophical questions of the audience. Mel uses Janet Donohoe's notion of 'palimpsest places' as a tool; these layered landscapes are built from artistic and contextual research, with ideas and processes forming on top of each other asking the viewer to question how it is made and what it depicts. Is the landscape real? Is it photography? Have they ever been there or is it somewhere they could go? When did it exist? In the past, present, future? All at once? Throughout her practice Mel approaches research as an artistic process; it could as much be walking, conversations, poetry and site-visits as secondary sources such as essays, films and books. This process allows Mel to reorder research into visual landscapes and translate ideas through mediums, from contemporary technologies of CAD and CGI to laser etching and printmaking. Frequently her works are shown as multiples, such as pamphlets or handouts, which the audience can take out of the arts space with them and into the landscapes that they consider.
Natalia Panis Kaseker
A short passage. A small fragment of one's life. A few seconds on their way to meet someone. Strangers crossing the same path on a daily basis. All these non-written minimal narratives, ordinary aspects of the quotidian, it all becomes a patchwork representation of a public space. Constantly being made, being fabricated. Looking at Dublin's Portobello Square through her window, Natalia became a narrator, weaving illustrations, photographs and writing to understand how people perceive and experience space. Everyday life is not a mere reproduction of objective rules from spatial conditions, but is filled with subjectivity and controversies. Using storytelling strategies, the works in this exhibition are composed of illustrations, photographs and both two-dimensional and three-dimensional threads to follow, where minimal narratives fill gaps between the geography of space and imagination.
Diana Popa
Diana Popa is an emerging artist and researcher. Born and raised in Romania until the age of sixteen, she experienced the conservatism of mainstream Romanian society and the oppression of certain forms of art practice. She is especially interested in contemporary art during the height of the communist era in Romania (the 1970s and early 1980s). She works mainly with video, but her work also includes sculptural elements. Her project is a response to the popular satirical magazine, Urzica (or 'nettle', published monthly and bimonthly from 1949 to 1989), which explored everyday life in communist Romania, through cartoons, poetry and short stories. Diana performs in scripted videos developed from various research sources, including interviews with family members. These videos explore conflicting and contradictory experiences of life in communist Romania. Another work, Glory to the working class, presents edited footage taken primarily from television, including propagandistic images. The background music is a famous Romanian communist song from the era.
ARC Major Projects 2022
All graduating ARC 2022 students participated in the exhibition wax rhapsodic curated by Astrid Newman at the LAB Gallery in January 2022. The exhibition also included work by Diaa Lagan, Artist Protection Fund Fellow. Documentation of wax rhapsodic can be viewed here
Further information on each project:
Dermot Blighe is a multidisciplinary artist working with sculpture, film and sound. His experience of working on large scale film productions strongly influences his art practice, which is concerned with models of reality and fiction, and the tension between surface appearances and function. His work draws from research in historiography, science fiction literature, philosophy, visual culture and music.  He is interested in the aging materiality of modernist architecture. The objects he creates are a hybrid reconfiguration of the antique, the functional and the imagined, combining the familiar and alien. His work is a response to the lived experience of urban spaces and infrastructures, built from inorganic matter but coexisting with organic entities to form a new wildlife, places that are open and yet confining. The Intruders is an acoustic sculpture incorporating an arrangement of found objects. It is a noise-creating form that harnesses the energy of multiple things, giving them a kind of life. The Intruders is an element of Blighe's ongoing project The Keep, which responds to a shift in reality, effected by the rise of new technologies and neoliberal economics.
Anthony Cleary's work Pulled into existence (through tension) explores the connections and interfaces between familiar forms and materials. His work often responds to urban environments of structure and assembly, drawing from the architectural, the constructed, the precise, and the engineered. The materials he uses are diverse, ranging from ash and plywood to stainless steel and Eco-concrete. His sculptural works also sometimes incorporate functional objects, which are reimagined, revalued, and repurposed to form new associations. Many of his works specifically reference industrial and urban infrastructure, or yacht and aircraft construction. He is also fascinated by tramlines, street signage and road markings, both official and unofficial. At its core, Anthony's work explores tension, balance, asymmetry and contrast as catalysts for insight and understanding. He manipulates structure and spatial form to control movement, balance, and energy, to create works that are kinetic and dynamic, sprung and poised, pulled into existence by tension.
Frances Hennigan's work leads the viewer into the gaming world. Her video guides you through a desolate and bleak landscape on the quest of the player. Your favourite streamer plays for your entertainment. She seems to sparkle, perfect in pink. She addresses you, and only you, in her sweet, soft voice, through the camera. She shares with you her intimate thoughts about this world. Where does she end and the character begin? How does her tender, honest, alluring tone make you feel? Could you share your honest opinions here, in this space? What do others dislike about you? Have you ever been ignored? How long can you tolerate being alone? Are you different when you're on your own? Could you love her? Where can you go when there is no space where you can belong? How do your needs for human connection get met when you're somewhere you don't feel you belong? Do you change your environment or adapt yourself to belong?
Oona Hyland's work Active Forgetting highlights an institutional massacre which took place in Irish Mother and Baby Homes and Magdalene Laundries, between 1922 and 1998. This work is an exploration of insidious trauma from both a personal and political viewpoint. Active Forgetting is concerned with the power of trauma, which can be intergenerationally transferred. It does not fade and can haunt the children of survivors. The unspoken grief of minority subjects is another concern. Erasure is an important theme in this project and integral to the material process of production. Active Forgetting consists of experimental works, realised primarily through print, but also through film and alternative photography processes such as Cyanotype. Hyland's film Touching Time is made in collaboration with Anna Viola Hallberg. Like Hyland, Hallberg is concerned with ideas of 'otherness', marginalisation and the scapegoat, and the legacy of betrayal involving both people and institutions of the state (as Hannah Arendt would say the 'banality of evil'). Active Forgetting explores these ideas, not to illustrate them but to embody them through the process of making.
Diaa Lagan is a multidisciplinary artist originally from Aleppo, Syria. Through sculptural installations and intimate paintings, he explores the complexities and contradictions he has experienced as a Middle Eastern immigrant to the Western world. He views his work as an exploration of the fragile and fluid relationships that connect heritage and spoken folklore, and how these relationships are shaped and reshaped by contemporary social and political forces. His paintings and sculptures often directly reference Islamic art and architecture, using light and shadow to explore geometric and organic forms. In particular, he investigates the role of these forms within traditions of decorative writing that are specific to Arabic calligraphy. Many of his works investigate how a sense of belonging can be achieved while being a stranger, and how the self is continually formed and articulated while in a state of temporary permanence. Diaa's practice serves as a meditation on identity and rebirth, amid the perplexity of transnationalism.
Elida Maiques is a Wicklow-based artist with roots in Guatemala and Spain. Her long-term project I Am a Forest upholds an ethic of interdependence across generations, cultures and species. Since 2017 this project has involved seed-gathering, tree propagation and wildlife and art workshops with her local school and other communities. In 2021 I Am a Forest focused prominently on birdsong, music anthropology and archaeology. In this exhibition, Maiques presents a musical notation system of her own, based on the spectrogram of Wicklow birdsong. This notation is used to create a wall drawing of blackbird music, paired with an audio piece. The audio refers to a forest performance organised by Maiques, in which a non-hierarchical orchestra of professional musicians and others played birdsong music. The instruments used included bones, claves, and tlapitzali (Mayan ceramic flutes), some of which are presented in the exhibition. Forest birds responded to this humanbird orchestra and it became a trans-species performance. This event was recorded and edited into a short film, which will be released later in 2022.
Gillian O'Shea's practice explores themes of transformation, escapism and climate change. Her multidisciplinary immersive installations feature soft organic paper and fabric sculptures. Lighting and audio are arranged to slowly uncover an alternative wonderland where things are not what they seem. Pulse is an immersive video work featuring a number of real and imagined curious characters in the form of miniature moving carnivorous plants and greenhouse militants. The intention of the work is to highlight the impact of destruction using the theme of a battle to explore the tensions between human power dynamics and the natural world. The work uses the metaphor of domestic greenhouses seeking to control wild plants, giving a material form to the collision between human and natural worlds.
Lucy Peters has a background in the fashion industry and, like many people, she has become increasingly concerned with the vast volumes of mass-produced clothes that are consumed and casually thrown away. Her exploration of over consumption has encompassed research into the practices of fashion retailers, including those that are closing down, and also the strategies that have been develop by charities to manage huge warehouses full of discarded, and often worthless, fast fashion clothing. Making It Laaaast is a series of soft sculptures informed by research into production and consumption practices, and the physical architecture of fashion retail display. Her sculptures are made by methodically dismantling discarded items of clothing into material components, which are then slowly woven and knotted into large textured forms. Each piece can take up to five months to complete, and each work is composed of material that has been recycled, donated or discarded.
John Roch Simons works primarily with portraiture. In Intention, Place and Legacy, he responds to a gap in history, exploring an almost forgotten good ancestor through archival and immersive field research, documentation, and interviews. Kathleen Goodfellow (1891-1980) was a philanthropic patron of the arts. Little is known of her legacy. She secured a valuable archive by secretly financing The Dublin Magazine (1926-1958), a significant artist forum, and gifted a bird sanctuary, The Grove in Donnybrook, to An Taisce. She was generous with her affluence, modest and private about her philanthropy, and avoided attention. Beyond Estella Solomon's portraits of Kathleen Goodfellow (held in the collections of the National Gallery of Ireland and The Model Sligo), no photograph of her exists in the public realm. Her own photographic collection was destroyed after her death, possibly at her request. This project is conceived as a portrait of Goodfellow's legacy. Beyond her name on the pillar of The Grove, her legacy is an overlooked secret. This project draws from histories of art, culture and literature to explore personal relationships with place, and emphasise the deep connections between public, private and non-human worlds.
Cathy Scullion is a visual artist and curator based in Belfast.  Taking a multidisciplinary conceptual approach to her work, Cathy explores ways in which material and process can be used to examine internal and external factors that determine the relationships we have with others.  Time, process, and tactility are important in the creation and display of her work. Recently Cathy has been exploring ideas of embodiment theory through practices like weaving and stitching. As I Cannot Write takes its title from an embroidery sampler made in the 1800s, but it deals with experiences that remain current, by exploring situations when people have felt silenced or unable to speak.  In this project Cathy uses gesture, movement, and 'ritualised' physical actions to question who has agency of voice, employing 'the needle as the pen' to create a form of coded communication through her Stitched Stories.
Izabela Szczutkowska's practice has always revolved around the ontological question of photography as well as auto-biographical elements such as concept of home and identity. Her research is primarily led by a continuous inquiry rather than a search for the answers. Siar, meaning west in Irish, concerns the idea of choice.  Not the consequence of choice, but the very moment of making it, a continuous culmination of an uncertain agency. Through the process-led exploration of two main motifs present in this project – a human body and a stone – Izabela examines intersections between what may be thought of as the internal and the external, dependent and independent. Izabela has developed an intuitive methodology where she tears out parts of photographic prints. The texture of the torn paper indicates scarring, a suggestion of what it has been. The works are displayed as spatial arrangements of prints in different sizes, in a configuration determined by lines and texture.
ARC Major Projects 2021
ARC 2021 students participated in an online group show, cohost, curated by Astrid Newman at the LAB Gallery in January 2021.
The cohost publication, curated by Astrid Newman,  designed by Padraig Cunningham at Pure Designs Studio, and published by arc public press, will be launched later this year.
We have a limited number of copies ready to post out, so if you'd like one please get in touch with maeve.connolly@iadt.ie
Karen Browett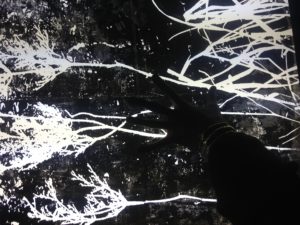 My work begins with studies of a place, it's influences and impositions. From these I create new dimensions of my own, rooted somewhere between dream and reality. Within this I invite people to claim their own path. By working in multiple media from print and image, wavering shadows and sound, I try to weave together a multi sensory space that disregards the boundaries of what came before. I wish to allow participants to own their own experience through my use of interactive touch pads, motion and proximity sensors. My research into this current body of work stems from my experiments with conductive screen printing inks. This allowed me to add musical elements to my art works. My practice has always been split between print maker and musician, and though thematically similar they had not formally met. When I first touched my prints with my bare hands and heard my sounds appearing from it, it was enough to send me on this obsessive mad scientist quest of trying to find out what it could do next. I am interested in the potential to adjust the means and scope in which art work can invite engagement.
Jamie Cross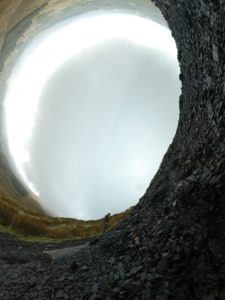 I am interested in how a certain type of space is wholly dependent on how such space is perceived (or is capable of being perceived). Technological devices such as laptops, endoscopic and 360° cameras are my preferred medium for realising and showcasing my work. My main research tool is my Android mobile phone which I use for variety of techniques including photography, recording footage, capturing sounds and GPS tracking.
My new project will involve the manipulation of an online software known commonly as Cupix. This software was designed for estate agents and enables properties to be showcased via 3D models/tours of the space.  I intend to use this software to explore hidden spaces that are not obvious to the human eye.  Through use of the software, I will be able to capture  3D imagery of inaccessible or inhabitable spaces by way of 360° photos.  I am also interested in creating a digital-type exhibition (which could either be combined with a physical exhibition or operated separately) which would involve uploading tours (which I have created) of inside spaces to Google Maps.
Cian Downes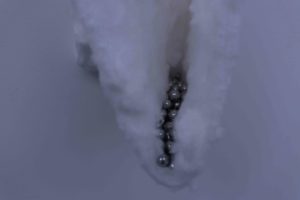 In this project I will explore solid and loose material sculptures. Sculptures I made in the past have consisted of formal elements which operate as frames(unintentionally) I will eliminate the frame within individual works, so they cooperate to create large assemblages in exhibitions. The unframed elements will be of three types solid, loose and between. Using these three elements I am trying to get a materiality that really expresses its being something without consciousness.
Previous sculptures have been a water absorbing material degrading metal. Steel rusts in different ways depending on the volume of salt. Salt passively but slowly draws water. Research lead me to use calcium chloride because of its similar properties on a faster timescale.
I put material into specific assemblages which develop into sculptures. The assemblage is a dynamic changing situation in which the material operates separate from my own agency. I add and tweak elements to make it clear to myself and then reach out to others for critique. Critique allows me to see what the work is communicating and material relationships developing.
I am aware that I am not material that is not me, but I am material, and material does go through me and becomes me. I am implicated in material assemblages and material cycles and so I take part in the sculptures.
I want to understand materials from their own point of view.
Nic Flanagan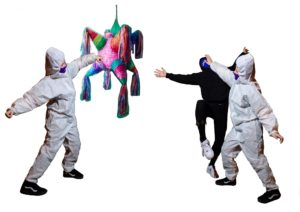 My current works exist under the title Heritage Terror, utilizing elements of tradition to create a mischievous nod to the unknown and as yet unenvisaged. This is an artistic reclamation; of power and process. Conceptually considered both historically, in terms of traditional 'women's work' (such as knitting, sewing and textiles), and physically, in relation to power and control, in particular those of space, privilege and movement.
A performative body is created. One which forms an alternative reality and both individual and social bodies from which to observe, engage with and rescript banal ritual and experience. Space and movement are considered through scripted scenarios. Participants are encouraged to navigate spaces through touch, movement and shared interaction.
The character of the collective body is used to navigate societal attitudes, received ideas and the role of the individual in an age of increasingly secular individualism. Foundational to this process are notions of cultural coding. Those of dress and gendered roles, inform the presentation of the body; dramatizing the mundane rituals of life, daily 'dress up', and creating a pantomime nod to the many 'roles' played by the modern worker and creative.
These concepts lie as subtext under the familiar façade of known experience, that of children's games. Such guerilla tactics are used in order to smuggle what could be conceived as socially challenging concepts into the work in an unintimidating form.  These works will be presented in the form of immersive performance, installation, design and printed works ranging from catalogues to manuals and guidelines for later creation.
Fiona Harrington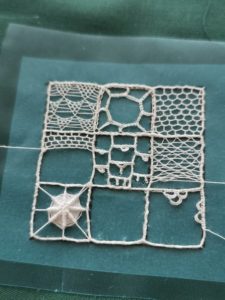 I make lace by hand. This practice has been woven into the history of Ireland for generations. It was made by the poor and worn by the wealthy and elite. Stories are told of women who worked long hours in poor conditions. They were paid for their labour with tea and shoes, such was their desperation. There are also stories of women who bought farms and educated their children using money they earned from lacemaking.
Lacemakers were once described as "young females with nimble fingers who were easily controlled". Following the famine however, lace earnings provided young single women independence and agency, as Ireland became one of the few countries from which unmarried women could emigrate.
The story of Irish Lace is complex and full of contradiction. My research and studio work will focus on the economic and social value of the Irish Lace industry by exploring the opposing qualities of lace. Lace is both fragile and delicate. However, its original and intended purpose was a hardwearing and functional fabric, used to make bedspreads, tablecloths and clothing. Decorative motifs and filling stitches make up the solid areas of the design, yet equal importance is placed on the void or the open spaces. Lace is characterised by its transparency, but it also provides concealment and cover.
Through this work I want to acknowledge and respond to the achievements of the women who came before me. They developed a world class textile industry which at one point was the 2nd largest industry in Ireland. Today, only pockets of women remain scattered around the country that are proficient in these techniques. As a visual artist working in Lace, one of my key concerns is to acquire their knowledge so that I can preserve and innovate this tradition for generations to come
Theo Hanosset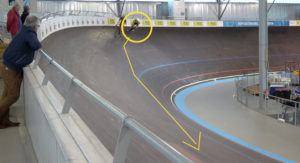 Are high-level athletes the greatest philosophers ?  To answer this question, this project forces a dialogue between the mind-body dualism of ancient philosophy and the optimal experience known as Flow experienced by athletes. It is a state of enchantment so deep and intense that (according to Mihaly Csikszentmihaly in 1975) 'it becomes a model of what our life should be. […] These great moments occur when the body or mind is used to its limits in a voluntary effort to achieve something difficult and important.' Western thought has long been built on a Platonic opposition between body and mind. The body as a prison of the soul is said to be a hindrance to the quest for Good and happiness. At the opposite end of that view is the Flow state, since there is no better time when the body is fused with the soul, when they are one. People who have experienced it tell of a moment of such great mastery and concentration that everything else is gone, fatigue is absent, all difficulties disappear. They stand next to their body, which is nothing but gesture and performance.
The aim of this project is to decompose the Flow, this psychological state which is impossible to reach on command and which is not visible from the outside. To achieve this, the project is divided into two parts, inspired by the optimal experience of cyclists on the track. The first part will be a sound piece that stimulates the spectator to imagine a mental representation of the Flow. The second will be an interactive structure that involves a physical effort by the spectator to complete his or her own representation. The focus is on the attacks launched from the top of the track's curves.  When they decide to dive, they surrender totally to speed and effort. The athlete's tactical choice is merged with the spectator's choice to become physically involved in the work.
Anne James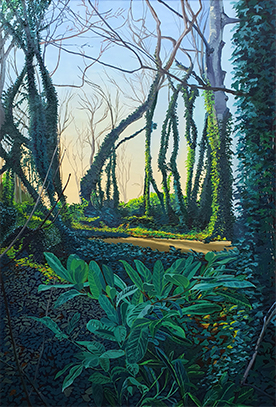 My paintings are the result of lengthy, close observation. I am interested in capturing fleeting moments of experience; for example, a weather condition or time of day in which the light casts unusual colours. Each painting is a repository of time: the time I spend observing the subject, the time I spend painting, and the time that the viewer spends with the painting.
My process draws on field studies in environmental psychology. I spend time in the setting, opening my awareness to the multisensory stimuli that are present. Willing information to flood in via all the senses, I arrive at a heightened state of awareness, what I'd call a "sensory high." It is in this state that I begin working. The resulting work invites the viewer to share in my experience of landscape, mediated through what I have recorded on the canvas.
Marie Lee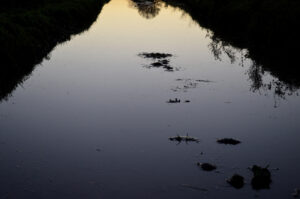 There are losses whose impact persists, which have become unknown to us.
An emerging field of research is finding that trauma is passed from one generation to the next. My project examines the period surrounding the Window Tax of 1799-1822 in the context of historical loss or intergenerational trauma.
The tax placed a heavy burden on many people some of whom were on the brink of starvation. Houses with five or more windows were liable for the tax, which led to windows being blocked up before it came into effect.  It had the greatest impact on the urban poor as the lack of light and air in homes caused the rapid spread of disease. The cabin dwelling rural poor were already living in darkness before the introduction of the tax, and would have been exempt from it, having few or no windows. The study of light is central to my practice which drew my focus to the Window Tax.  I use video, light installation and photography to explore cultural history and to uncover what has been hidden and lost.
Many people endured chronic hunger, oppression and humiliation, over a period of 400 years. This was forgotten to create a distance from the pain of suffering and the shame associated with terrible poverty.  Sociologists have argued that historical loss manifests in the current population as low-self-esteem, survivor shame, loss of identity, inferiority, addiction and so on.  My video work, Solas Fear Le Tor (The Extreme of Day Immediately Approaching Absolute Night), forms part of a larger body of research and draws upon archival records of the time.
Barry McHugh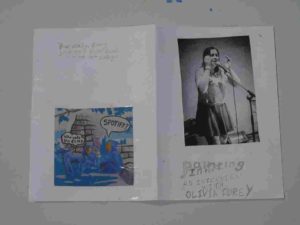 I'm interested in communicating the artist's intention. This can be a number of things – to tell a story, to convey an emotion, teach the viewer on certain subjects – and in turn, there is a wide range of ways to communicate this intention, even outside what we strictly define as the artwork itself.
Painting in Text is a blog where I interview both local and international artists on their practices. It is a way to promote artists on their terms. The interviews are formed from recorded conversations with the artists. The interviews are constructed in such a way that they explore what is important to the artists in their practice in a conversational manner.
They are primarily presented as online text blogs, but I am currently looking at different avenues of presenting the work and the possibility of supplementary physical material that could go alongside the interviews.
Cliodhna Ní Anluain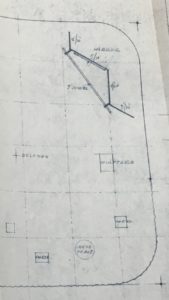 My project is titled Visual arts on RTÉ television: the Early Decades (1962-82). Writer John McGahern referred to the Catholic Church, the Stations of the Cross, the stained-glass windows as well as related ceremonies and rituals in his local church when a boy as in a sense his first art gallery experience. They were the images in his life. In a similar way, a couple of decades later, I realise that a critical early exposure to art occurred to me as I absorbed the changing images chosen to accompany the daily bong, bonging of the bells, during the evening broadcast of the Angelus through my childhood, as I sat in front of the television, putting down time between homework and dinner. We only had RTÉ in our house.
I have been exploring the archives of RTÉ television coverage relating to the visual arts in its first two decades. What featured and how was it presented? I have been drawn to question what it reflects of the actual art and art activity of Ireland during those times. As my research develops, I have become intrigued by the absence of programme tapes in the archives as many were commonly wiped of their content once programmes were broadcast. A paper archive relating to such arts television production does exist. Much of it is clearly boxed and catalogued in RTÉ. I also have access to a number of people who worked on the programmes. I also am in touch with some of artists who featured. There is something alluring about not having the actual tapes to view now. I see it in some way as representative of the stage directions of a play without the evidence or experience of its production. Consequently there is all the opportunity for re-imagining and re-aligning the narrative and head on experience of what visual arts audiences saw on their television screens.
The outcome of my research project is likely to evolve, but my present aim is to present an experience for public engagement to include complete and edited screenings, and contemporary contextualization of the public experience of seeing the visual arts at home on television, off site from where the art is made and typically presented. My research project is grounded in the intention of shaping a template for ways in which an Arts Archive of the early decades of RTÉ might be re-imagined forward to connect with contemporary public audiences.
Roisín Power Hackett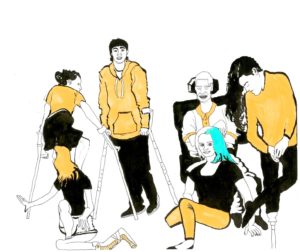 I am a visual artist, writer and curator. In November 2018, I curated 'Towards a Consideration of All Bodies', an interdisciplinary performance event at the LAB Gallery featuring artists from different backgrounds including Mairéad Folan (theatre), Philip Kenny (poetry) and Hugh O'Donnell (live art). All the artists and I myself have disabilities.
I am developing 'Towards A Consideration of All Bodies' into a fully accessible exhibition and programme of events that will empower, support, facilitate and educate the disabled and nondisabled population. This development of 'Towards a Consideration of All Bodies' will include performances that show what it is like to live with a disability. The works will particularly focus on the reactions disabled people get from the nondisabled other, how we are treated by society, and how we internalise and process these attitudes. I want to empower and support those with disabilities and facilitate a point of contact for the further development of the disability community. I want to educate the nondisabled public about the disability experience.
https://roisinphackett.wordpress.com/
Very Ryklova
Through the medium of my own body I explore both the social construction of the self and the self-concept. Drawing on the emotional conflict between existent reality and the desired one, I confront the public eye with intimate aspects of a woman's life. I use my own – subjective – experience in engaging existing society to mirror its norms as they define a single life. I subconsciously layer elements of my past and present, which together builds a subject for the viewer to explore.
Performing for the camera I produce video and photographic self-portraits. My work is conceptual, but equally guided by my instinctive actions in the moment of its execution. The process of exploring my ideas and the way of making the work are largely based on experimenting. The aesthetics of its results shares considerable importance, but it is not what I premeditate. The key concept of my practice is confrontation. Therefore the creative approach I have developed gives the camera the function of a distancing device that I utilise for me to experience a state of catharsis. The link between the artistic execution – where the making serves as a coping mechanism – and the liberating emotional discharge is also the interest of my research.
For this programme I will re-engage with my ongoing projects I have developed over the past four years. As I have embarked on transitioning my practice from predominantly photographic into lens-based media, I aim to concentrate on producing series of videos with the equal importance as I have done with series of photographs.
Lucy Tevlin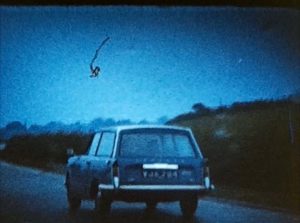 I predominantly make projected image installations. My research is concerned with how we might place trust or meaning on certain types of technology or language. I am primarily focused on the precarious nature of analogue photographic technologies. These concerns are projected and reinforced through an image and text relationship that often integrates theory into the content of my work. I see the relationship between form and content as being an integral component of my practice. I am currently producing a body of work, titled Conjecture, that examines the materiality and history of image-making technologies, a process that integrates mediums such as 8mm found footage with contemporary digital media.
ARC Major Projects 2020
All ARC 2020 students participated in a group show, Unassembled, curated by Julia Moustacchi at the LAB Gallery in January 2020. Documentation of the exhibition is available here
Read Audrey Walshe's report on Unassembled, published in the Visual Artists' New Sheet 100 (March 2020) here
Further information on each project:
Brenda Brady makes small-scale works on paper that explore and exploit the affective potential of colour and texture. Her process often begins with a response to organic forms and handmade objects encountered in her own domestic environment, such as plants, ceramics or other semi-functional things. She has developed an intuitive methodology that sometimes begins with observation but while figurative references are important in her process, they are usually obscured in the finished work, which is structured around a dynamic of 'hide and reveal' that balances the obscured with the visible. Each piece is constructed through multiple stages of assemblage, layering and folding, with one painted surface frequently laid over another. The works are typically displayed as spatial arrangements, in configurations determined by colour.
Anishta Chooramun's work is informed by the diverse components that create contemporary society. She sees society as a jigsaw puzzle, which functions through co-existence and co-dependency. Anishta is curious about how humans affect each other, and how they conceptualise identity. She avoids overt representation of the human figure, and instead works with a combination of geometric and organic forms. Right angles imply order, mathematics and rationality, but they are combined with colour, curves and surface textures that signal action and movement. Anishta has recently begun to explore dance as a language, focusing on a classical Indian dance form called Kathak, originally performed by travellers. The Kathakars communicate stories through rhythmic foot movements, hand gestures, facial expressions and eye work, functioning as a kind of sign language. Anishta's sculptures incorporate references to these gestures and movements, and her research process is informed by collaboration with a Kathak dancer.
Heather Cody is a Wexford-based photographer. Her work is a documentary response to the housing crisis in Ireland, with a specific focus on the experiences of homeless people based in her local area. She developed her project during 2019 through conversations and interactions with people living in tents under Wexford Bridge and in other isolated places. Through a combination of audio, text and photographic portraits, produced with permission, she documents a range of living situations. Some homeless people in Wexford live in tents, while others sleep in cars, shop doorways or the men's hostel. Heather draws attention to personal histories and individual lived experiences of homelessness, and the lack of services for specific groups of vulnerable people, such as homeless women and children.
Penelope Collins explores an overlooked history of dance in Ireland through the archives of a Dublin Ballet school and company. Her research began with the discovery of a collection of letters in a hatbox belonging to her mother Patricia Ryan, a ballet teacher and choreographer. She set out to uncover the history of the school, through interviews and conversations, gaining a greater understanding of her mother's artistic life and personality in the process. The archive currently includes rare film of rehearsals and performances, theatre programs, photographs and her mother's teaching notes, written in French, as well as materials related to the first performance by Russian ballet dancers in Ireland. It also features letters exchanged with prominent writers, dancers, teachers, composers and conductors, including Samuel Beckett, Ninette de Valois, Nadine Nicolaeva-Legat and Micheál Mac Liammóir, among many others.
Collette Farnon's work interrogates outmoded ideals of womanhood, focusing on an extreme femininity that is both narrow and repressive.  Working with a range of media, from video and drawing to sculptural installation, she explores the persistence of indecisiveness, sexual subservience and passivity as stereotyped attributes of the feminine.  She frequently combines theatrical modes of staging with exploration of everyday actions and objects, using humour and the absurd to comment on conventional standards, measures and norms of femininity, particularly with regard to beauty and skill. Her videos and installations are motivated by a critique of conventional ideals and attributes of masculinity, such as decisiveness, anger, the assertion of sexual independence, and displays of physical strength.
Lisa Freeman works across scripted performance, video and sculptural installation, borrowing elements from self-help books, archival material and mainstream media. In her installation Brows For Days at the LAB gallery, Freeman engages with the formal properties of both architecture and language, drawing columns, windows, graphics and punctuation into proximity.  Operating on the periphery of attention, her work utilises familiar symbols, including letter forms, to show how aspects of advertising language can seep into everyday experience in public and private encounters. Muted tones and transparent materials are arranged in an assembly of chaos and control, making connections between inflated things; bills, lungs, bellies, airbags, egos.
Marie-Louise Halpenny takes photographs of places where traumatic events have occurred. Her work, Under Reservation, is informed by analysis of the language commonly used in journalistic accounts of street crime and violence. She extracts textual elements from these accounts, but in her photographs she carefully resists the straightforward depiction of violence, and its consequences. When constructing her own images, she employs a deliberately detached perspective. She frequently makes subtle alterations to the photographs during the post-production process and, in some instances, combines multiple images to produce a single large-scale photograph. By introducing an element of unreliability into these images, she distances them from photojournalism, seeking to create a space for reflection.
Marie Phelan's work explores belief systems, ritual and their connection to place. She considers how beliefs can change over time, and sees this as important in understanding the present moment. She uses video, audio, sculpture and drawing to create an often imaginary world and communicate her research. Shapeshifter examines the traces of beliefs that persist within our landscape, focusing on their transformational qualities and subsequent ways of being. It is informed by cultural histories and archaeological research linked to the Oweynagat cave in Co. Roscommon. Sound has the ability to haunt a physical space and Shapeshifter uses audio and the acoustic properties of a specific place to establish a direct connection with an earlier era. Field recordings and observations of crows at dusk permeate the work through sound and material forms, including a beak-headed figure that stalks the landscape.
Dylan Ryan has been documenting the Cherrywood development in South County Dublin for the past three years, photographing 'the other side of the hoarding' on a regular basis. His process is about getting in close, reading the maps, reading the signs, and avoiding security. Mapping the construction of Cherrywood frame by frame, watching the landscape transform, he observes and records as the pieces of this new habitat are put together. He was drawn to the Cherrywood development because of its massive physical scale and budget (approximating two billion euro) and the rumours of corruption that have circulated around planning permission. His project is a 'post-re-vision' of the corporate vision for Cherrywood,  referencing the temporary advertising architecture that is now commonplace on building sites, depicting utopian idylls and making promises with texts and images.
Audrey Walshe's practice has always revolved around flowers and she draws inspiration from seasonal patterns and cycles of growth.  Sometimes working collaboratively, and often incorporating foraged flowers, she uses botanical materials to invoke memories of a specific time and place.  Even though flowers are immediately perishable, they are intrinsic to her process and she is especially interested in tensions generated by working with a deteriorating material, and in processes of collaborative production that are temporary.  Working with themes of decay and temporality, her sculptural installations use floral and plant material to manifest a state of impermanence, which she sees as ultimately hopeful.  Audrey also investigates the commodity culture that surrounds flowers, focusing specifically on what is hidden from consumers in the global flower industry.  At present she is expanding her own cutting garden for the new season and growing many of the materials needed to realise her upcoming projects.
ARC Student Projects 2019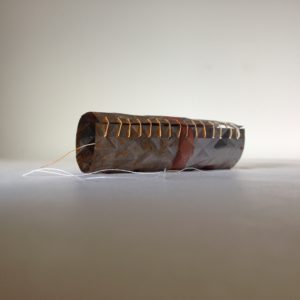 Foreign Body
Judy Foley
Exhibition Friday 15 March – Thursday 28 March 2019
Venue: O'Reilly Institute, Trinity College Dublin, open 9am to 5pm, Monday to Friday
Consider the medical implant, a device developed to reside within the human body for the purpose of extending and enhancing life. Now consider that this sophisticated and often tiny piece of technology might actually be crafted by hand in a highly skilled and laborious process. Such is the case with the prosthetic heart valve which is painstakingly hand stitched in a process taking two to three days to complete a single valve. The very technology used to fundamentally alter and transcend the human condition relies on the ancient craft of hand sewing for its manufacture.
Foreign Body is an exhibition by artist Judy Foley that explores the high-tech medical implant as a handcrafted object. The exhibition will be opened by Anne Mullee, curator of The Courthouse Gallery and Studios, Ennistymon, Co. Clare, and will include a guest talk by Bruce Murphy, Assoc. Prof in Biomechanical Engineering, Trinity College Dublin. A handout will accompany the exhibition, designed by writer and artist Eoghan McIntyre and featuring a conversation between Anne Mullee and Judy Foley.
This exhibition has been informed and enabled through interdisciplinary collaboration within the team of Bruce Murphy, Assoc. Prof in Biomechanical Engineering, and funded investigator at AMBER, the Science Foundation Ireland Research Centre for Advanced Materials and BioEngineering, at Trinity College Dublin, where Judy is currently an artist-in-residence. The exhibition is part funded by the Trinity College Dublin Fund for the Visual and Performing Arts.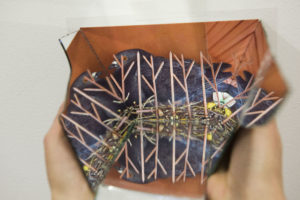 Paradise Is Too Far
Martina Coyle
Exhibition Saturday 30 March – 1 May 2019
Venue: Arais Inis Gluaire, Belmullet, County Mayo.
Paradise Is Too Far is a solo exhibition of current work by Martina Coyle, which explores the control of wildlife and the universal instinct to seek shelter. The initial impetus to research and develop this work came from seeing a photo on the internet of a tree covered with anti-bird spikes. These devices are widespread in urban landscapes and are often deemed acceptable when placed on buildings. However, an anti-bird spike on a tree is a different matter. This work questions the human desire to control how birds access spaces to nest or rest.
Martina Coyle is a Westmeath-based multi-disciplinary artist whose practice is made up of three inter-related strands; studio-based artwork/ installation, public artwork and art facilitation. Martina has exhibited extensively in Ireland and France. Her many commissioned public artworks, which range from permanent to ephemeral, includes collaborative and residential public projects in various locations around Ireland.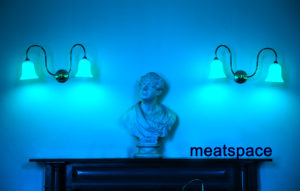 meatspace
Becks Butler, Astrid Newman, Ciara Roche
Exhibition for one night only: Thursday 4 April 2019,
Royal Irish Academy, Dawson St., Dublin
meatspace is an exhibition that ends almost immediately after it starts. Taking place in the Royal Irish Academy on Dawson St, you'll have exactly two hours to catch a glimpse of what could be loosely described as a combination of compatible and conflicting narratives that are partially resolved but continue to evolve. Bringing together the research of Becks Butler, Astrid Newman and Ciara Roche, the show explores human behaviour within shifting environments, questioning modes of adaptation.
Becks Butler is a lens-based artist and curator. She exhibited her solo show 'Pushing Boundaries' at illuminations in 2017 and has presented work in various group shows. Her collections have been purchased by the Royal Irish Academy and various private collectors. Becks recently curated Vera Ryklova's  'Aesthetic Distance' at Triskel Arts Centre. Astrid Newman is a performance and video artist, she has exhibited and performed in numerous spaces in Japan, Britain and Ireland. She is currently a curatorial research assistant at The Lab Gallery, Dublin and is co-founder of conch.fyi an online platform publishing weekly artist interviews. Ciara Roche is a painter. She has shown extensively in group shows throughout Ireland with a solo show in Lismore Castle Arts in 2016. Her work is in many public and private collections throughout Ireland, Britain, USA and China. Together the three artists are recipients of the 2019 Wexford M11 percent for art commission.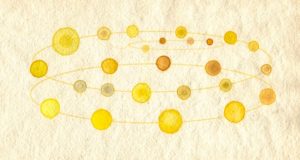 gharlands & wolves: parables in yellow 
Andrea Neill
Podcast goes live on Soundcloud on Thursday 11 April 2019, 5pm.
gharlands & wolves: parables in yellow are episodes of rapt moments, with the temporality of a concentrated gaze; a brief loss of self to the here and now of an artwork recounted, where bodily sensory perception might oscillate in the hovering suspension of the imagination. These episodes are suggestions to the listener, an emotional demand.  The perceptual framing of gharlands & wolves relies on the promise of storytelling suffused with sensuality and the vile, a conduit through yellow. Promises are of primrose, sherbet fizz, soft lemon satiny silk. Blonde tones of naples yellow, pale ochre creamy flesh tones gush smooth, shaded pink from raw to burnt umber shadow.
gharlands & wolves: parables in yellow are recorded for podcast to be released on Soundcloud, conceived and written by Andrea Neill, produced by Ana Carolina Vitória.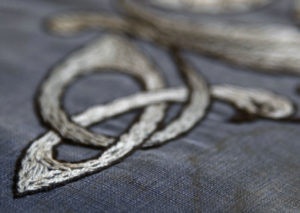 Silken Inke
Meghan McLachlan
Kamera 8, Rowe Street, Wexford Town
Exhibition Friday 12 April – Tuesday 16 April 2019
This exhibition is a response to a specific historical object, a silk embroidered collar, which was hand woven by Elizabeth and Lily Yeats and worn by Countess Markievicz circa 1920. The collar has been borrowed from the Wexford County Archive and it will be placed on view in the gallery for the opening night only, and then returned to its permanent storage. The silk floss threads of the collar, hand stitched in a Celtic knot work design, are explored in a series of large painted Cyanotype prints, displayed on the gallery walls. Inspired by the obscured history of the Yeats sisters, these Cyanotypes are made using the light of the full moon.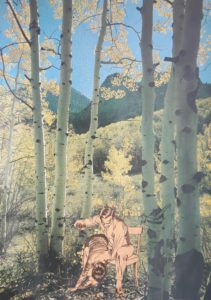 The Probable Causes of Future Experience 
Yvonne Higgins
Exhibition continues Friday 26 April – Sunday 5 May 2018
Venue: The Darkroom, 32 North Brunswick St., Stoneybatter, Dublin 7
Through paper collage works, photographs, stop-motion animation and fragments of sound and text, The Probable Causes of Future Experience takes the viewer on a surreal trip to an imaginary world where the actions being carried out are unclear and at times unsettling.
The Probable Causes of Future Experience is an exploration of what it is to experience the world from a child's perspective. Using materials drawn from instructional manuals, illustrated encyclopaedias, family health guides, books about wildlife and the natural world, this work investigates the power dynamic between adult and child and the shifting boundaries between adulthood and childhood.
ARCHIVE: ARC Student Projects 2018
In March-April 2018, ARC students are presenting projects at various venues:
Wednesday 7 March 2018, 6:30pm
Venue: Science Gallery Dublin, Trinity College Dublin.
Yvanna Greene, SuperNatural Plastic Eaters
Imagine plastic breaking down in the stomach of sea creatures, transforming into a plastic protein, that is used as fuel to enhance or recreate the skeletal frame. How far are we from a time when sea creatures can design and shape their future selves with a material that is non-degradable, has increased fracture toughness, is lightweight, colourful and shiny?
SuperNatural Plastic Eaters is a talk involving marine scientists Karin Dubsky and Heidi Acampora and artist Yvanna Greene. The talk, chaired by Anne Mullee, examines plastic pollution in the marine environment, the ingestion of plastic by marine creatures and reveals evolutionary new marine species washed up on the coast of Ireland.
Thursday 22 March 2018, 2-4pm
Venue: The LAB, Foley Street, Dublin 1, Studio 4
Petra Berntsson, Casting Invisible Lines, talk and screening
Casting Invisible Lines is a research project using video, sound and writing. It is an inquiry into both the connectivity of the sea and the barrier that the ocean skin presents. Petra Berntsson has invited artists around the world, living or working by the sea, to film short clips exploring their own relationship with the sea surface. Artist and writer Colin Glen has written an essay in response to the footage and sound artist Jane Pitt has created the soundtrack, based on hydrophone recordings from the North Sea. On March 22nd, Petra, Colin and Jane will present their collaboration, in a screening and talk chaired by Dr. Susan Steele, Chair of the Sea Fisheries Protection Authority. Places for this free event are limited and can be booked here.
Wednesday 11 April 2018, 7pm
Venue: RUA RED, Belgard Square North, Tallaght, Dublin 24
Jung-A Han, Voice:목소리:Moksoli
Voice:목소리:Moksoli is a live fifteen minute performance, and accompanying audio installation, exploring aspects of dual identity. This work, devised by Jung-A Han, draws directly upon the lived experience of migration, using written language, dance and sound to explore the feeling of inhabiting a hybrid of cultures in everyday life. On Wednesday 11 April, Jung-A Han and Yoon-Kyung Chung will execute a live performance in RUA RED gallery. The performance will be interspersed with audio recordings, composed from collected interviews with members of various communities, reflecting upon on their  own perceptions and experiences of representing different identities.  Elements from the performance, including the edited audio, will be exhibited in the gallery of RUA RED from Wednesday 11 April until Friday 13 April 2018.
Friday 27 April 2018, 12-8pm, with performances starting at 6pm Venue: The Museum Building, Trinity College Dublin.
Guest Appearance: a group exhibition featuring Sophie Behal, Vanessa Donoso López & Benjamin Stafford, Isadora Epstein, Maeve Lynch, Eoghan McIntyre and Rosie O'Reilly.

The ideal guest obscures the flaws of the host and there is no host more flawed than an artist. Hospitality manifests in the interplay of artwork, artist and audience, operating at the threshold between nature and artifice. Comprised of performances, sound installations and sculptures, Guest Appearance invokes matters of authorship, the transitional properties of objects, and the transformative quality of sound. Hospitality demands both the adherence to regulations and the acceptance of responsibility. It is simultaneously welcoming and hostile. The Museum Building at Trinity College Dublin offers a charged site for Guest Appearance. The exhibition explores the contradictions of hospitality, in which the guest-host relationship contains the potential for productive antagonism.
ARCHIVE: ARC Student Projects 2017
In 2017, ARC students presented their work in exhibitions, performances, product launches, screenings and panel discussions at various public venues, including The Darkroom, The Chocolate Factory, IFI, the LAB, Millennium Court Arts Centre and St. Stephen's Green. Further information on ARC Major Projects 2016-17 is available here
ARC Student Research and IMMA
ARC students regularly collaboration on public programmes for IMMA. Previous projects include:
ROSC: Fiction of the Contemporary, 23 March 2017.
ARC researchers presented a performance and publication as part of the Exhibition Histories seminar, which also included contributions from Dr. Lucy Steeds,  Kate Strain, Peter Maybury. This seminar took place on the 23 March 2017 at IMMA. Recording available here.
ARC and IMMA: statəcraft, Project Spaces, 16 March – 3 April, 2016
Interweaving the histories of two entities—IMMA's Residency Programme and the Free International University model advocated by Joseph Beuys & Dorothy Walker—students from the IADT Masters in Art and Research Collaboration (ARC) will turn the IMMA Project Space into an experimental public research-hub. They will create an open space for the investigation of living and making, to explore how art practice and art thinking can produce alternative forms of 'statecraft'. The full programme of statəcraft events is available here. A map of the statəcraft research hub is available here
The Beholder's Share, Project Spaces, IMMA, Thursday 26 March – April 26, 2015.
Installation view, The Beholder's Share, Project Spaces, IMMA. Plinths by Hugh McGettigan and Katie Burgess, IADT BA students.
The Beholder's Share examines unrealised and unexisting projects from the IMMA Collection. The focus of the exhibition is the role which the viewer  can play in imaginatively completing an unrealised work. Exploring the documentation, stories and latent potential of projects by artists such as Joseph Beuys, Christo, William Furlong and Sol LeWitt, the show will also include selected unrealisable proposals by 4th year students from IADT's BA in Visual Arts Practice. The Beholder's Share is curated by students on the Art and Research Collaboration (ARC) MA programme at IADT in collaboration with the IMMA National Programme.
Exhibition documentation can be accessed here
Event documentation can be accessed here