The ARC exhibition A Perambulation took place at the LAB Gallery from Wednesday 11 January to Saturday 21 January 2023.
The exhibition featured new works and projects by Oswaldo Alvarez, Shannon Carroll, Michael Croghan, Mel Galley, Natalia Panis Kaseker and Diana Popa.
The gallery plan and full list of works can be accessed here and a PDF of the exhibition poster/foldout by Pure Designs is accessible here. The image on the poster is by Mel Galley.
You can view video documentation of the exhibition on the LAB vimeo here
Photographic and video documentation of the exhibition is by Louis Haugh, with additional images (of Natalia Panis Kaseker's work) by Sorcha McNamara.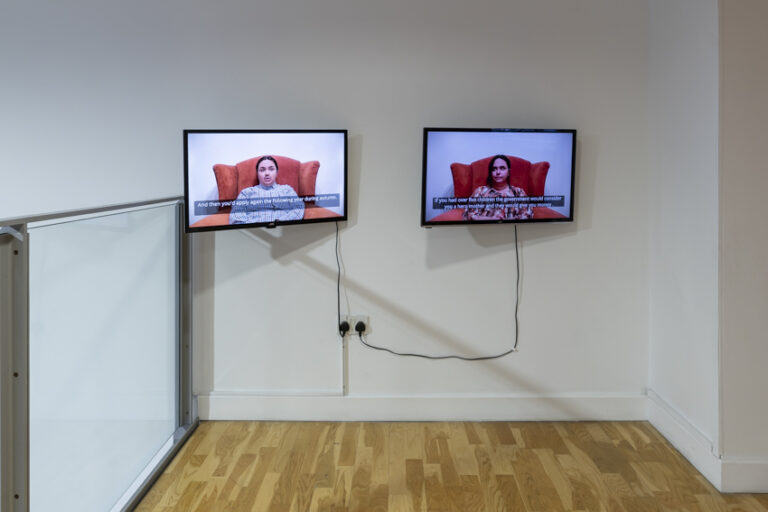 As part of the exhibition, Shannon Carroll hosted a closing event in the form of a Climate Cafe, at 12pm on Saturday 21 January 2023, which included a discussion with artists Vanya Lambrecht Ward, Catherine McDonald, and Rosie O'Reilly. Documentation of the discussion can be viewed here
Acknowledgements
ARC would like to thank Sheena Barrett, AlanJames Burns, Padraig Cunningham (Pure Designs), Jamie Cross, Sonya Hogan, Michael Holly, Tina Kinsella, Derek Larkin, Rosie Lynch, Fiona McKenna-Fahy, Marie-Anne McQuay, Mark O'Gorman, Rónán O'Muirthile, Sean O'Sullivan, Matt Packer, Alison Skelly, Fiona Snow, Ray Yeates, Kathleen Walsh, Marysia Wieckiewicz-Carroll, Eve Woods.