ARC 2019 Researchers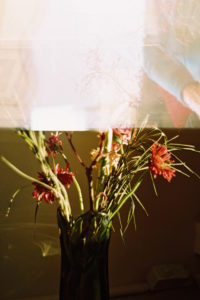 When I was ten years old, my mother told me of a lady who had been in contact with her. Her name was Anne. She was my mother's birth mother. I became fascinated by the possibility that those who passed me on the streets could be my own flesh and blood.
Adoption implies the injection of a foreign element into the fabric of family life. It serves to underline the fragility of blood lines. This destabilization can be understood as a disturbance of the order of things, expanding the concept of family and the intimate, dream-like inception of human connection.
Becks Butler is a multidisciplinary artist with experience in the field of photography and science. Her current work 'Taxonomy' explores narratives within human lineage, drawing on systems that connect and contrive their existence. Becks has been making work as a response to the role of origins in the formulation of human subject, and feels compelled to investigate the mother as a figure of the other. 'Mother', as a representation of past onto present, resists all orders of lineage, so her image and presence can be felt as posthuman. It is this concept that informs phase two of her research project, which aims to investigate the role photography plays as a site of representation of the posthuman.
Martina Coyle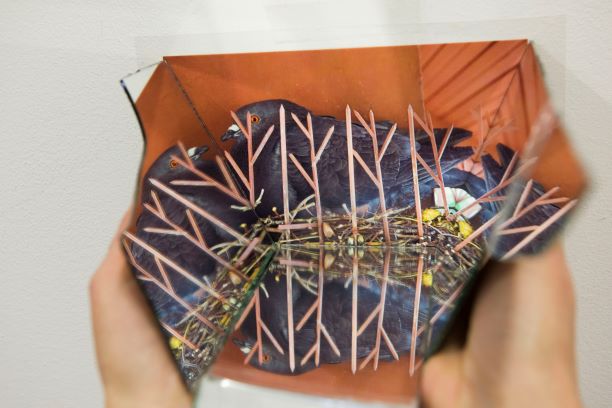 Paradise Is Too Far is the title of my current work, which explores the control of wildlife and the universal instinct to seek shelter. The initial impetus to research and develop this work came from seeing a photo on the internet of a tree covered with anti-bird spikes. These devices are widespread in urban landscapes and are often deemed acceptable when placed on buildings. However, an anti-bird spike on a tree is a different matter. This work questions the human desire to control how birds access spaces to nest or rest.
Paradise Is Too Far is an exploration of the transformative aspect of light, a consideration of the nature of substances, an inquiry into how we engage with the biosphere. I am sensitive to the utilization of materials and their impact on the environment. It will be installed as a solo exhibition in Árais Inis Gluaire, Belmullet, County Mayo.
Martina Coyle is a Westmeath-based multi-disciplinary artist whose practice is made up of three inter-related strands; studio-based artwork/ installation, public artwork and art facilitation. Martina has exhibited extensively in Ireland and France. Her many commissioned public artworks, which range from permanent to ephemeral, includes collaborative and residential public projects in various locations around Ireland.
Judy Foley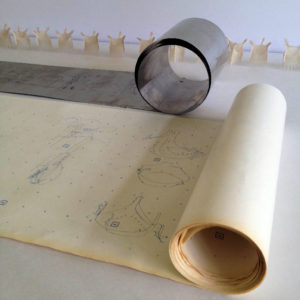 My core concerns originate from an anti-subjective stance with a focus of interest on the process of drawing and handcraft. Key to this apparent conflict is my working method which is painstaking, precise, repetitive, and predetermined or rule bound; a method with the potential to foster a remove from the outcome of the work and of relevance to my enquiry which seeks to distance subjective decision making and to privilege the inherent or latent.
My current research is informed by a model of handcraft employed in the medical device industry, specifically the manufacturing process of the bio-prosthetic heart valve, a highly skilled and tightly regulated craft process that involves hand stitching of component parts, taking 2 to 3 days to complete a single valve and involving up to 2,000 stitches. This is an industry linked with the technology of the post-human yet at its core it involves the ancient craft of hand-sewing. Moreover it profiles a very unique model of handcraft with an ideal that precludes the ego or individuality of the maker.
Yvonne Higgins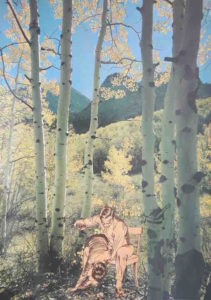 Through paper collage works, photographs, stop-motion animation and fragments of sound and text, The Probable Causes of Future Experience takes the viewer on a surreal trip to an imaginary world where the actions being carried out are unclear and at times unsettling.
The Probable Causes of Future Experience is an exploration of what it is to experience the world from a child's perspective. Visual artist, Yvonne Higgins, has used materials drawn from instructional manuals, illustrated encyclopaedias, family health guides, books about wildlife and the natural world, to investigate the power dynamic between adult and child and the shifting boundaries between adulthood and childhood. The Probable Causes of Future Experience, opens on Thursday 25th April, at The Darkroom, 32 North Brunswick St., Stoneybatter, Dublin 7 and continues from Friday 26th April to Sunday 5th May
A book, titled Between Four Walls, published for the exhibition by Onslaught Press, is an extension of the research through collaboration with an invited panel of International poets who have responded to the collage works and photographs.  It is prefaced by an essay on representing childhood by historian Dr Mathew Staunton.
Meghan McLachlan
The practice of my work fuses experimental photography methods with storytelling. I have fervently worked with the 'blue printing' method as I believe not only the image tells a story but the process does as well. The virulent blue leaves a remnant of its inventor and I like to think a little piece of Anna Atkins (one of the originators of the Cyanotype) is embedded into the fabric or materials that I am printing.  Working with film and sculpture has also formed a large body of my work. As an ARC researcher, I am planning to create a short film, with images based on historical documents discovered, and also to produce a publication entitled The Shell Seeker, based on a book I found in an old abandoned psychiatric hospital, with the underlined passages in the book acting as my guide.
Andrea Neill

Andrea Neill's research practice concentrates on the texture of art/language, and questions what is anterior to sign and syntax. Previous presentations included painterly or sculpted ritual objects inclined to tactile experience and the performance of composed texts.  Presently she is investigating the ambivalent nature of the colour yellow.  Werner's Nomenclature of Colours recorded 29 colour recipes to make 17 yellows.  Each shade, expressed in elliptical form, became a thesis drawn in language through semiotics; yellow propositions the collaboration of material contradictions.
gharlands & wolves: parables in yellow are episodes of rapt moments, with the temporality of a concentrated gaze; a brief loss of self to the here and now of an artwork recounted, where bodily sensory perception might oscillate in the hovering suspension of the imagination.   These episodes are suggestions to the listener, an emotional demand.  The perceptual framing of gharlands & wolves relies on the promise of storytelling suffused with sensuality and the vile, a conduit through yellow.  Promises are of primrose, sherbet fizz, soft lemon satiny silk.  Blond tones of naples yellow, pale ochre creamy flesh tones gush smooth, shaded pink from raw to burnt umber shadow…
gharlands & wolves: parables in yellow episodes are recorded for podcast to be released on Soundcloud.
Astrid Newman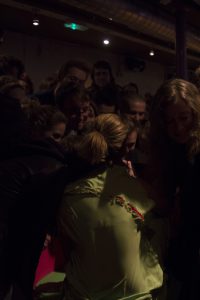 In Cruel Optimism, Lauren Berlant theorises the 'impasse' as 'a stretch of time in which one moves about with a sense that the world is at once intensely present and enigmatic, such that the activity of living demands both a wandering absorptive nature and a hypervigilance that collects material and might help to clarify things'
My interest in the potential of the impasse has developed from an ongoing investigation into contemporary well-being, and into practices that actively encourage the individual to look inwards and in doing so perpetuate a somewhat neoliberal focus on the self. Berlant proposes Cruel Optimism as a way of understanding our attachment to the fantasy of 'the good life', fantasies that are arguably no longer sustainable in the present. By acknowledging and by gaining an understanding of the various impasses that we face is it possible to create alternative conditions for living? The enquiry that I am conducting aims to utilise the immediacy of performance and of collaborative action in order to workshop the potential for movement and change within the limitations of the impasse.
My practice is an ongoing investigation into those discourses and possibilities and in its broadest sense, aims to utilise performance, video, sound and collaboration as a means to distract from, let go of and reign in what are perhaps conflicting ideas.
Ciara Roche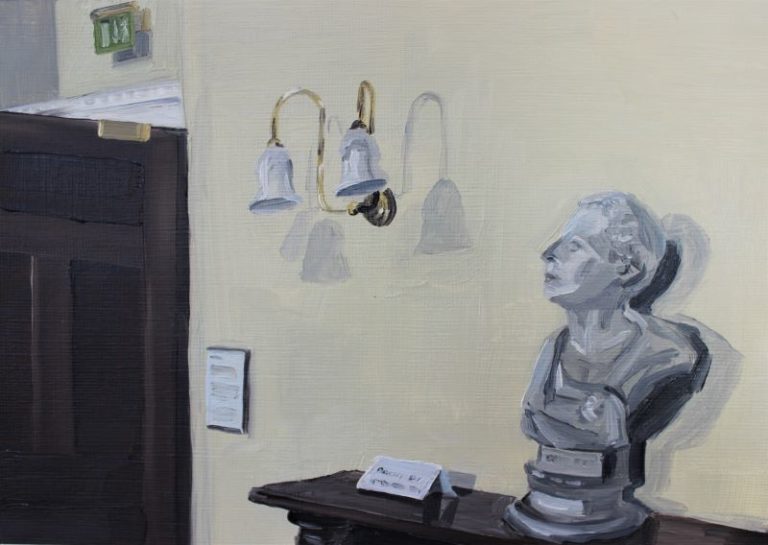 I am a painter with an interest in the notion of place and my paintings are often a documentation of a place, sometimes with a hint of narrative running through. The current body of work I am making is for meatspace, an event which will be held in the Royal Irish Academy in collaboration with Becks Butler and Astrid Newman. This work is a site-specific response to the Royal Irish Academy building, the paintings are small scale studies of chosen glimpses around the building. With these paintings I hope to capture the character of the rooms while highlighting the nuance of the building in particular areas. Mechanisms for display will be tested for this event. I will explore the contradiction of how these small-scale paintings can be viewed in a room filled with much older grand pieces if art and decoration and still command attention.
ARC 2020 Researchers
Brenda Brady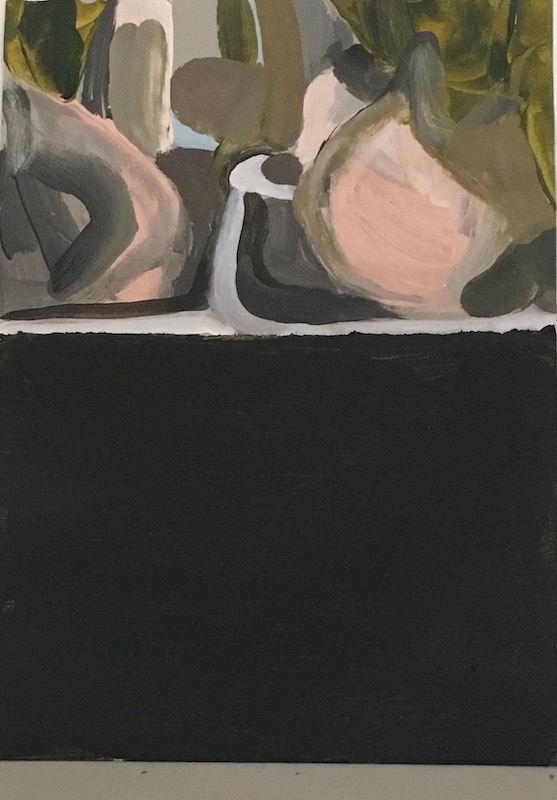 My research is grounded in the traditional mediums of painting and drawing. For me painting relies just as much on subjective sensation as it does on image or concept. The investment of time and engagement enable's thinking through materials facilitating the extraordinary range of visual possibilities that is achievable in two dimensions. Found, made, collected, manipulated, glued, pressed together – all play a role in the ever growing vocabulary that makes up my emerging practice. Certain recurring concerns like the intuitive and the ordered with all their inherent paradoxes are evident.
Paintings that 'Hide and Reveal' is a current line of inquiry. Richness of surface, what is absent is just as important as what is visible, everything apparent hides something else. Repetitive actions combine to build up a surface blurring the lines between non-representation and image, text and drawing, painting and print, offering hints and glimpses.
Anishta Chooramun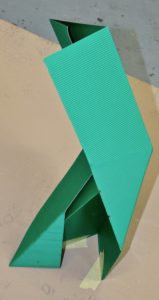 My work is informed by the diverse components that create our society and that influence our identity. I think of our society as a jigsaw puzzle. As we move through the environment, progress from one place to another, encounter different aspects of life, meet new individuals, or encounter a novel situation, we transform who we are, and shape our identity. We pick up and add to aspects of our identity, we also let go of identity markers that no longer fit us. Whilst these changes help us grow and become who we are, we also lose a little of ourselves as individuals. In life, we experience so much fragmentation of thought and feelings. While creating my sculptures I keep these fragmentations in mind and create an abstract jigsaw puzzle.
I am currently working on a new series of sculptures' that is informed by dance as a language and a form of communication, for an exhibition happening in The Dock at Carrick On Shannon, in May. I have been researching and learning a dance called Kathak, originated from the traveling bards of North India referred to as Kathakars or storytellers. The Kathakars communicate stories through rhythmic foot movements, hand gestures, facial expressions, and eye work. I am trying to incorporate these expressive dance movements into my sculptures. My work often comprises a series of sculptures made from various materials, including, metal, wood, fabric, glass, linoleum, paper, and concrete fabric. When the audience moves through the installed work they can visually piece together all the different fragments of the jigsaw puzzle to complete the artwork.
Heather Cody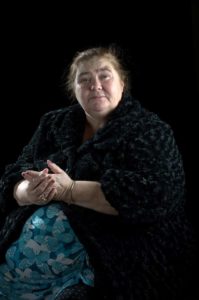 My photographic practice centres on the Travelling Community in Wexford. I am interested in exploring their culture, experiences and beliefs through photography. I have already completed a documentary series focusing on Irish Travellers at Horse Fairs in Ireland. My project has evolved through working on the ARC MA Program. I am now working on a project in which I am collaborating with members of the Travelling Community in Gorey. I have applied for funding from Wexford County Council Artlinks to hold workshops for members of the Travelling Community; I propose to teach the participants basic photography skills during the coming months. I am holding an exhibition in Gorey Library for the month of September. It is my intention to hold a collaborative exhibition of my portraits of travelling people alongside images taken by Travellers during these workshops.
Penelope Collins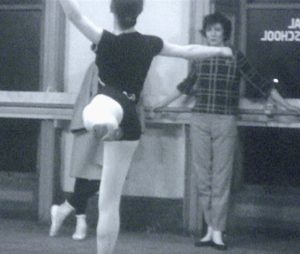 I am researching the National Ballet School and the professional ballet company in Dublin during the 1950s and 1960s. My research focuses on the work of teacher, choreographer and Artistic Director Patricia Ryan who is my mother. This school and company collaborated with diverse artists in different disciplines of music, literature, poetry, choreography and design. I am planning to develop a documentary short based on this history through interviews with her students, guest dancers, conductors, archive materials, photographs, letters and documents of productions and film archives.
Collette Farnon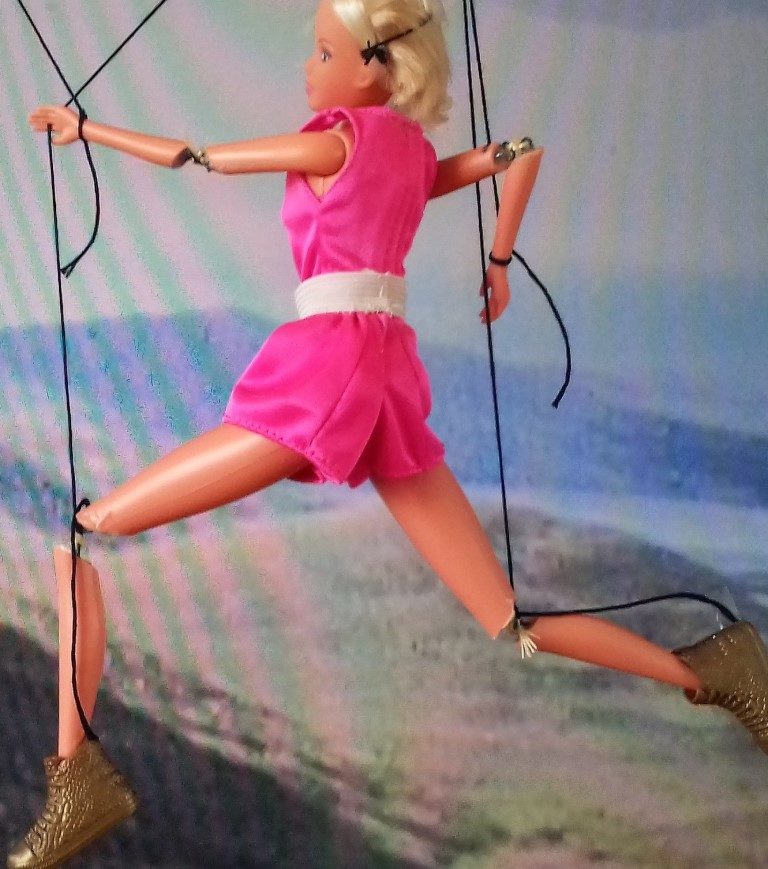 My research focuses on representations of women across a variety of media. My original research sought to dismantle the traditional decorative and sexualized representations of the female body in History painting and examine its effect on contemporary attitudes towards women and girls.
My current research examines more contemporary modes of female representation including the GAA initiatives #20×20, #Show Your Stripes and #If She Can't See It She Can't Be It, the Esker Women's Boxing Club, the Six Nations Women's Rugby and the Always 'Run Like a Girl' campaign, all of which work toward redressing the balance of the persistent notion that a woman's looks are her most important asset.
As part of this research I attempt to give life, mobility and action to Barbie type dolls by dismantling and reconstructing them as puppets and marionettes. I make videos of, and photograph this process, at regular intervals. I position these creations in tableau and or place them in dioramas. This is part of an ongoing process.
Lisa Freeman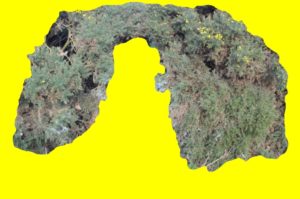 I am visual artist, my work broadly speaking, is process-driven and research focused with the objective of gathering performative digital-based materials for video, performance and installation outcomes. I am developing a project based on the 19th century 'Wrens of the Curragh' who were a group of women that lived in gorse bushes outside the army base in Kildare and were sex workers.
I will develop a site specific performance at the Curragh involving a cast of actors. I will conduct research through site visits, script development and workshops with the actors. The performance will be defined and sculpted by five different elements: script, sound, actors, costumes and location. I will use the location to contextualise the past and create a discussion based around women's rights and societal attitudes around this.
Marie-Louise Halpenny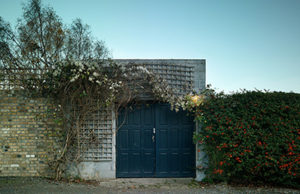 I am producing a body of work depicting a series of spaces that have a relationship to crime, and I am researching this through a combination of photography, data and mapping.  I am interested in our relationship to a space through memory. My work explores how events can change a space, how a space can change events, and how a space can be altered by the way we use it and pass through it.
I am interested in the altering of images, and the combination of spaces or events within one single image. My fascination with light, and with the movement of people through space has developed through my work with architectural photographs over the past 12 years.  I aim to approach my subjects with empathy and openness, creating images that can strike you hard and awake another sense of the life of a space or building or context.
Marie Phelan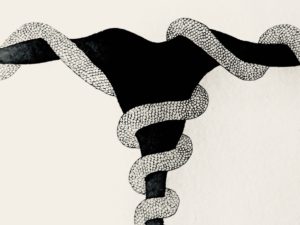 Therianthropy is the belief that a person has a non-human or animal part and Shapeshifting is the ability to transform fully into another creature. My project considers the Shapeshifter in the context of ritual and belief systems and their connection to place. This place, when within the rural landscape, can have many other associations and the boundaries and crossover of these realities can be blurred. This can lead us to the question: What is real and what is not real? My work aims to understand and explore this question and to somehow connect with those blurred realities through multidisciplinary tools including sound, video, drawing and sculpture.
Dylan Ryan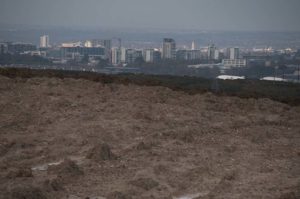 I am working on an ongoing project, which started in January 2017. I am very interested in a building development in my local area. I began documenting the site for the Cherrywood Master Plan, which has been in the planning and design stage since the 1990s. The project is partly informed by my memory of playing on suburban building sites as a child, as they continually extended over the diminishing open grounds, housing my new neighbours. But this time I am playing with a camera. In my photographs, the viewer can see the alteration of the land. Rich with archaeological sites and farm history, it is being transformed into a functional urban landscape. The photographs, depicting machinery, materials and tamed earth, can be dramatic, surreal and sometimes humorous, capturing the beginning of a new New York-style town with its own amenities.
Cherrywood is an example of urban sprawl as the city moves out, taking over rural and farm land with its benign hills and trees, replacing them with buildings, roads, parks. These photographs show the meeting point between concrete and wild countryside, and the shaping and utilisation of land for use by suburban dwellers.
Audrey Walshe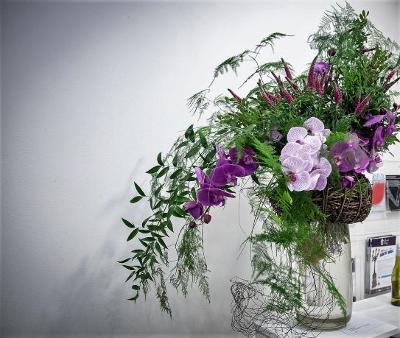 I have an interdisciplinary background and hold a BA Irish Studies (TCD, 2017). As a working florist I am researching how artists use botanical materials to produce work, in the conventional sense as a form of artistic/scientific documentation of species as well as installation work using organic and natural materials. I am observing how the tension of working with a deteriorating material is resolved and expanding my own creative practice to explore how creating work that is transitory invites the viewer into a collaboration which can't endure.  I am exploring themes of decay and temporality and investigating how the use of botanical materials emphasises a state of impermanence.
I am interested in the commodity culture that surrounds flowers and natural objects, specifically in relation to the wastage and decay that is usually hidden from consumers. My current research interests seek to bring together my academic and practical backgrounds.  I am historically contextualising this artistic research around the Victorian Flower Market in Dublin and curating an event, at another location, to take place on Bloomsday 2019 which will bring together nature, art and culture in a collaborative process.