This year, 2016-17, ARC students presented their work in exhibitions, performances, product launches, screenings and panel discussions at various public venues, including The Darkroom, The Chocolate Factory, IFI, the LAB, Millennium Court Arts Centre and St. Stephen's Green.
Further information on ARC Major Projects 2016-17 is available here
Eavan Aiken
My problem is that I am persecuted by the fact that we live in an unequal society. For as long as I can remember this feeling has stalked me. I doubt that I am alone in this. When possible I gather people into a darkened room and show them pictures that either highlight this or offer an alternative view, provoking conversation without offering solutions. I work in documentary and the moving image.
I am working with writer/translator, Edwin Kelly, on a medieval text, one of the first written by a woman, Julian of Norwich, an anchoress who lived both apart from and at the heart of her community. She wrote about her mystical experience, a text that is so visceral and full of passion that it may be considered a precursor to Romanticism. She wrote in the vernacular rather than the Latin that was typical of religious communication. Her writings were preserved by 16th Century Benedictine nuns who transcribed them, annotating the margins with their translations. My research is working towards re-presenting Julian's writing as a multi-channel installation, stripped of religious overtones but not of devotion. I am also researching Modernism and Meta-modernism in post-imperial Ireland.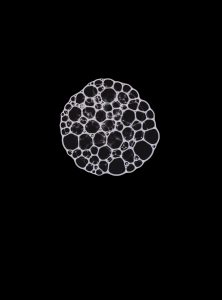 Sophie presents her work in multidisciplinary installations characterised by an emphasis on analogue photographic practices and sculptural elements. Her work is concerned with material experimentation and the transitional properties of matter. It explores the negotiable delicate balance of things in this world and the constancy of change. Sophie investigates invisible forces, particularly that of thought and thinking and creates sequences of works that are near nothings, that fold in on themselves and become reflexive precarious things. She is interested in the space between thinking, language and making and exploring if language can shape form and vice-versa.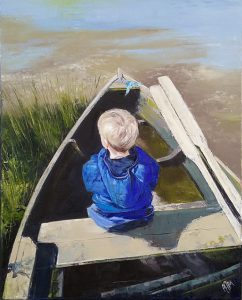 My project involves the visual documentation of boatbuilding in Ireland.
While on the ARC programme I will research the visual documentation of current boatbuilding, which my initial investigation has identified as extremely limited, particularly in fine art representation. Questions supporting my research will include the following; What are the historical and current methods of boatbuilding in Ireland? How is their work recorded today and how is it represented in contemporary art? What is the relationship between the maker and the creation? I would further like to explore the changing role of the boatbuilder.
I'm a painter and I intend to paint the process – research findings, visual perception and personal interpretation. I will consider how best to document this notable craft so that it relates to audiences today and I hope to expand my work practice to include other art modes, such as sculpture or installation. At the end of the programme I plan to publish an art book on the project.
https://www.facebook.com/petra.berntsson
https://www.instagram.com/petraberntssonartist
https://twitter.com/PetraBerntsson1
Isadora Epstein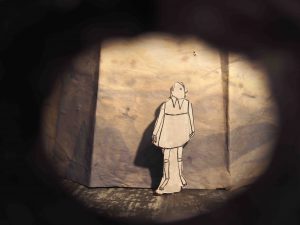 I am researching the guest/ host relationship which performance creates. I am making a series of performances in which the performer becomes a host in the more supernatural sense of the word. The performer will become a medium/ oracle /soothsayer and become a host to visions/ voices/ texts. I am using historical examples of automatic writing and drawing as sources for the text. My writing will also borrow the humorously decadent language of occult ceremony to create a confusion between the real and unreal. Alongside the performances, I am making publications of "Automatic" writing and drawing which will use the same ritualistic language used in the performances. The publications will serve both as documentation of the performances but also as autonomous works.
Aimi Farre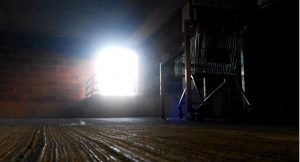 Aimi Farre's practice centres around a questioning of temporality. Everyday objects, places and situations when taken out of context or viewed under certain circumstances can open up a temporal witnessing of time that in today's fast pace life can seep by unnoticed. This numbing unawareness of temporal experience and desire to reach an end point or destination leads to an omission of opportunity and reflection. The automatic being we adopt when presented with these liminal situations or places means we can never fully situate ourselves in the present, Aimi's work tries to capture these in between moments where time seems neither here nor there, like a lapse in the normal and coherent way we as a society view time. By asking people to slow down, be attentive and allow yourself to become immersed in the particularities of an action or space Aimi wants people to focus on qualitative time and break away from the quantitative elements we are all constrained by, even if it is just for a short while.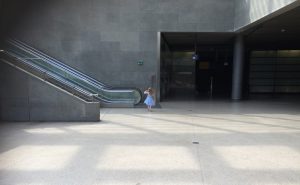 At the core of my practice is the examination of social space and our relationship to it, with specific reference to the writings of Henri Lefebvre and Edward Soja, and the concept of Thirdspace, involving the expansion of the spatial imagination to create new possibilities for transformative thinking and the symbolic use of space in the everyday as a means of carving out new, alternative identities within our urban and suburban spatial structures. To date I have been working primarily through the medium of photography and I am currently in the process of making my first moving image work. My current research examines Berlin's Potsdamer Platz, a space where massive societal upheaval has repeatedly been manifested throughout its history. I am particularly interested in its Cold War history through to its current status as privately owned commercial space. Alongside this research, I am also very interested in the subversive possibilities embodied by the unique way a young child moves through public, urban space, creating new possibilities for meaning within the city. I am now working with a scriptwriter to create a fictional narrative that explores, interrogates and visualises these concerns.
Paulina Golebiewska

My project will consider the changing relationship between the still and moving image in contemporary art with the emphasis on the stills, publicity stills and the artworks that follow the aesthetics of these like Stan Douglas's 'Mise- en- Scène' (2008). It will be a development of my BA dissertation on the new state of the image- the in- between image: between movement and immobility in both cinema and photography. The centrality of the digital image in contemporary life that has an impact on both cinema and photography provokes inter- crossings of the media but also brings cinema and photography together. This project assumes that photography and film are linked by film stills (including publicity stills like Alfred Hitchcock's 'Rear Window'1954 or John Huston's 'Misfits' 1961) but also by the movement within the still image present in the artworks like 'Mise- en- Scène' (2008) by Douglas. I will examine the 'moved stillness' and the 'stilled movement' in the photographic and the cinematic. The notion of time and its relation to the moving and still image present in films like 'The Machine for Killing Bad People' (1949) by Roberto Rossellini or 'Vertigo' (1958) by Alfred Hitchcock will be examined through Gilles Deleuze's theory of cinema and the image: the notion of the time- image, the movement- image and the concept of the crystal image that pushes the photographic image beyond the stasis, death and immobility associated with the still photographic image.
Yvanna Greene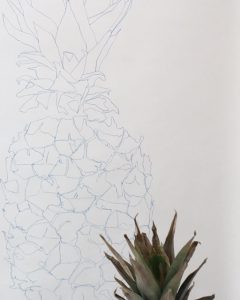 Consumerism and Identity are themes that have in varying aspects, underlined my work to date. I am interested in fragility, layers and facades and how contemporary desire driven consumerism enables/encourages one to cover up/create alternative persona. My working practice is very much studio based, working with mixed media. The physical process of making is very central to me. I alternate between making and research, each informing the other on an ongoing basis.
I currently find myself drawing giant pineapples. The Pineapple was a status symbol in 18thC England. A single pineapple could cost the equivalent of €8,000 today. You could rent a pineapple to take to a party with you.
Marc Guinan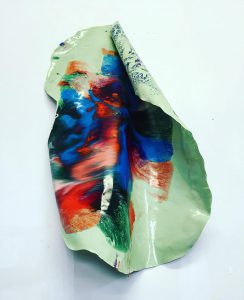 My research project is firmly rooted in the exploration of the links between the term 'object' and the medium of painting. What makes a painted object so interesting? Is it form, negative space, colour choices, the combination of paints or maybe the subject matter that draws us in? My practice hovers around these notions, whilst gently eroding away any preconceived ideas of what a painting is supposed to be. Through reflexivity and the unpredictability of an almost scientific studio space, which is currently based at a paint recycling centre, I invite a breathing ground of exhilarating possibilities. I purpose we question our thinking about what we see. The painted object has been always thought of quite simply as an application of a vicious, coloured liquid (paint) on a flat 2D recognizable surface. My practice is about questioning those ideas and subtly re-engineering the above signifiers. I examine critical discourse, both positive and negative about what gives a painting its aesthetic value whilst further exploring alternative techniques, procedures and developmental processes of gallery presentation. I invite compositional questioning whilst playing with colour, size, application and the many forms a painting may take. In ARC year 2, I will continue to push my experimental practice, seeking new ways to subtly distort how we view the painted object.
Jung-A Han
I am primarily interested in history, culture and the environment, more specifically the relationship of these elements to people, animals and nature. This relationship also connects with identity as in the practice of questioning myself in my work 'Who am I?' Therefore my interest of painting not solely focuses on my own finished art work in its isolation. It aims to explore the relationship of how I communicate to the world and finding the answer to 'Who am I?' and how I collaborate with people to complete my art practice. I aim to explore the area of painting and photography for my art practice.
My work focuses on the relationship between humans and how they communicate and network with each other in the modern world. My work explores themes of our position in the world, a world in which we are more and more surrounded by different cultures and multiple sources of technology. Particular focus is on the link between technology and the relationship between family and friends. Through this exercise I attempt to reveal how mediums associate and communicate with each other and are influenced by and influence their environment. My work is also tied into my identity as a Korean female artist and I tend to express this condition within my art practice.
Yvonne Higgins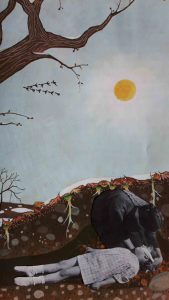 My main preoccupation is exploring the idea of childhood experiences being precursors of significant or even trivial adult experience, or events in adulthood that seem to have their prototype in childhood. I will also be interrogating the dynamic between children and adults. The child's lack of understanding of the adult and their actions, yet the tendency of the child to look to adults as role models. Considering adult fantasies of childhood, adult memories (real or imagined) of being a child, through my practice I question when is the adult no longer constituted by the demands of the child he/she once was. Drawing from my own childhood experiences, I explore ways of resurrecting fragmented memories of childhood events, dreams, conversations, places and emotions. Blending the private sphere with a social realm by taking found elements from popular culture and merging them with personal objects, drawings or photographs to create work that potentially presents a world from a child's perspective.
The catalyst for my current work is a selection encyclopedias from the 1960's, 1970's and 1980's. I am interested in the pedagogical approach in these books. My plan is to frustrate the material and to contradict the aim of the publishers of these books, by reconstructing the images and texts to create an unsettling, dark, imaginary world where the actions being carried out are unclear but there are suggestions of something disturbing taking place. The means of expression used in my practice to date include installation, drawing, slide projection, collage and animation. For my current research I will experiment with collage initially followed by staged photographic work and then possibly expanding my practice to include moving image.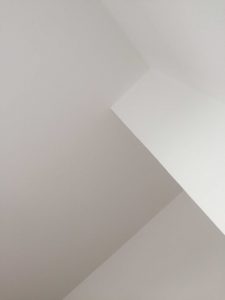 My ongoing inquiry is into our phenomenological perceptions of the world and the things that surround us. The work explores both visible and invisible definitions of the spatial environment, lines of division or borderlines. This is informed by architectural, geographic and online platforms and structures and philosophical and scientific definitions of nothingness.
Eoghan McIntyre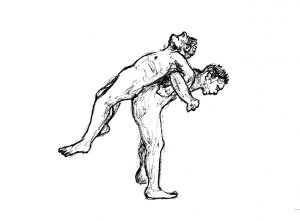 Consider a document that proves that humanity did not evolve from apes as once thought, but evolved from a single pair of trousers found in Devon. This would cause a shockwave to our understanding of genetics, reproduction, textiles, time and logic, and would make the work of thousands of writers and academics obsolete. Therefore this document, if found, must be quickly incinerated by its discoverer or, even better, ingested (this would save time as there would be no need to start a fire). Another approach that one can take when dealing with such dangerous documents is to publish them, but claim them to be works of fiction. Just in case a reader suspects an element of truth to the tales it is expedient for one to concurrently create the most elaborate and ridiculous of fictions and present them as fact, thus destroying one's credibility as a purveyor of truth. This is in essence my methodology, producing texts that oscillate between the academic and the inane. I also write fiction and non-fiction though I am not sure which is which. I'm interested in making people up, performance, and generally frustrating others.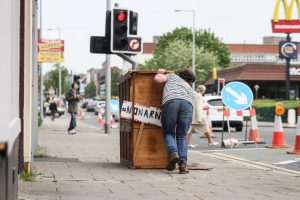 Paul Moore, born 1977 in Belfast N. Ireland, is a visual artist working in a transdisciplinary manner to explore the post-human condition within this modern technological landscape. Moore's practice explores the relationships we have with our surroundings both in the physical and the virtual invoking memory and language to give a sense of a forming narrative of the present.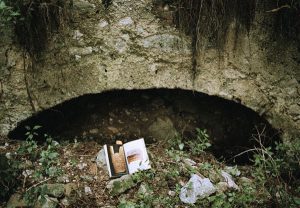 My work is an exploration of the terrain surrounding the Benedictine Abbey and town of Monte Cassino (Italy) which was subjected to an obliterating four month battle in 1944. Today, however, if not overgrown it is built on, strewn with litter or overgrown. It is this obliteration of the officially recorded obliteration and the obscurity marking the twilight descent from tangible history into oblivion that interests me. I am also interested in the fact that soon there will be no living witnesses to these now mostly "traceless" events.
Although no longer scorched and cratered, when there is seemingly nothing left of the destruction one is left with a potential "no-history" visual recording at this remove. Once the monastery was severely damaged, now it is a pristine reconstruction and negation of its ruined past. My aim is to record today's topography so as to suggest and conserve a trace of an elusive past. To approach this work I mainly used analogue film with exceptionally high grain so as to allude to the aesthetic of the traditional photographic 'archive': a sort of "nostalgicization" of the now so as to evoke the past in the present. In addition I am also working with found and recovered objects of the topography of destruction and examining and testing their veracity through a presentation and packaging of them as artefacts of true witness.
As part of my practice and research surrounding Monte Cassino I presented a paper entitled 'City, Martyred' at the 2015 Art, Memory, Place conference at IMMA. In September of 2016 I also presented a paper linked to the recording and re-presenting of the past at UCL's Institute of Archaeology (London). The paper is 'To a Presence of Absence: A Study of the Opera on the Ancient World by Herbert List and Joel Sternfeld via the writings of Martin Heidegger and Jacques Derrida'. Destruction of Cassino town via British Pathé
Rosie O'Reilly
An increasingly rationalist-constructivist view of human action separate to the world around us informs artist Rosie O'Reilly's current research. Through large-scale audio/visual instillations she aims to create an alternative experience of how we are in the world. Rosie's current research is concerned with how the application of phenomenology as rhetoric for understanding this position can give insight in to our relationship to space, time and landscapes.
Sarah O'Toole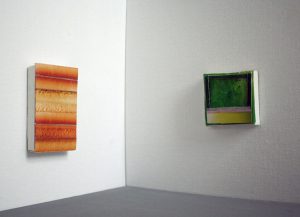 Having been immersed in motherhood and the home for several years, my recent art practice has emerged from spending lengthy periods in a domestic setting. My work uses utterly familiar materials to explore ideas of visual representation. My research practice explores the role of the artist to copy.
Current practice centres on a reinterpretation of the inexpensive packaging of household consumer products and the intrinsic qualities of such ubiquitous items, noticing the potential of these unassuming materials (envelope interiors, paper bags, crisp package seal) for new means of engagement for the viewer. I am struck by packaging design that often goes unseen, when reassembled and photographed, it becomes something different.
Tools for current research practice include collage, scale, model making and photography and have resulted in a reinterpretation and subvention of abstract expressionist painters (Rothko, Scully). Gallery series questions an audience's response to viewing modern expressionist masters. It investigates what happens when a viewer first sees a large abstract expressionist painting with what happens when scale is changed and the piece is photographed. By re-assembling and re-presenting everyday packaging and photographing it, the results can be viewed through a fine art lens. How do these materials affect how the viewer responds to the work?
Future research plans focus on patterns of human behaviour (preferences and tastes, needs, luxuries and seasonal patterns) through domestic waste materials (for example shopping lists collected over time). I would be interested in embedding my social research experience in my fine art practice. A second strand of future research is the fine art source material of graphic design for crockery, wrapping paper, department store bags etc, and potential use of these designs in current visual art practice.
Debbie Paul
Curator + Jewellery Artist.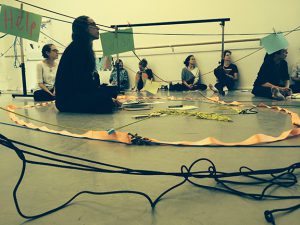 As a researcher, my interest lies in group dynamics, in the atmosphere that can be garnered through coming together. How "an atmosphere" can be facilitated or allowed and how people can feel connected through very simple tools. I'm interested in diverse forms of communication, reconfigurable networks that connect people, environment, and place. I'm curious to explore how identity informs this and how pushing beyond preconceived ideas and ideals by using the senses can open up individuals and communities to new possibilities. During 2016-17 I will conduct experiments in facilitating collaborative participatory performance through a series of events, making and curation.
Julia Ptak
My research to date has been concerned with photomontage as a commentary on economic, social, and political conditions in mass culture, particularly in relation to advertising and the consumption of images. In this I draw my inspiration from the works of Hannah Höch, John Heartfield, Peter Kennard and Barbara Kruger, as pioneers of socially engaged art. My work seeks to question the relationship we have with consumer culture in the digital world that surrounds us. I want to interrogate the scale by which we measure the value of material goods, the impact of mass media and advertising driven purely by our desire for possession. I aim to expose how power is disseminated in a media dominated world. I will be engaging with the impact of consumerism on human life. My proposed research will focus on the themes of capitalism, consumerism, advertising and mass culture. I want to expand from a purely photographic practice into installation and sculpture, to better address the impact that capitalism has on our lives today and how we are distracted from the actual conditions of society.
Jonathan H. S. Ross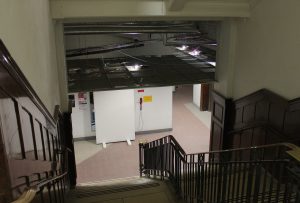 Jonathan H.S. Ross studied at the University of Ulster, where he gained a BA Honours in Fine and Applied Art. On graduating, he received the RDS 'James White Drawing Award 2012' and contributed an article on drawing practice to the journal Visual Inquiry: Learning & Teaching Art (published by Intellect). In addition to ARC, he is on the current board of directors at Catalyst Arts, Belfast. Ross makes works involving drawing, photography and sculpture as an expandable medium often encompassing a performative element. His work is developed through a inter-disciplinary inquiry, informed by research into behavioural economics, language, architecture, public space and methodologies of manufacturing processes. Selected groups show include 'Repetition' (2013) at Monster Truck gallery, 'Deep Time' at the Ulster Museum and 'Long Drawn Out' (2013) at Catalyst Arts.
Benjamin Stafford
My research involves looking at the life of objects in the context of collecting. The project seeks to uncover overlooked instances and stories that point to the wider reasons why we collect and how objects – both sacred and mundane – shape our individual and collective identity. The psychologies of collecting, with particular reference to how collective cultural memory influences the value placed on different categories of object and artwork, and how museum collections reflect ideas of cultural and aesthetic value.
Moving from collecting as a pursuit of aesthetic, artistic or academic high-mindedness to the compulsive, relatively indiscriminate amassing of hoarding, the project will examine how acquisition of objects can be used as a way of creating narratives, to put a structure and form on something otherwise incomprehensible. Through looking at these elements such as public / private collections, hoarding, or collective or individual appropriation of objects, the project seeks to understand people's relationship to things, whether as a prestige possession, comfort or anchor, or symbol of identity, appropriated or otherwise.
Ownership is the most intimate relationship one can have to objects. - Walter Benjamin
My research and practice are based around the ideas and the materiality of the human form; the human body as a living object. I am interested in the use of materials and fabrics that mimic the human form, replicating the tones and textures of the body. My current practice involves the fabrication of art garments using fabrics such as silk and linen; the garments are often combined with physical structures. The fabricated art garments are constructed with a minimalistic approach and denote a sense of coverage and ease in respect of the human body to the viewer. I am interested in how ideas of size and functionality become imposed on the work from the garments specifically being conceived as gender non-specific.
I am investigating the concept of what a connection between people and living objects means. It is these connections with "living objects" that give us memories and feelings toward certain people and often, objects. I envisage that this line of research and practice will continue over the coming year with the development of my curatorial practice.