ARC 2019 Researchers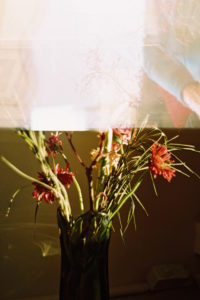 When I was ten years old, my mother told me of a lady who had been in contact with her. Her name was Anne. She was my mother's birth mother. I became fascinated by the possibility that those who passed me on the streets could be my own flesh and blood.
Adoption implies the injection of a foreign element into the fabric of family life. It serves to underline the fragility of blood lines. This destabilization can be understood as a disturbance of the order of things, expanding the concept of family and the intimate, dream-like inception of human connection.
Becks Butler is a multidisciplinary artist with experience in the field of photography and science. Her current work 'Taxonomy' explores narratives within human lineage, drawing on systems that connect and contrive their existence. Becks has been making work as a response to the role of origins in the formulation of human subject, and feels compelled to investigate the mother as a figure of the other. 'Mother', as a representation of past onto present, resists all orders of lineage, so her image and presence can be felt as posthuman. It is this concept that informs phase two of her research project, which aims to investigate the role photography plays as a site of representation of the posthuman.
Martina Coyle
I am a multidisciplinary artist working predominantly in the field of Sculpture. My practice is made up of three inter-related strands; studio based artwork / installations, public art and art facilitation. My studio practice deals with the consideration of the nature of substances, material as an emotional trigger, the transformative aspect of light, our relationship to and how we engage with the built and natural world, the process of learning and the act of making. I am interested in making work that on first viewing may appear simple but in fact can only come into existence and function through in-depth understanding of elements. My public art works are site responsive, research based and site sensitive. My public work often involves participation or collaboration with individuals or groups and professionals. To date these have included an ecologist, archeologist, multidisciplinary artists, sound artist and sewing factory machine operators. As a professional artist, I am committed to the role an artist has to play in education and in day to day life. I have extensive experience facilitating art workshops with groups and individuals in both Ireland and France. My approach is primarily non-directive and incorporates aspects of art therapy.
Judy Foley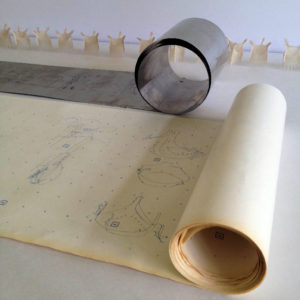 My core concerns originate from an anti-subjective stance with a focus of interest on the process of drawing and handcraft. Key to this apparent conflict is my working method which is painstaking, precise, repetitive, and predetermined or rule bound; a method with the potential to foster a remove from the outcome of the work and of relevance to my enquiry which seeks to distance subjective decision making and to privilege the inherent or latent.
My current research is informed by a model of handcraft employed in the medical device industry, specifically the manufacturing process of the bio-prosthetic heart valve, a highly skilled and tightly regulated craft process that involves hand stitching of component parts, taking 2 to 3 days to complete a single valve and involving up to 2,000 stitches. This is an industry linked with the technology of the post-human yet at its core it involves the ancient craft of hand-sewing. Moreover it profiles a very unique model of handcraft with an ideal that precludes the ego or individuality of the maker.
Yvonne Higgins
Meghan McLachlan
The practice of my work fuses experimental photography methods with storytelling. I have fervently worked with the 'blue printing' method as I believe not only the image tells a story but the process does as well. The virulent blue leaves a remnant of its inventor and I like to think a little piece of Anna Atkins (one of the originators of the Cyanotype) is embedded into the fabric or materials that I am printing.  Working with film and sculpture has also formed a large body of my work. As an ARC researcher, I am planning to create a short film, with images based on historical documents discovered, and also to produce a publication entitled The Shell Seeker, based on a book I found in an old abandoned psychiatric hospital, with the underlined passages in the book acting as my guide.
Andrea Neill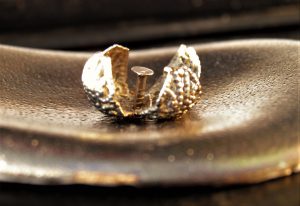 My research seeks to unravel how the non-ethical construction of our 'civilisation' confines us still, and to which nigh-all making, motive, meaning and metaphor is ascribed. Somehow long ago the body as the site of experience and knowledge lost her credibility. Several thousand years of engendered refinement has submerged, dislocated our inherent being. It seems to hang or be traced aloft as if suspended beyond enactment. Stories became myth, legend and religious canon inflamed by equally age-old scapegoating rites and the invention of hierarchy, then privileged the judicious metaphor of dualism. To reimagine the canon's rigid paradigm of duality and motive would further the unfurling of the embodied feminine collective un/consciousness.
Astrid Newman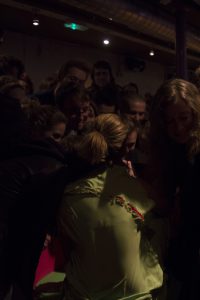 If Astrid was to meet you right now, she'd probably shake your hand and look you in the eye. The ideal handshake is firm. Not forceful, firm.
If you asked Astrid how she was she would probably answer honestly and tell you that she was feeling a little anxious. She'd say something like this, 'Did you know that in 2014 there was a Buddhist monk at the World Economic Forum, lecturing world leaders on mindfulness? The commodification* of well-being. It's always been ours for the taking and now…'
She'd trail off then, not because she had lost her train of thought but rather because she could see that the answer you had been hoping for was a simple and resolute 'fine'.
*Every time something is transformed from a right into a commodity the power of the profit motive to dictate our lives is increased. ('The New Prophets of Capital', Nicole Ashoff)
Astrid's practice is predominately performance based. She is co-founder of CONCH and of Apricity – collectives based between Dublin, Edinburgh and Glasgow. She is looking for ways to navigate the impasse and expand on collaborative practices.
Ciara Roche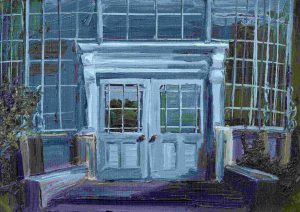 I am primarily a painter with a keen interest in the notion of place. My paintings are often a documentation of a place, sometimes suggesting a narrative or an action that has either happened or might be taking place just outside the frame. Previous projects include a commission to document the grounds of Lismore Castle. This led to a series of paintings that became a portrait of the castle and grounds, resulting in a show in St Carthage Hall, Lismore in 2016. The titles of my works often refer directly to the process of making documentation, linking the paintings to a specific time and place.  At present, I am researching various ways of documenting a place. My current project is a body of paintings made in response to a location that I have chosen to document primarily through writing. I am interested in exploring how paintings produced in this way can become a fragment of memory, blurring lines between the real and the imagined.
ARC 2020 Researchers
Brenda Brady
Anishta Priyamvada Chooramun
Heather Cody
Penelope Collins
Collette Farnon
Lisa Freeman
Marie-Louise Halpenny
Marie Phelan
Dylan Ryan
Audrey Walshe