ARC 2021 Researchers
Karen Browett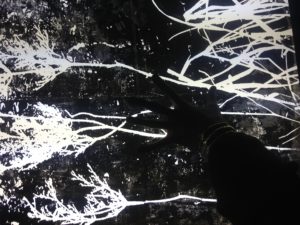 My work begins with studies of a place, it's influences and impositions. From these I create new dimensions of my own, rooted somewhere between dream and reality. Within this I invite people to claim their own path. By working in multiple media from print and image, wavering shadows and sound, I try to weave together a multi sensory space that disregards the boundaries of what came before. I wish to allow participants to own their own experience through my use of interactive touch pads, motion and proximity sensors. My research into this current body of work stems from my experiments with conductive screen printing inks. This allowed me to add musical elements to my art works. My practice has always been split between print maker and musician, and though thematically similar they had not formally met. When I first touched my prints with my bare hands and heard my sounds appearing from it, it was enough to send me on this obsessive mad scientist quest of trying to find out what it could do next. I am interested in the potential to adjust the means and scope in which art work can invite engagement.
Jamie Cross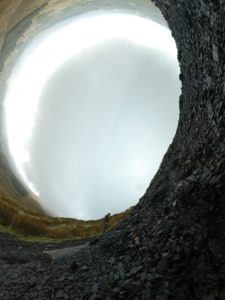 I am interested in how a certain type of space is wholly dependent on how such space is perceived (or is capable of being perceived). Technological devices such as laptops, endoscopic and 360° cameras are my preferred medium for realising and showcasing my work. My main research tool is my Android mobile phone which I use for variety of techniques including photography, recording footage, capturing sounds and GPS tracking.
My new project will involve the manipulation of an online software known commonly as Cupix. This software was designed for estate agents and enables properties to be showcased via 3D models/tours of the space.  I intend to use this software to explore hidden spaces that are not obvious to the human eye.  Through use of the software, I will be able to capture  3D imagery of inaccessible or inhabitable spaces by way of 360° photos.  I am also interested in creating a digital-type exhibition (which could either be combined with a physical exhibition or operated separately) which would involve uploading tours (which I have created) of inside spaces to Google Maps.
Cian Downes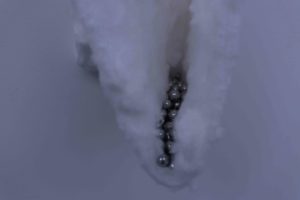 In this project I will explore solid and loose material sculptures. Sculptures I made in the past have consisted of formal elements which operate as frames(unintentionally) I will eliminate the frame within individual works, so they cooperate to create large assemblages in exhibitions. The unframed elements will be of three types solid, loose and between. Using these three elements I am trying to get a materiality that really expresses its being something without consciousness.
Previous sculptures have been a water absorbing material degrading metal. Steel rusts in different ways depending on the volume of salt. Salt passively but slowly draws water. Research lead me to use calcium chloride because of its similar properties on a faster timescale.
I put material into specific assemblages which develop into sculptures. The assemblage is a dynamic changing situation in which the material operates separate from my own agency. I add and tweak elements to make it clear to myself and then reach out to others for critique. Critique allows me to see what the work is communicating and material relationships developing.
I am aware that I am not material that is not me, but I am material, and material does go through me and becomes me. I am implicated in material assemblages and material cycles and so I take part in the sculptures.
I want to understand materials from their own point of view.
Nic Flanagan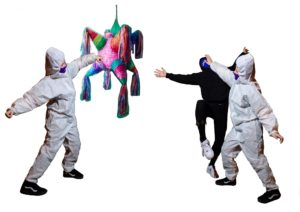 My current works exist under the title Heritage Terror, utilizing elements of tradition to create a mischievous nod to the unknown and as yet unenvisaged. This is an artistic reclamation; of power and process. Conceptually considered both historically, in terms of traditional 'women's work' (such as knitting, sewing and textiles), and physically, in relation to power and control, in particular those of space, privilege and movement.
A performative body is created. One which forms an alternative reality and both individual and social bodies from which to observe, engage with and rescript banal ritual and experience. Space and movement are considered through scripted scenarios. Participants are encouraged to navigate spaces through touch, movement and shared interaction.
The character of the collective body is used to navigate societal attitudes, received ideas and the role of the individual in an age of increasingly secular individualism. Foundational to this process are notions of cultural coding. Those of dress and gendered roles, inform the presentation of the body; dramatizing the mundane rituals of life, daily 'dress up', and creating a pantomime nod to the many 'roles' played by the modern worker and creative.
These concepts lie as subtext under the familiar façade of known experience, that of children's games. Such guerilla tactics are used in order to smuggle what could be conceived as socially challenging concepts into the work in an unintimidating form.  These works will be presented in the form of immersive performance, installation, design and printed works ranging from catalogues to manuals and guidelines for later creation.
Fiona Harrington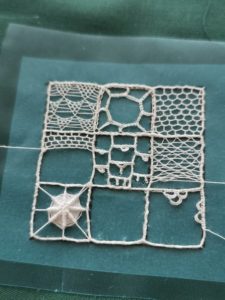 I make lace by hand. This practice has been woven into the history of Ireland for generations. It was made by the poor and worn by the wealthy and elite. Stories are told of women who worked long hours in poor conditions. They were paid for their labour with tea and shoes, such was their desperation. There are also stories of women who bought farms and educated their children using money they earned from lacemaking.
Lacemakers were once described as "young females with nimble fingers who were easily controlled". Following the famine however, lace earnings provided young single women independence and agency, as Ireland became one of the few countries from which unmarried women could emigrate.
The story of Irish Lace is complex and full of contradiction. My research and studio work will focus on the economic and social value of the Irish Lace industry by exploring the opposing qualities of lace. Lace is both fragile and delicate. However, its original and intended purpose was a hardwearing and functional fabric, used to make bedspreads, tablecloths and clothing. Decorative motifs and filling stitches make up the solid areas of the design, yet equal importance is placed on the void or the open spaces. Lace is characterised by its transparency, but it also provides concealment and cover.
Through this work I want to acknowledge and respond to the achievements of the women who came before me. They developed a world class textile industry which at one point was the 2nd largest industry in Ireland. Today, only pockets of women remain scattered around the country that are proficient in these techniques. As a visual artist working in Lace, one of my key concerns is to acquire their knowledge so that I can preserve and innovate this tradition for generations to come
Theo Hanosset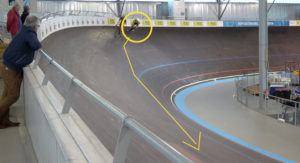 Are high-level athletes the greatest philosophers ?  To answer this question, this project forces a dialogue between the mind-body dualism of ancient philosophy and the optimal experience known as Flow experienced by athletes. It is a state of enchantment so deep and intense that (according to Mihaly Csikszentmihaly in 1975) 'it becomes a model of what our life should be. […] These great moments occur when the body or mind is used to its limits in a voluntary effort to achieve something difficult and important.' Western thought has long been built on a Platonic opposition between body and mind. The body as a prison of the soul is said to be a hindrance to the quest for Good and happiness. At the opposite end of that view is the Flow state, since there is no better time when the body is fused with the soul, when they are one. People who have experienced it tell of a moment of such great mastery and concentration that everything else is gone, fatigue is absent, all difficulties disappear. They stand next to their body, which is nothing but gesture and performance.
The aim of this project is to decompose the Flow, this psychological state which is impossible to reach on command and which is not visible from the outside. To achieve this, the project is divided into two parts, inspired by the optimal experience of cyclists on the track. The first part will be a sound piece that stimulates the spectator to imagine a mental representation of the Flow. The second will be an interactive structure that involves a physical effort by the spectator to complete his or her own representation. The focus is on the attacks launched from the top of the track's curves.  When they decide to dive, they surrender totally to speed and effort. The athlete's tactical choice is merged with the spectator's choice to become physically involved in the work.
Anne James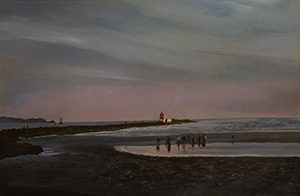 My paintings are the result of lengthy, close observation. I am particularly interested in observing fleeting moments through painting, such as the hour in evening when the fading light casts unusual colours, or a landscape soon to be altered by construction or maintenance. I consider each painting as a repository of both direct experience and of time: the duration in the presence of the subject, the time which passes in making, and the time of the viewer.
Marie Lee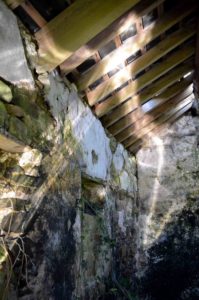 Sclimpíní is the Irish word for light dancing before one's eyes.  In this project I am bringing light into environments with the purpose of effecting change.   I am researching a light realm which our eyes do not register in the contemporary world.  I will investigate whether this blindness might be due in part to our current disconnect from nature and the elements.  I will be exploring the Irish people's relationship with light through time.  My research will look at history through the lens of when light was present and absent. The project itself will be influenced by Irish vernacular architecture and traditional houses and their interiors.  The work I produce will seek to make up for the times when light was absent in the lives of past generations.
I am creating sculptures that will bounce or refract light from their reflective surfaces creating light forms.  I will be bringing these forms into high relief. This project provides an opportunity for reconnection as it brings these sculptures and light forms into home, work and public environments. It also serves to lift the viewer from the hum drum of everyday existence.  My interests lie in bringing light to the nature of existence and the nature of humanity.  It is a process of discovery, shedding light on the unseen, unknown, unheard, the unresolved and the forgotten.
Barry McHugh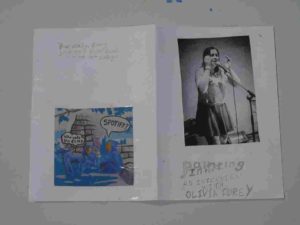 I'm interested in communicating the artist's intention. This can be a number of things – to tell a story, to convey an emotion, teach the viewer on certain subjects – and in turn, there is a wide range of ways to communicate this intention, even outside what we strictly define as the artwork itself.
Painting in Text is a blog where I interview both local and international artists on their practices. It is a way to promote artists on their terms. The interviews are formed from recorded conversations with the artists. The interviews are constructed in such a way that they explore what is important to the artists in their practice in a conversational manner.
They are primarily presented as online text blogs, but I am currently looking at different avenues of presenting the work and the possibility of supplementary physical material that could go alongside the interviews.
Cliodhna Ní Anluain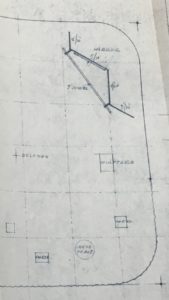 My project is titled Visual arts on RTÉ television: the Early Decades (1962-82). Writer John McGahern referred to the Catholic Church, the Stations of the Cross, the stained-glass windows as well as related ceremonies and rituals in his local church when a boy as in a sense his first art gallery experience. They were the images in his life. In a similar way, a couple of decades later, I realise that a critical early exposure to art occurred to me as I absorbed the changing images chosen to accompany the daily bong, bonging of the bells, during the evening broadcast of the Angelus through my childhood, as I sat in front of the television, putting down time between homework and dinner. We only had RTÉ in our house.
I have been exploring the archives of RTÉ television coverage relating to the visual arts in its first two decades. What featured and how was it presented? I have been drawn to question what it reflects of the actual art and art activity of Ireland during those times. As my research develops, I have become intrigued by the absence of programme tapes in the archives as many were commonly wiped of their content once programmes were broadcast. A paper archive relating to such arts television production does exist. Much of it is clearly boxed and catalogued in RTÉ. I also have access to a number of people who worked on the programmes. I also am in touch with some of artists who featured. There is something alluring about not having the actual tapes to view now. I see it in some way as representative of the stage directions of a play without the evidence or experience of its production. Consequently there is all the opportunity for re-imagining and re-aligning the narrative and head on experience of what visual arts audiences saw on their television screens.
The outcome of my research project is likely to evolve, but my present aim is to present an experience for public engagement to include complete and edited screenings, and contemporary contextualization of the public experience of seeing the visual arts at home on television, off site from where the art is made and typically presented. My research project is grounded in the intention of shaping a template for ways in which an Arts Archive of the early decades of RTÉ might be re-imagined forward to connect with contemporary public audiences.
Roisín Power Hackett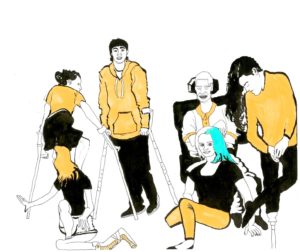 I am a visual artist, writer and curator. In November 2018, I curated 'Towards a Consideration of All Bodies', an interdisciplinary performance event at the LAB Gallery featuring artists from different backgrounds including Mairéad Folan (theatre), Philip Kenny (poetry) and Hugh O'Donnell (live art). All the artists and I myself have disabilities.
I am developing 'Towards A Consideration of All Bodies' into a fully accessible exhibition and programme of events that will empower, support, facilitate and educate the disabled and nondisabled population. This development of 'Towards a Consideration of All Bodies' will include performances that show what it is like to live with a disability. The works will particularly focus on the reactions disabled people get from the nondisabled other, how we are treated by society, and how we internalise and process these attitudes. I want to empower and support those with disabilities and facilitate a point of contact for the further development of the disability community. I want to educate the nondisabled public about the disability experience.
https://roisinphackett.wordpress.com/
Very Ryklova
Through the medium of my own body I explore both the social construction of the self and the self-concept. Drawing on the emotional conflict between existent reality and the desired one, I confront the public eye with intimate aspects of a woman's life. I use my own – subjective – experience in engaging existing society to mirror its norms as they define a single life. I subconsciously layer elements of my past and present, which together builds a subject for the viewer to explore.
Performing for the camera I produce video and photographic self-portraits. My work is conceptual, but equally guided by my instinctive actions in the moment of its execution. The process of exploring my ideas and the way of making the work are largely based on experimenting. The aesthetics of its results shares considerable importance, but it is not what I premeditate. The key concept of my practice is confrontation. Therefore the creative approach I have developed gives the camera the function of a distancing device that I utilise for me to experience a state of catharsis. The link between the artistic execution – where the making serves as a coping mechanism – and the liberating emotional discharge is also the interest of my research.
For this programme I will re-engage with my ongoing projects I have developed over the past four years. As I have embarked on transitioning my practice from predominantly photographic into lens-based media, I aim to concentrate on producing series of videos with the equal importance as I have done with series of photographs.
Lucy Tevlin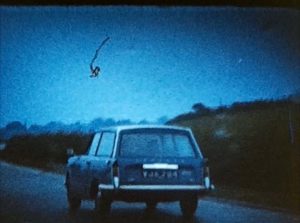 I predominantly make projected image installations. My research is concerned with how we might place trust or meaning on certain types of technology or language. I am primarily focused on the precarious nature of analogue photographic technologies. These concerns are projected and reinforced through an image and text relationship that often integrates theory into the content of my work. I see the relationship between form and content as being an integral component of my practice. I am currently producing a body of work, titled Conjecture, that examines the materiality and history of image-making technologies, a process that integrates mediums such as 8mm found footage with contemporary digital media.
ARC 2020 Researchers
Brenda Brady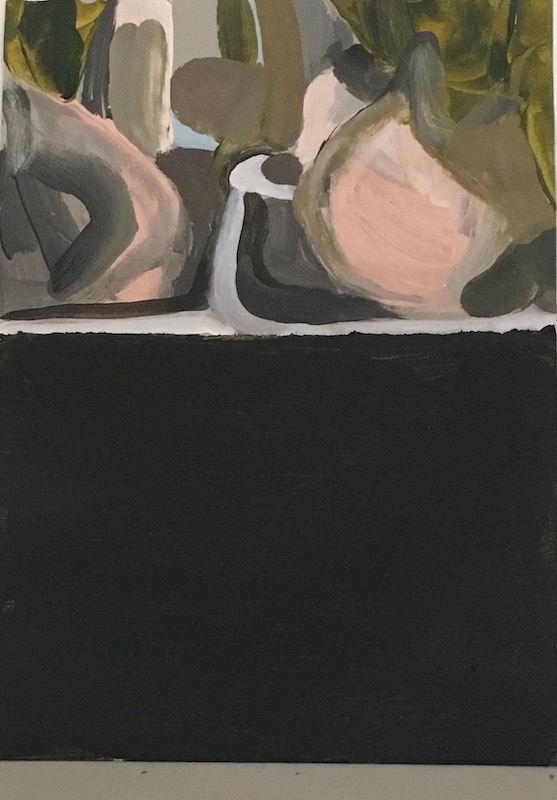 My research is grounded in the traditional mediums of painting and drawing. For me painting relies just as much on subjective sensation as it does on image or concept. The investment of time and engagement enable's thinking through materials facilitating the extraordinary range of visual possibilities that is achievable in two dimensions. Found, made, collected, manipulated, glued, pressed together – all play a role in the ever growing vocabulary that makes up my emerging practice. Certain recurring concerns like the intuitive and the ordered with all their inherent paradoxes are evident.
Paintings that 'Hide and Reveal' is a current line of inquiry. Richness of surface, what is absent is just as important as what is visible, everything apparent hides something else. Repetitive actions combine to build up a surface blurring the lines between non-representation and image, text and drawing, painting and print, offering hints and glimpses.
Anishta Chooramun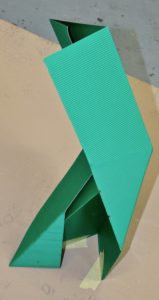 My work is informed by the diverse components that create our society and that influence our identity. I think of our society as a jigsaw puzzle. As we move through the environment, progress from one place to another, encounter different aspects of life, meet new individuals, or encounter a novel situation, we transform who we are, and shape our identity. We pick up and add to aspects of our identity, we also let go of identity markers that no longer fit us. Whilst these changes help us grow and become who we are, we also lose a little of ourselves as individuals. In life, we experience so much fragmentation of thought and feelings. While creating my sculptures I keep these fragmentations in mind and create an abstract jigsaw puzzle.
I am currently working on a new series of sculptures' that is informed by dance as a language and a form of communication, for an exhibition happening in The Dock at Carrick On Shannon, in May. I have been researching and learning a dance called Kathak, originated from the traveling bards of North India referred to as Kathakars or storytellers. The Kathakars communicate stories through rhythmic foot movements, hand gestures, facial expressions, and eye work. I am trying to incorporate these expressive dance movements into my sculptures. My work often comprises a series of sculptures made from various materials, including, metal, wood, fabric, glass, linoleum, paper, and concrete fabric. When the audience moves through the installed work they can visually piece together all the different fragments of the jigsaw puzzle to complete the artwork.
Heather Cody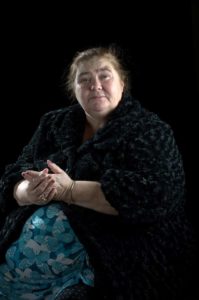 My photographic practice centres on the Travelling Community in Wexford. I am interested in exploring their culture, experiences and beliefs through photography. I have already completed a documentary series focusing on Irish Travellers at Horse Fairs in Ireland. My project has evolved through working on the ARC MA Program. I am now working on a project in which I am collaborating with members of the Travelling Community in Gorey. I have applied for funding from Wexford County Council Artlinks to hold workshops for members of the Travelling Community; I propose to teach the participants basic photography skills during the coming months. I am holding an exhibition in Gorey Library for the month of September. It is my intention to hold a collaborative exhibition of my portraits of travelling people alongside images taken by Travellers during these workshops.
Penelope Collins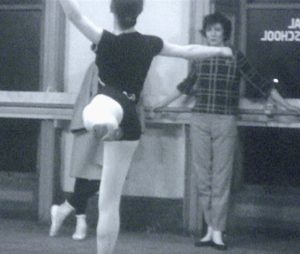 I am researching the National Ballet School and the professional ballet company in Dublin during the 1950s and 1960s. My research focuses on the work of teacher, choreographer and Artistic Director Patricia Ryan who is my mother. This school and company collaborated with diverse artists in different disciplines of music, literature, poetry, choreography and design. I am planning to develop a documentary short based on this history through interviews with her students, guest dancers, conductors, archive materials, photographs, letters and documents of productions and film archives.
Collette Farnon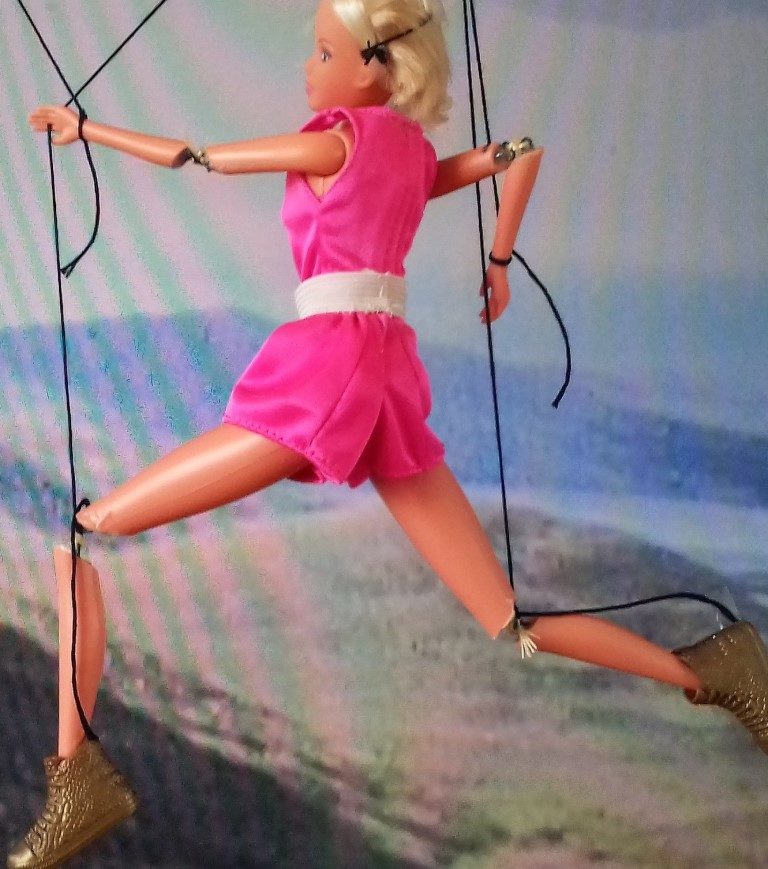 My research focuses on representations of women across a variety of media. My original research sought to dismantle the traditional decorative and sexualized representations of the female body in History painting and examine its effect on contemporary attitudes towards women and girls.
My current research examines more contemporary modes of female representation including the GAA initiatives #20×20, #Show Your Stripes and #If She Can't See It She Can't Be It, the Esker Women's Boxing Club, the Six Nations Women's Rugby and the Always 'Run Like a Girl' campaign, all of which work toward redressing the balance of the persistent notion that a woman's looks are her most important asset.
As part of this research I attempt to give life, mobility and action to Barbie type dolls by dismantling and reconstructing them as puppets and marionettes. I make videos of, and photograph this process, at regular intervals. I position these creations in tableau and or place them in dioramas. This is part of an ongoing process.
Lisa Freeman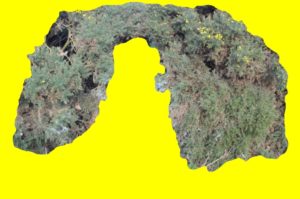 I am visual artist, my work broadly speaking, is process-driven and research focused with the objective of gathering performative digital-based materials for video, performance and installation outcomes. I am developing a project based on the 19th century 'Wrens of the Curragh' who were a group of women that lived in gorse bushes outside the army base in Kildare and were sex workers.
I will develop a site specific performance at the Curragh involving a cast of actors. I will conduct research through site visits, script development and workshops with the actors. The performance will be defined and sculpted by five different elements: script, sound, actors, costumes and location. I will use the location to contextualise the past and create a discussion based around women's rights and societal attitudes around this.
Marie-Louise Halpenny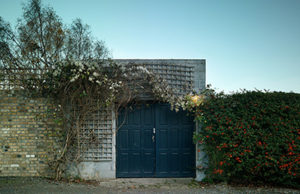 I am producing a body of work depicting a series of spaces that have a relationship to crime, and I am researching this through a combination of photography, data and mapping.  I am interested in our relationship to a space through memory. My work explores how events can change a space, how a space can change events, and how a space can be altered by the way we use it and pass through it.
I am interested in the altering of images, and the combination of spaces or events within one single image. My fascination with light, and with the movement of people through space has developed through my work with architectural photographs over the past 12 years.  I aim to approach my subjects with empathy and openness, creating images that can strike you hard and awake another sense of the life of a space or building or context.
Marie Phelan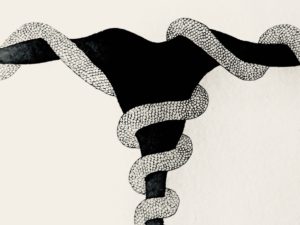 Therianthropy is the belief that a person has a non-human or animal part and Shapeshifting is the ability to transform fully into another creature. My project considers the Shapeshifter in the context of ritual and belief systems and their connection to place. This place, when within the rural landscape, can have many other associations and the boundaries and crossover of these realities can be blurred. This can lead us to the question: What is real and what is not real? My work aims to understand and explore this question and to somehow connect with those blurred realities through multidisciplinary tools including sound, video, drawing and sculpture.
Dylan Ryan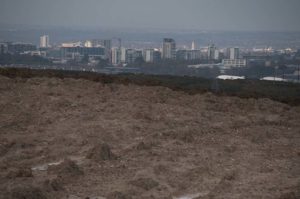 I am working on an ongoing project, which started in January 2017. I am very interested in a building development in my local area. I began documenting the site for the Cherrywood Master Plan, which has been in the planning and design stage since the 1990s. The project is partly informed by my memory of playing on suburban building sites as a child, as they continually extended over the diminishing open grounds, housing my new neighbours. But this time I am playing with a camera. In my photographs, the viewer can see the alteration of the land. Rich with archaeological sites and farm history, it is being transformed into a functional urban landscape. The photographs, depicting machinery, materials and tamed earth, can be dramatic, surreal and sometimes humorous, capturing the beginning of a new New York-style town with its own amenities.
Cherrywood is an example of urban sprawl as the city moves out, taking over rural and farm land with its benign hills and trees, replacing them with buildings, roads, parks. These photographs show the meeting point between concrete and wild countryside, and the shaping and utilisation of land for use by suburban dwellers.
Audrey Walshe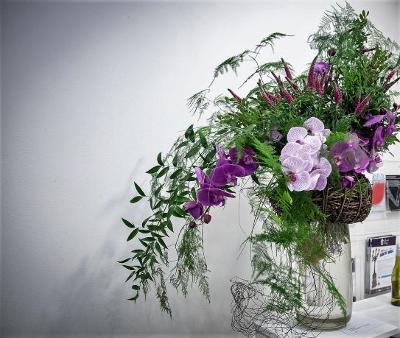 I have an interdisciplinary background and hold a BA Irish Studies (TCD, 2017). As a working florist I am researching how artists use botanical materials to produce work, in the conventional sense as a form of artistic/scientific documentation of species as well as installation work using organic and natural materials. I am observing how the tension of working with a deteriorating material is resolved and expanding my own creative practice to explore how creating work that is transitory invites the viewer into a collaboration which can't endure.  I am exploring themes of decay and temporality and investigating how the use of botanical materials emphasises a state of impermanence.
I am interested in the commodity culture that surrounds flowers and natural objects, specifically in relation to the wastage and decay that is usually hidden from consumers. My current research interests seek to bring together my academic and practical backgrounds.  I am historically contextualising this artistic research around the Victorian Flower Market in Dublin and curating an event, at another location, to take place on Bloomsday 2019 which will bring together nature, art and culture in a collaborative process.