ARC 2024 Researchers
Laura Flood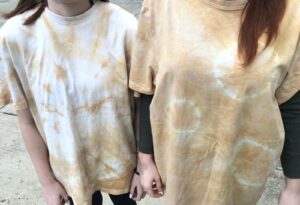 I studied permaculture design in Portugal in 2020, after graduating from my BA in Art. My interest in both art making and ecology collided. The three-week course in permaculture design confirmed many ideas I had felt already concerning eco-literacy, community resilience and alternative cultures. I identify most with the permaculture principle 'Use the Edges and Value the Marginal', as it encourages unconventional ways of working and togetherness.
Ecologically-sound processes like Ink-marbling on recycled paper, transforming milk cartons collected from the local café into hanging outdoor planters, dyeing t-shirts with the local willow leaves and gifting collage people-care journals have all been previous outcomes of my collaboration with Youth Train Wexford (an employment and education programme for young people).  The natural dye process was most interesting for learners I've worked with at Youth Train. Soft, mottled organic fabrics question the permanence of other materials and attest to the necessity of decay as part of the cycle of all living things. I aim to document what's possible with this traditional artform. I'm eager to explore the traces of my ecological conversations between materials, ideas and human impact and action. I will install the elements into a body of evidential material including the naturally dyed fabrics, photographs and post-project poetry.
Breege Fahy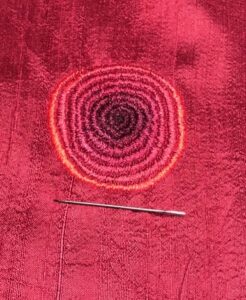 I have been a costume maker for 30 years and the piece I imagine making will be a large elaborate embroidered vagina on the back of a very simple costume.
It will be on the back of the costume because so much of the reality of women bodies and work goes on behind the scenes, unseen. This is especially true of needlework, which is both paid less and looked on as less. Historically, needlework is often associated with mothers, grandmothers and female relatives, working for little or no renumeration. My work will pay homage to the unseen long hours of learning and practicing required for these skills, rather than the knowledge being somehow inherited by gendered magic.
For many, a vagina has been a hindrance.
This imagery will explore female body language and how we hold and hide ourselves.
I want to turn this around and show it as something to be proud of, and wear on the outside. In fact I imagine that the weight of the embroidered vagina on a very fine costume will show the weight or burden that carrying a vagina can be.
I want to explore the symbology of the vagina. I will research the history of its treatment in life and art. I want to incorporate symbols both hidden and known in its details. I hope to explore feminine forms and stories, our scars, our missing bits, our taken away bits, our imperfect perfect vaginas, our virginity, our used, explored, exploited vaginas, our menopausal vaginas, ourselves, our power. My large embroidered vagina will be a celebration of the vagina.
Madeleine Hadd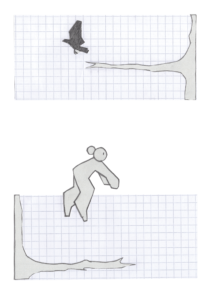 Imagination is a peculiar thing. Those that seek to question it are quick to learn how individualistic an experience imagination really is.
Aphantasia is a form of imagery blindness. While awake, those with aphantasia cannot visualize objects, imagine sound, smell, taste, movement or touch. Prior to the discovery of my own aphantasia, life had never led me to question the way I imagine compared to others. Like many other aphants, I possess the ability to retain rich, vivid dreams. This poses an interesting distinction between one's waking and sleeping state of imagination.
My project FARAWAY is a graphic and literary novel that explores dreaming and loneliness. Often, dreams are seen as fleeting, subjective thoughts, but when dreaming is your only opportunity to connect your imagination with images, dreams take on a new role and provide a unique solace to waking life. FARAWAY is a fictional narrative made of various collage and illustration components paired with several passages and poems. My work has a loose, illustrative quality combined with disciplined forms and layouts. Though my illustration process requires several digital components, the final illustrations are always physical pieces with intentional texture, grain and imperfection.
Ailsing McConville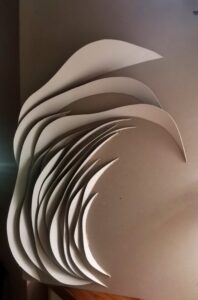 Memory is in its repetition
Whilst watching the swell in a Wicklow cove, I ran my fingers across a large boulder that was concentrically indented from pounding waves.  In geographical terms, the waves at high tide had eroded the boulder into a series of striations. As I turned and looked up, the sloping sides of the cove had visible stratifications of deposited layers of rock.  As a sculptor, I felt the waves chiselling with every break. I was part of nature's masterclass that day.
I grew up in the Troubles. For me, identity, time, and place are visceral. Like the waves, I carve as a mnemonic tool. Carving into wood rather than stone as I enjoy the speed at which I can work.
The sculptures I create are depictions of striated and stratified forms of remembering. They swell with narrative. Undulated carved lines flow into an opening akin to the eye of a needle. Outstretched antenna stoically search for a narrative to weave.
This project will continue by my sculpting a succession of carved striated and stratified forms. My hope is that the sculptures prompt collective conversations in response to the recall of memory.
Damhin McKeown
Dámhín is an artist and curator based in Dublin, Ireland currently co-directing anti-capitalist trans art collective gender.RIP. His practice involves radical occupations of space running accessible exhibitions, events, and workshops that aim to bring local marginalized communities into conversation with international contemporary art in gallery spaces. In 2017 he was awarded the Spirit of Fringe award for his event Fully Automated Luxury Gender Oasis with Trans Live Art Salon.
Sorcha McNamara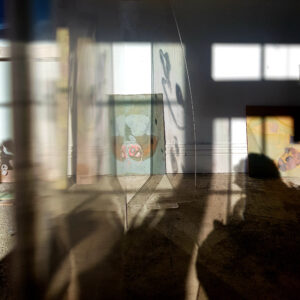 In my work, I am a painter or more accurately a maker of things. But even 'maker' isn't really the right word. It's too organic, too suggestive of the handmade, of the nobility of a craft. I am more of a composer, a conductor – the person in front of the orchestra waving their arms about, whose function and purpose you're unsure of, but you know they are important for the stability of the whole piece.
As an artist, my research explores acts of resourcefulness and improvisation; through making paintings out of found materials, and focusing my attention on the discarded detritus of the everyday. My work sits on the threshold of painting and sculpture, and examines the implications and ambiguities that lie in the margins of working between both disciplines. I'm interested in using this dynamic to draw attention and awareness to the embodied experience of the self in the world. With these thoughts in mind, I want to focus on how my practice can be opened up to more collaborative ways of working, through actively engaging in residencies, workshops and exhibition-making.
Rose Reichart
Growing up, I used singing as an instrument to regulate and express my emotions. To give different parts of myself a voice.
The throat is physically connected to the cervix and the uterus. The vocal cords and the pelvic floor even resemble each other.
Intuitive oral expression is a vital part of giving birth. Not only birthing humans but also lending a shape to ideas and mindsets.
Inducing change.
In recent years I have become more and more interested in cyclical rhythms at play in and around me. One personified symbol of this is the triple goddess – Maiden, Mother, Crone. I have explored these archetypes through menstrual cycle journaling. I have recorded my monthly inner seasons on the page. Maiden, Mother and Crone translate into Spring, Summer and Winter. Contemporary culture has introduced the Wild Woman as a representation of Autumn.
I will create a visual music cycle of four artworks – Maiden, Mother, Wild Woman, Crone. Each artwork is composed of a song and a painting.
I will approach the creation process in a cyclical way:
Collecting experiences, writing lyrics, recording my voice and sounds of nature.
Processing earth pigment into paint, working with renewable materials like bamboo paper and hemp fabric.
Painting each song, recording the sounds of my brush strokes and mark making.
Weaving the visual rhythms into the original elements of the song.
Layering sound and paint into a multisensory experience of recurring natural voices.
Website: https://rosereichart.com/
Instagram: https://www.instagram.com/rosereichart/
Padraig Sinnott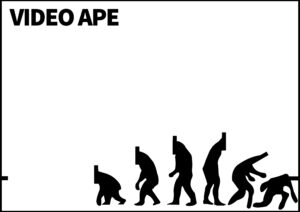 Television has played a significant role in my life. From sharing a roar with my father at a sporting match or a scream, to being given horror films on VHS by my mother at age six, to fighting over the remote on Saturday mornings and deciding which cartoon to watch with my brother and sisters.
This body of work is composed of a series of interconnected objects and recurring characters; Father Hurley telling tall tales about his time on the pitch; Miss VHS rewinding about her bygone era. The little son of a fridge who left his door open in the middle of the night thinking the whole house would turn into a frozen wonderland. Characters having an episode, which act like a TV series.
I am facing into the challenge of sitcom production. In my sitcom, video ape attempts to reclaim the coping machine from the feuding family members to escape the endless loop of his life. This work will mock and honour the dying breed of the sitcom format. It will be my first time to direct actors, and will require a crew, set constructions, wardrobe, locations, props, catering, cameras and sound. Two years in the making, but it should be in the can within a month.
Emer Wang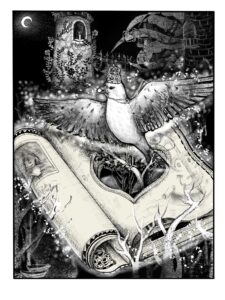 I am working on a project that combines pictures and stories. The pictures will be illustrations based on the Grimm's fairytales. Fear is one of the original narrative motives of fairytales. In the original version of Cinderella, the prince did not find the princess easily as in the cartoon. Instead, Cinderella's two sisters cut off their toes and heels for putting on the crystal shoes. After the prince took them away, the bird reminded him that he had found the wrong person, and the two sisters were blinded by the bird. Fairytales used to be full of twists and grim endings but nowadays those stories are considered to be no longer suitable for modern readers, especially children and have been sanitized by companies like Disney. As a fairytale lover, I am tired of the happy endings, and want to explore the original intention of Grimm's fairy tales.  In academic scholarship, the analysis, categorization and critique of the fairytale form is ongoing, with studies exploring violence, sexism, patriarchy, antisemitism and many other issues relevant to Grimm's fairytales. My illustrations aim to depict the true horror of these fairytales. I am also interested in expanding beyond the two-dimensional form of digital illustration by handcrafting physical frames for each of my images, assembling these frame from found and repurposed materials.
ARC 2023 Researchers
Oswaldo Alvarez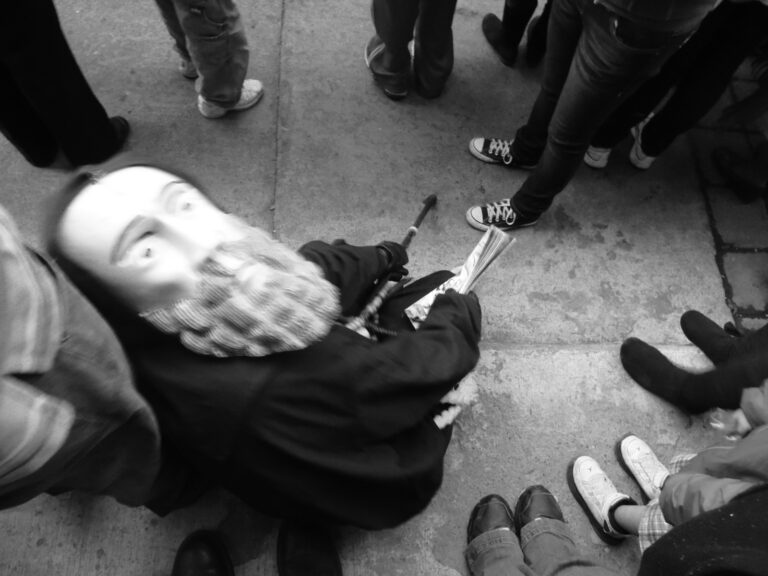 S'iruki
The languages that we use to communicate give us identity, serving as an expression of human thoughts and emotions, adding aesthetic values to our person and culture. Indigenous languages enrich the heritage of communities, help to protect this heritage from extinction. Sometimes the tones and vibrations of these languages are so strong that they can break social paradigms and cultural stereotypes.
I want to base my research on the P'urepecha culture, an indigenous culture from Michoacan, Mexico. S'iruki is a P'urepecha word used to describe that idea of active "prolongation". It is a word that has allowed the P'urepecha culture to persist, despite the difficulty of their existence.
My interest in the P'urepecha culture lies in the connection between its aesthetic, language, folklore, and traditional music. There is a deep relationship between this culture and nature, and a polytheistic worldview of seeing the world united to its context.
I plan to design an audio/architecture installation expressing the strength of the P'urepecha language, their constant fight against discrimination and their resistance to the stereotyping of their culture.
Shannon Carroll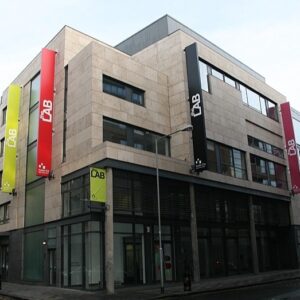 Growing up in the Dublin Mountains, I developed a keen interest in the natural environment. This passion has motivated my research in the visual arts, which puts Irish artists at the focal point of my exploration, artists who are using their work, practice and activism to raise environmental awareness and inspire change.
I want to create a space where such artists can exhibit their work. A space in which to initiate conversations and provoke insight into key issues surrounding climate change and the devastating effects it continues to have around us. We need to develop a shared understanding of this crisis we find ourselves in, and this is a part of that journey.
At a time when images of doom and gloom dominate the media, these artists have a way of finding the positive, and in their work they can envision change. Through their practices, materials and social engagement, they offer sustainable and creative solutions that could lead the way forward.
Alongside this exhibition, I plan to create a tailored programme of educational events. Panel discussions, artists' talks, outreach workshops and film screenings will be designed to foster engagement with the themes highlighted by the artists in the exhibition.
As stories of global warming loom and a more eco-conscious society grows, there has been a movement of galleries, museums and art organisations across the world, taking and creating more steps to understand their environmental impact. This exhibition curates a creative call to action.
Michael Croghan
One day I will be gone from this place
My project will be a photo-book and an immersive installation on the idea of space, in relation to time and what it evokes. I will be using my photographic archive of aimless wanderings in my local (Longford, Ireland, urban/rural), with that idea of time, space and self. Using the fragmentary photographs to explore and show the commonalities of the landscape and people, in varying style, abstract, realism, poeticism and colour. I will use a novelistic approach, building upon my knowledge of pathways and byways of place, showcasing hidden culture, and fluidity of this space and time, over a decade. Permeating through my work will be the idea of self, which I see as an ambiguous referent.
Shane Gallagher
Sense
Bodies are made up of many senses. These senses engage with the environment and people around us. There are five main senses of sight, smell, sound, taste, and touch. As beings we rely on these senses to inform our bodies and shape a perspective.
I am developing a curatorial project. One which explores the work of artists under the theme of these five senses. I am currently researching a range of practices. My aim is to curate an exhibition with an emphasis on sensory experience, and present it to the public in a physical space, either a gallery or different context.
Mel Galley
Changed Lands – How can the creation of imagined places voice our individual and collective hopes, fears, and requirements for future urban and rural spaces?
Growing from my interest in science fiction and utopian / anti-utopian literature, the project proposes that by removing the work and audience from our immediate reality we can think through our ideas around place with more clarity. Instead of considering material or objective questions around place the process gives space to emotive, surreal or abstracted responses.
The title of the project takes the form of an overarching question, a point of departure that ongoing research can unfold from and return to. Within this there are further questions; how can we approach research as a creative practice? How can we develop ideas through different technologies? How do we grow conversations around urban and rural landscapes? How has the creation of fictional cities and worlds been historically used to investigate and communicate ideas on place?
Over the project I will work through a combination of writing and creation of imagined landscapes (using CAD and CGI) to process primary and secondary research. This research could include walks, conversations, archives, books, films and planning documents – allowing for the landscapes to be synthesised from broad ranging enquiries on place, cities, landscapes and utopias. Time will also be given to investigating how technologies can be used to develop the landscapes off the screen, such as laser-etching, installation, print and zines.
Diana Popa
I wish I was an artist but…
What is the status of contemporary art in Eastern Europe and specifically Romania? I wish I was an artist but… investigates the experience of people who wish to become artists in Romania.
This curatorial project explores the many different factors that cause artists in Romania to move to another country in order to pursue a career as an artist. It highlights the lack of support for contemporary art in many parts of Eastern Europe, particularly Romania.
I plan to develop an exhibition project that focuses on the work of contemporary Romanian artists who are now based elsewhere, including those who have faced hardships while developing their work at home. My research will analyse the practices, processes and career paths of these artists, and promote knowledge of contemporary Romanian art.
ARC 2022 Researchers
Dermot Blighe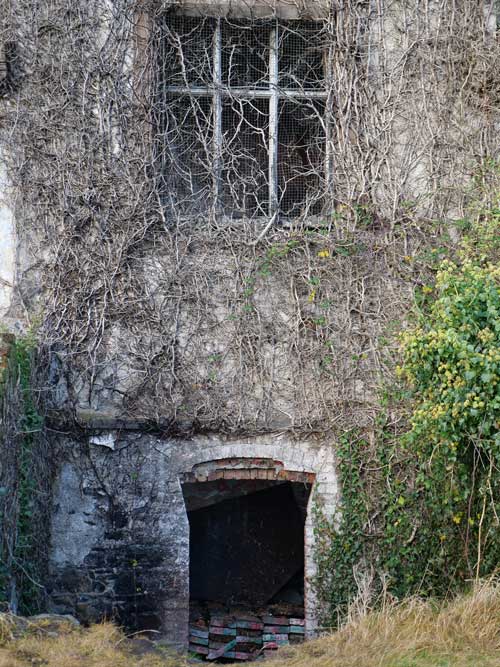 The concept of a keep – a fortification within a fortification – is central to my project. Through the use of sculpture and film, The Keep recites a journey from an abstract, although recognisable, façade of a house, to absorption and obliteration in an infinite inner space.
Juxtaposing the defensive architectural elements evident in historical fortresses and castles with security infrastructure in contemporary buildings, I explore philosophical and psychological concerns through a physical construct.
The Keep is an architectural paradox. Its design means the viewer cannot truly enter the structure. Through the medium of moving images, the film transcends linear time or one-dimensional views. The incompliance to constraints of time and space allows the film to explore the psychological anxiety behind the constructed object; the incursions on personal space.
In the absence of an effective lexicon, The Keep articulates a psychological response to the encroachment of instrumental power.
Anthony Cleary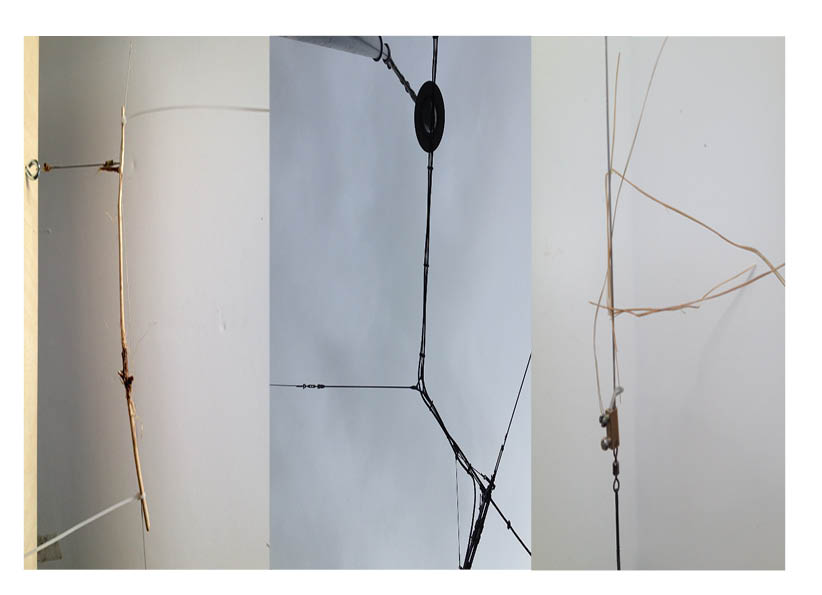 My work in product design is based around user needs, balance, and diverse elements working in harmony to achieve optimum functionality. I am curious however about the energies and processes that are yielded when certain elements move out of sync, and when imbalance and contrast become a factor. My interest is in elements that are kinetic and dynamic; sometimes sprung and poised, at other times yielding and calm.
I am curious about juxtapositions that unsettle and provoke as well as scenarios that reassure and comfort. My research has focused on structures in the environment that support or suspend. These structures may be architectural, engineered or biomorphic. I am drawn to deployable or temporary structures, such as tents and scaffolding, and diverse forms (ranging from tram lines to spider webs, racing yachts and currachs).
My proposal is to create a series of related artworks, most probably three-dimensional sculptural pieces in mixed media. These could take the form of kinetic sculptures or might be stationary pieces with moveable or modular elements. These artworks will explore concepts of balance and imbalance and how we create mechanisms of insight, understanding and appreciation.
Lorraine Elder
As a visual artist, my practice involves a process-based approach to materials, ideas and data. In recent artwork, I explored new aesthetic relationships, feminism and support structures by connecting duct-tape, rubber, concrete, plastic, polystyrene foam, PVC membrane, and aluminium lattice sheets. These sculptural forms were presented as large-scale installations.
Through my current research I seek to bring to light the historical depths of gender data bias, by delving into how we evaluate, perceive and create data with respect to the female body. Where does knowledge begin? How is knowledge formed, recognized and transmitted? I propose, as a starting point, to employ the metaphor of the glacier as a form of cultural selfie.  By making visible the geological layers of social construction and exposing the intersections of identity, sculpture, both digital and virtual, the gaps are revealed. The glacier moves slowly by degrading and reforming, and so shall I.
I will explore new territories to enable the public to engage with the artworks I generate. Familiar structures will be mapped parasitically with generative art visuals, and opportunities to experience multimedia and sculpture arrangements will be created.
Frances Hennigan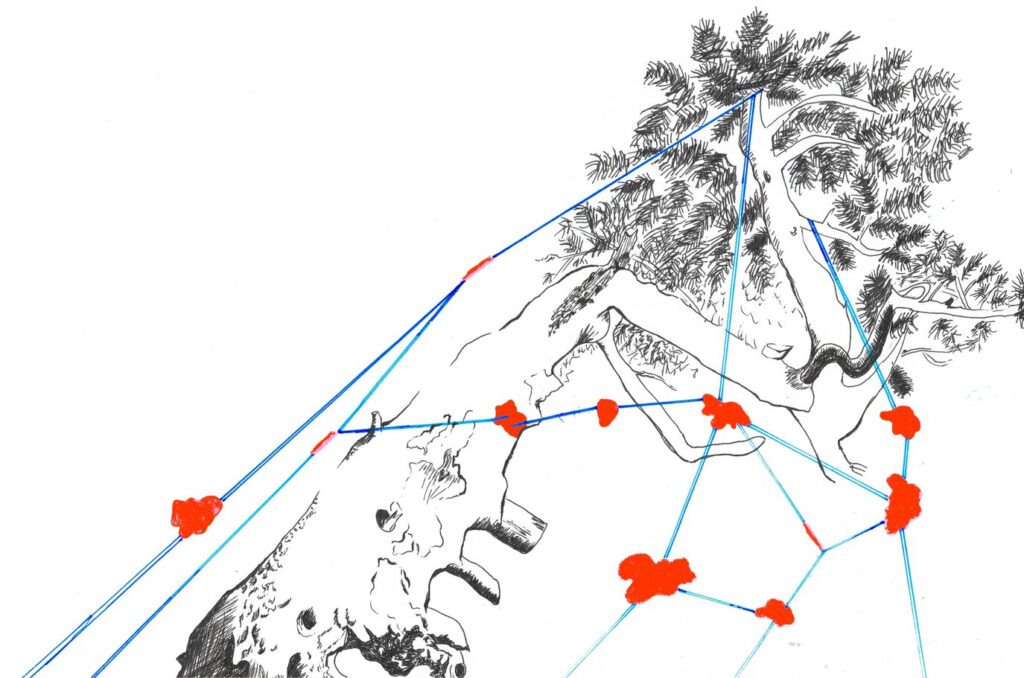 I am interested in uncovering and abstracting ambiguous 'laws of belonging' within different sects and sub-cultures of society. My project is a research-based investigation into shame as a tool of belonging and alienation, which will manifest as science fiction novella. This novella will be accompanied by a body of artwork, expanding upon the characters, their everyday artefacts and their environments.
The project invites looking inwardly at the ways shame motivates our lives, amplifying certain characteristics and shrouding others. This leads to looking outwardly at how the laws of belonging, shape the social environment and the aesthetics of our physical environment.
I am also the co-founder of a collaborative experimental and ongoing curatorial project called cruxx.project with the artists Luke van Gelderen and Lana May Fleming.  Inspired by a ring fort in South Dublin, cruxx.project provides me with a space to expand my research by creating opportunities for intervention between the arts, wider communities and unconventional environments through digital and physical airings.
Oona Hyland
My project highlights institutional abuse that took place in Irish mother and baby homes and Magdalene laundries between 1922 and 1998. The work I am making is an exploration of insidious trauma both from a personal and political viewpoint. I am concerned with the power of trauma, which can be intergenerationally transferred. It does not fade and can haunt the children of survivors. The unspoken grief of minority subjects is another concern.
Erasure is an important theme in my project, and it is integral to my material process. I am making a series of experimental works, primarily print, but also using sculpture, sound, moving image and photography. My work explores ideas of 'otherness', marginalisation and the scapegoat, and the legacy of betrayal involving both people and institutions of the state (as Hannah Arendt would say, the 'banality of evil'). I am interested in exploring these ideas not to illustrate them but to embody them through the process of making the work.
Elida Maiques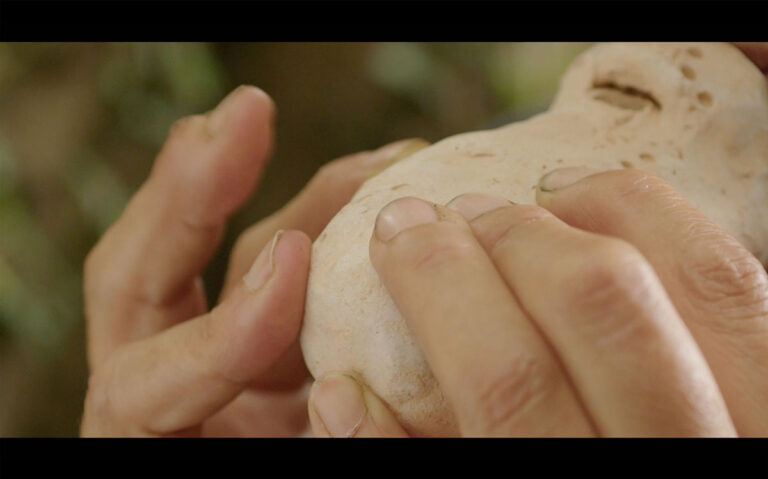 This project weaves art, forest and community. It is informed by the Xhosa concept of ubuntu, which defines an ethic of interdependence across generations, cultures, species. This concept humbles and educates us on our lives on the planet. When we say I Am a Forest, we are saying 'I am what I am because of who we all are'.
It is tempting to think that trees make up a forest, yet their insects, birds, mammals, humans are also forest. So are the mycorrhizae connecting trees. These fungal networks connect the roots of different trees, allowing them to share food and data. A forest is a collective being. My project weaves art, territory, living trees and human communities into one large being, a forest of people, ideas, animals, plants, dispersed across the land.
In September 2019, I Am a Forest took the form of a collaboration with parents, carers and teachers. Using 1,200 seeds that I gathered locally, we made seed packets for schoolchildren to plant. This work of seed-gathering and planting is ongoing. I am also conducting experiments with moss, forest-air generators and living paint, and continuing my studio-based drawing and painting practice.
Sean O'Brien
My project, The Voice of Comics, is a programme of comic-book production workshops developed in dialogue with organisations that support groups with specific needs, including people who have conditions such as depression, dyslexia, autism, or mental health difficulties.
The objective of the project is to inform, persuade and encourage people to express themselves by creating their own comics and stories within a supportive environment. Comic-book production has the potential to give people a voice and a real sense of purpose by collaborating at community level. As part of my research, I am writing a report about organisations and artists that have used graphical strategies in education and learning.
Gill O'Shea
I often feel like I occupy two opposing worlds. One is the conservative reality of my corporate 9-5 office job.  The other is the world of my artistic imagination.  Both worlds jostle for my attention and time. They have a symbiotic relationship. The time spent away in my corporate job feeds my need for creative escape. The dance between escaping from a well-rehearsed conservative realm to my imaginative wonderland plays out like a never-ending chess game. This is now physically heightened as our new normal further blurs the boundaries between home and work.
My project will materialise the point where these two worlds collide and things are not what they appear to be. I want to use immersive installation featuring sculpted forms, audio and lighting to lure and seduce the viewer to step through the looking glass into an inverted reality. As the viewer moves through this curious space, it gradually reveals a more sinister jarring aspect. This prompts them to reconsider everyday systems and the conventions they may take for granted.
Lucy Peters
Having worked in the fashion industry for many years, I grew concerned with the volumes of fast-paced, mass-produced clothes that people consume and dispose of on a regular basis.  In response to this problem, I am creating sculptural installations using a slow, methodological process similar to tapestry. In this work, I dismantle and deconstruct discarded items of fast fashion clothing and weave them into large planes of colour and texture.  My explorations of this process demonstrate how time, patience and consideration can create something of lasting effect.
Cathy Scullion

In my practice I often find myself consumed by the process through which I am creating.  My focus is on the act of producing rather than the end result. Although I have no history or training with textiles, I am drawn to materials such as string and thread and processes like sewing or weaving. My chosen practices are very tactile, rhythmic and repetitive, acting as a form of meditation and self-reflection, often with a ritualistic feel. In the past I have used these materials and processes to examine how memories and experiences shape our present and determine the relationships we have with others.
Through this project I will explore my personal connection to what are traditionally considered 'female crafts' by revisiting practices like weaving and stitching, while deliberately paying more attention to the physical actions involved in these processes.  The body, while engaged in these intimate performative actions, is often in a very small, submissive pose.  Focusing on the 'ritualised' processes involved in the making and playing with scale, I will examine the use of gestures and movements, those that are intimate or public, to question how the use of space can convey power, or the lack of it.
John Roch Simons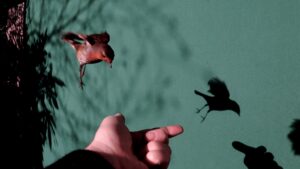 My project focuses on the connections between intention, place and legacy.
In my local area, there is a hidden woodland behind walls, known as the Grove. People pass this space daily, not knowing the history or provenance that lies behind the walls. It is a wildlife sanctuary, gifted to An Taisce (the National Trust for Ireland) by Kathleen Goodfellow, since deceased. Goodfellow gifted it, on the premise it would be preserved as a sanctuary.
Goodfellow was a patron of the arts and kept secret her financing of a significant forum for Irish artists, the Dublin Magazine. She wrote for the Dublin Magazine under the name of Michael Scot. To understand Goodfellow's intention, I am researching her through her writings and the history of the Grove.
Through research conducted in my studio and in the Grove, I am developing a new body of work.  I am using video, photography and sound, and also working towards an artist's publication.
Izabela Szczutkowska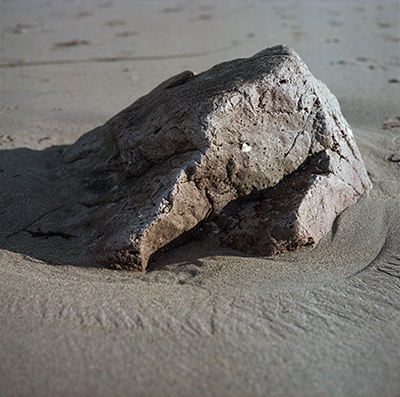 I am a lens-based artist working with analogue photography, collage, darkroom printing and processes. My research usually focuses on auto-biographical elements such as home and (my own) identity. But in my current project, Siar, the focal point is female voice – its absence and how it can be reclaimed.
My project refers to the character of Aoife in The Children of Lir legend. Aoife is depicted as a figure of despair and jealousy, and the legend explores the consequences of her choices.
Using the figure of Aoife as a kind of allegory, I will explore the idea of choice in the context of femininity and the position of women in society.  Expanding the idea conceptually, I will research concepts such as feminist theory, the symbolism of nature, wilderness and the gendered landscape to see what kind of intersections emerge in between. The project will result in a series of colour photographs, presented as an exhibition of prints and also as a monograph.
ARC 2021 Researchers
Karen Browett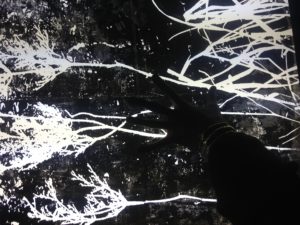 My work begins with studies of a place, it's influences and impositions. From these I create new dimensions of my own, rooted somewhere between dream and reality. Within this I invite people to claim their own path. By working in multiple media from print and image, wavering shadows and sound, I try to weave together a multi sensory space that disregards the boundaries of what came before. I wish to allow participants to own their own experience through my use of interactive touch pads, motion and proximity sensors. My research into this current body of work stems from my experiments with conductive screen printing inks. This allowed me to add musical elements to my art works. My practice has always been split between print maker and musician, and though thematically similar they had not formally met. When I first touched my prints with my bare hands and heard my sounds appearing from it, it was enough to send me on this obsessive mad scientist quest of trying to find out what it could do next. I am interested in the potential to adjust the means and scope in which art work can invite engagement.
Jamie Cross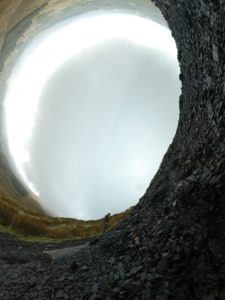 I am interested in how a certain type of space is wholly dependent on how such space is perceived (or is capable of being perceived). Technological devices such as laptops, endoscopic and 360° cameras are my preferred medium for realising and showcasing my work. My main research tool is my Android mobile phone which I use for variety of techniques including photography, recording footage, capturing sounds and GPS tracking.
My new project will involve the manipulation of an online software known commonly as Cupix. This software was designed for estate agents and enables properties to be showcased via 3D models/tours of the space.  I intend to use this software to explore hidden spaces that are not obvious to the human eye.  Through use of the software, I will be able to capture  3D imagery of inaccessible or inhabitable spaces by way of 360° photos.  I am also interested in creating a digital-type exhibition (which could either be combined with a physical exhibition or operated separately) which would involve uploading tours (which I have created) of inside spaces to Google Maps.
Cian Downes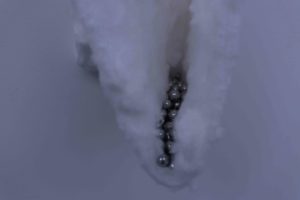 In this project I will explore solid and loose material sculptures. Sculptures I made in the past have consisted of formal elements which operate as frames(unintentionally) I will eliminate the frame within individual works, so they cooperate to create large assemblages in exhibitions. The unframed elements will be of three types solid, loose and between. Using these three elements I am trying to get a materiality that really expresses its being something without consciousness.
Previous sculptures have been a water absorbing material degrading metal. Steel rusts in different ways depending on the volume of salt. Salt passively but slowly draws water. Research lead me to use calcium chloride because of its similar properties on a faster timescale.
I put material into specific assemblages which develop into sculptures. The assemblage is a dynamic changing situation in which the material operates separate from my own agency. I add and tweak elements to make it clear to myself and then reach out to others for critique. Critique allows me to see what the work is communicating and material relationships developing.
I am aware that I am not material that is not me, but I am material, and material does go through me and becomes me. I am implicated in material assemblages and material cycles and so I take part in the sculptures.
I want to understand materials from their own point of view.
Nic Flanagan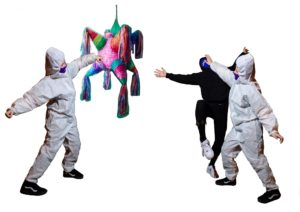 My current works exist under the title Heritage Terror, utilizing elements of tradition to create a mischievous nod to the unknown and as yet unenvisaged. This is an artistic reclamation; of power and process. Conceptually considered both historically, in terms of traditional 'women's work' (such as knitting, sewing and textiles), and physically, in relation to power and control, in particular those of space, privilege and movement.
A performative body is created. One which forms an alternative reality and both individual and social bodies from which to observe, engage with and rescript banal ritual and experience. Space and movement are considered through scripted scenarios. Participants are encouraged to navigate spaces through touch, movement and shared interaction.
The character of the collective body is used to navigate societal attitudes, received ideas and the role of the individual in an age of increasingly secular individualism. Foundational to this process are notions of cultural coding. Those of dress and gendered roles, inform the presentation of the body; dramatizing the mundane rituals of life, daily 'dress up', and creating a pantomime nod to the many 'roles' played by the modern worker and creative.
These concepts lie as subtext under the familiar façade of known experience, that of children's games. Such guerilla tactics are used in order to smuggle what could be conceived as socially challenging concepts into the work in an unintimidating form.  These works will be presented in the form of immersive performance, installation, design and printed works ranging from catalogues to manuals and guidelines for later creation.
Fiona Harrington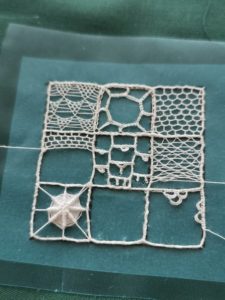 I make lace by hand. This practice has been woven into the history of Ireland for generations. It was made by the poor and worn by the wealthy and elite. Stories are told of women who worked long hours in poor conditions. They were paid for their labour with tea and shoes, such was their desperation. There are also stories of women who bought farms and educated their children using money they earned from lacemaking.
Lacemakers were once described as "young females with nimble fingers who were easily controlled". Following the famine however, lace earnings provided young single women independence and agency, as Ireland became one of the few countries from which unmarried women could emigrate.
The story of Irish Lace is complex and full of contradiction. My research and studio work will focus on the economic and social value of the Irish Lace industry by exploring the opposing qualities of lace. Lace is both fragile and delicate. However, its original and intended purpose was a hardwearing and functional fabric, used to make bedspreads, tablecloths and clothing. Decorative motifs and filling stitches make up the solid areas of the design, yet equal importance is placed on the void or the open spaces. Lace is characterised by its transparency, but it also provides concealment and cover.
Through this work I want to acknowledge and respond to the achievements of the women who came before me. They developed a world class textile industry which at one point was the 2nd largest industry in Ireland. Today, only pockets of women remain scattered around the country that are proficient in these techniques. As a visual artist working in Lace, one of my key concerns is to acquire their knowledge so that I can preserve and innovate this tradition for generations to come
Theo Hanosset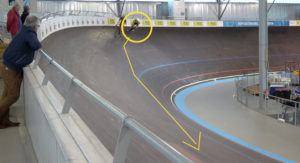 Are high-level athletes the greatest philosophers ?  To answer this question, this project forces a dialogue between the mind-body dualism of ancient philosophy and the optimal experience known as Flow experienced by athletes. It is a state of enchantment so deep and intense that (according to Mihaly Csikszentmihaly in 1975) 'it becomes a model of what our life should be. […] These great moments occur when the body or mind is used to its limits in a voluntary effort to achieve something difficult and important.' Western thought has long been built on a Platonic opposition between body and mind. The body as a prison of the soul is said to be a hindrance to the quest for Good and happiness. At the opposite end of that view is the Flow state, since there is no better time when the body is fused with the soul, when they are one. People who have experienced it tell of a moment of such great mastery and concentration that everything else is gone, fatigue is absent, all difficulties disappear. They stand next to their body, which is nothing but gesture and performance.
The aim of this project is to decompose the Flow, this psychological state which is impossible to reach on command and which is not visible from the outside. To achieve this, the project is divided into two parts, inspired by the optimal experience of cyclists on the track. The first part will be a sound piece that stimulates the spectator to imagine a mental representation of the Flow. The second will be an interactive structure that involves a physical effort by the spectator to complete his or her own representation. The focus is on the attacks launched from the top of the track's curves.  When they decide to dive, they surrender totally to speed and effort. The athlete's tactical choice is merged with the spectator's choice to become physically involved in the work.
Anne James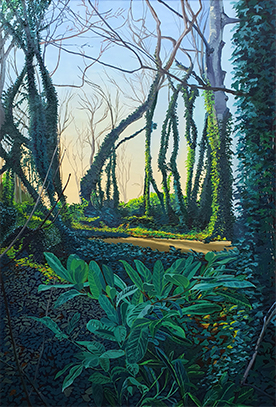 My paintings are the result of lengthy, close observation. I am interested in capturing fleeting moments of experience; for example, a weather condition or time of day in which the light casts unusual colours. Each painting is a repository of time: the time I spend observing the subject, the time I spend painting, and the time that the viewer spends with the painting.
My process draws on field studies in environmental psychology. I spend time in the setting, opening my awareness to the multisensory stimuli that are present. Willing information to flood in via all the senses, I arrive at a heightened state of awareness, what I'd call a "sensory high." It is in this state that I begin working. The resulting work invites the viewer to share in my experience of landscape, mediated through what I have recorded on the canvas.
Marie Lee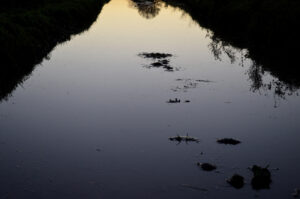 There are losses whose impact persists, which have become unknown to us.
An emerging field of research is finding that trauma is passed from one generation to the next. My project examines the period surrounding the Window Tax of 1799-1822 in the context of historical loss or intergenerational trauma.
The tax placed a heavy burden on many people some of whom were on the brink of starvation. Houses with five or more windows were liable for the tax, which led to windows being blocked up before it came into effect.  It had the greatest impact on the urban poor as the lack of light and air in homes caused the rapid spread of disease. The cabin dwelling rural poor were already living in darkness before the introduction of the tax, and would have been exempt from it, having few or no windows. The study of light is central to my practice which drew my focus to the Window Tax.  I use video, light installation and photography to explore cultural history and to uncover what has been hidden and lost.
Many people endured chronic hunger, oppression and humiliation, over a period of 400 years. This was forgotten to create a distance from the pain of suffering and the shame associated with terrible poverty.  Sociologists have argued that historical loss manifests in the current population as low-self-esteem, survivor shame, loss of identity, inferiority, addiction and so on.  My video work, Solas Fear Le Tor (The Extreme of Day Immediately Approaching Absolute Night), forms part of a larger body of research and draws upon archival records of the time.
Barry McHugh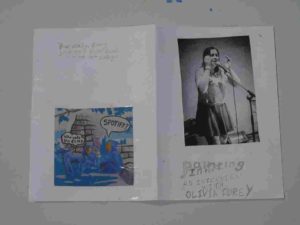 I'm interested in communicating the artist's intention. This can be a number of things – to tell a story, to convey an emotion, teach the viewer on certain subjects – and in turn, there is a wide range of ways to communicate this intention, even outside what we strictly define as the artwork itself.
Painting in Text is a blog where I interview both local and international artists on their practices. It is a way to promote artists on their terms. The interviews are formed from recorded conversations with the artists. The interviews are constructed in such a way that they explore what is important to the artists in their practice in a conversational manner.
They are primarily presented as online text blogs, but I am currently looking at different avenues of presenting the work and the possibility of supplementary physical material that could go alongside the interviews.
Cliodhna Ní Anluain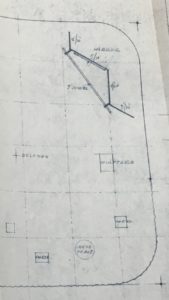 My project is titled Visual arts on RTÉ television: the Early Decades (1962-82). Writer John McGahern referred to the Catholic Church, the Stations of the Cross, the stained-glass windows as well as related ceremonies and rituals in his local church when a boy as in a sense his first art gallery experience. They were the images in his life. In a similar way, a couple of decades later, I realise that a critical early exposure to art occurred to me as I absorbed the changing images chosen to accompany the daily bong, bonging of the bells, during the evening broadcast of the Angelus through my childhood, as I sat in front of the television, putting down time between homework and dinner. We only had RTÉ in our house.
I have been exploring the archives of RTÉ television coverage relating to the visual arts in its first two decades. What featured and how was it presented? I have been drawn to question what it reflects of the actual art and art activity of Ireland during those times. As my research develops, I have become intrigued by the absence of programme tapes in the archives as many were commonly wiped of their content once programmes were broadcast. A paper archive relating to such arts television production does exist. Much of it is clearly boxed and catalogued in RTÉ. I also have access to a number of people who worked on the programmes. I also am in touch with some of artists who featured. There is something alluring about not having the actual tapes to view now. I see it in some way as representative of the stage directions of a play without the evidence or experience of its production. Consequently there is all the opportunity for re-imagining and re-aligning the narrative and head on experience of what visual arts audiences saw on their television screens.
The outcome of my research project is likely to evolve, but my present aim is to present an experience for public engagement to include complete and edited screenings, and contemporary contextualization of the public experience of seeing the visual arts at home on television, off site from where the art is made and typically presented. My research project is grounded in the intention of shaping a template for ways in which an Arts Archive of the early decades of RTÉ might be re-imagined forward to connect with contemporary public audiences.
Roisín Power Hackett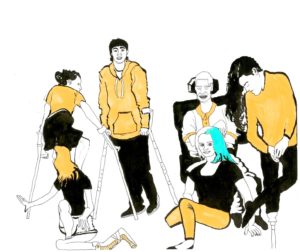 I am a visual artist, writer and curator. In November 2018, I curated 'Towards a Consideration of All Bodies', an interdisciplinary performance event at the LAB Gallery featuring artists from different backgrounds including Mairéad Folan (theatre), Philip Kenny (poetry) and Hugh O'Donnell (live art). All the artists and I myself have disabilities.
I am developing 'Towards A Consideration of All Bodies' into a fully accessible exhibition and programme of events that will empower, support, facilitate and educate the disabled and nondisabled population. This development of 'Towards a Consideration of All Bodies' will include performances that show what it is like to live with a disability. The works will particularly focus on the reactions disabled people get from the nondisabled other, how we are treated by society, and how we internalise and process these attitudes. I want to empower and support those with disabilities and facilitate a point of contact for the further development of the disability community. I want to educate the nondisabled public about the disability experience.
https://roisinphackett.wordpress.com/
Very Ryklova
Through the medium of my own body I explore both the social construction of the self and the self-concept. Drawing on the emotional conflict between existent reality and the desired one, I confront the public eye with intimate aspects of a woman's life. I use my own – subjective – experience in engaging existing society to mirror its norms as they define a single life. I subconsciously layer elements of my past and present, which together builds a subject for the viewer to explore.
Performing for the camera I produce video and photographic self-portraits. My work is conceptual, but equally guided by my instinctive actions in the moment of its execution. The process of exploring my ideas and the way of making the work are largely based on experimenting. The aesthetics of its results shares considerable importance, but it is not what I premeditate. The key concept of my practice is confrontation. Therefore the creative approach I have developed gives the camera the function of a distancing device that I utilise for me to experience a state of catharsis. The link between the artistic execution – where the making serves as a coping mechanism – and the liberating emotional discharge is also the interest of my research.
For this programme I will re-engage with my ongoing projects I have developed over the past four years. As I have embarked on transitioning my practice from predominantly photographic into lens-based media, I aim to concentrate on producing series of videos with the equal importance as I have done with series of photographs.
Lucy Tevlin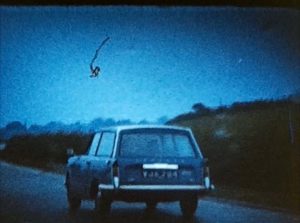 I predominantly make projected image installations. My research is concerned with how we might place trust or meaning on certain types of technology or language. I am primarily focused on the precarious nature of analogue photographic technologies. These concerns are projected and reinforced through an image and text relationship that often integrates theory into the content of my work. I see the relationship between form and content as being an integral component of my practice. I am currently producing a body of work, titled Conjecture, that examines the materiality and history of image-making technologies, a process that integrates mediums such as 8mm found footage with contemporary digital media.
ARC 2020 Researchers
Brenda Brady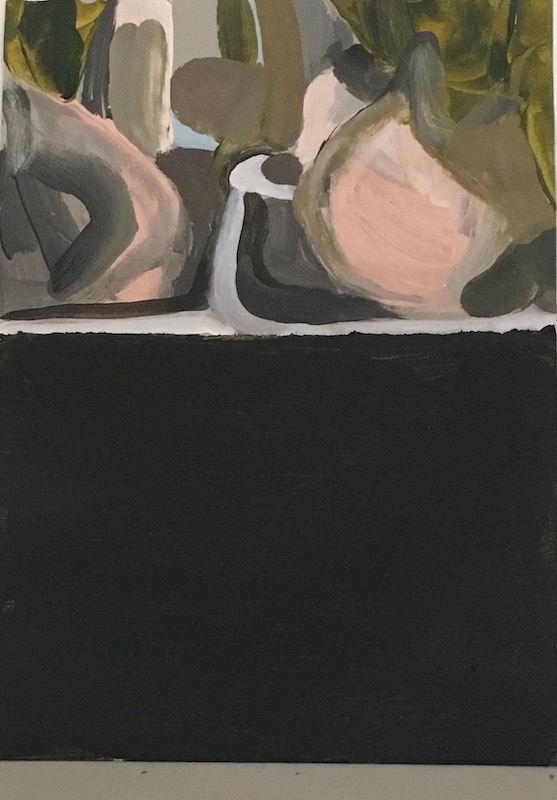 My research is grounded in the traditional mediums of painting and drawing. For me painting relies just as much on subjective sensation as it does on image or concept. The investment of time and engagement enable's thinking through materials facilitating the extraordinary range of visual possibilities that is achievable in two dimensions. Found, made, collected, manipulated, glued, pressed together – all play a role in the ever growing vocabulary that makes up my emerging practice. Certain recurring concerns like the intuitive and the ordered with all their inherent paradoxes are evident.
Paintings that 'Hide and Reveal' is a current line of inquiry. Richness of surface, what is absent is just as important as what is visible, everything apparent hides something else. Repetitive actions combine to build up a surface blurring the lines between non-representation and image, text and drawing, painting and print, offering hints and glimpses.
Anishta Chooramun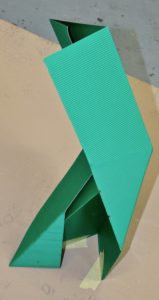 My work is informed by the diverse components that create our society and that influence our identity. I think of our society as a jigsaw puzzle. As we move through the environment, progress from one place to another, encounter different aspects of life, meet new individuals, or encounter a novel situation, we transform who we are, and shape our identity. We pick up and add to aspects of our identity, we also let go of identity markers that no longer fit us. Whilst these changes help us grow and become who we are, we also lose a little of ourselves as individuals. In life, we experience so much fragmentation of thought and feelings. While creating my sculptures I keep these fragmentations in mind and create an abstract jigsaw puzzle.
I am currently working on a new series of sculptures' that is informed by dance as a language and a form of communication, for an exhibition happening in The Dock at Carrick On Shannon, in May. I have been researching and learning a dance called Kathak, originated from the traveling bards of North India referred to as Kathakars or storytellers. The Kathakars communicate stories through rhythmic foot movements, hand gestures, facial expressions, and eye work. I am trying to incorporate these expressive dance movements into my sculptures. My work often comprises a series of sculptures made from various materials, including, metal, wood, fabric, glass, linoleum, paper, and concrete fabric. When the audience moves through the installed work they can visually piece together all the different fragments of the jigsaw puzzle to complete the artwork.
Heather Cody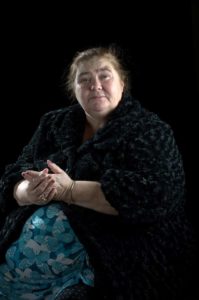 My photographic practice centres on the Travelling Community in Wexford. I am interested in exploring their culture, experiences and beliefs through photography. I have already completed a documentary series focusing on Irish Travellers at Horse Fairs in Ireland. My project has evolved through working on the ARC MA Program. I am now working on a project in which I am collaborating with members of the Travelling Community in Gorey. I have applied for funding from Wexford County Council Artlinks to hold workshops for members of the Travelling Community; I propose to teach the participants basic photography skills during the coming months. I am holding an exhibition in Gorey Library for the month of September. It is my intention to hold a collaborative exhibition of my portraits of travelling people alongside images taken by Travellers during these workshops.
Penelope Collins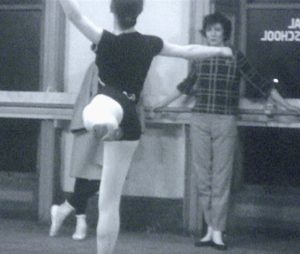 I am researching the National Ballet School and the professional ballet company in Dublin during the 1950s and 1960s. My research focuses on the work of teacher, choreographer and Artistic Director Patricia Ryan who is my mother. This school and company collaborated with diverse artists in different disciplines of music, literature, poetry, choreography and design. I am planning to develop a documentary short based on this history through interviews with her students, guest dancers, conductors, archive materials, photographs, letters and documents of productions and film archives.
Collette Farnon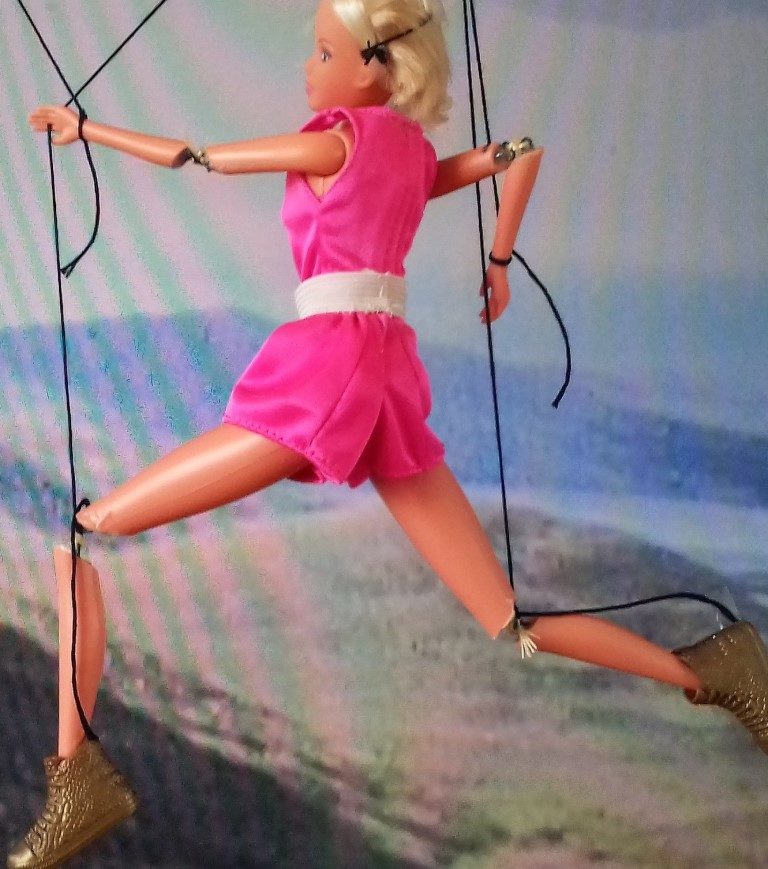 My research focuses on representations of women across a variety of media. My original research sought to dismantle the traditional decorative and sexualized representations of the female body in History painting and examine its effect on contemporary attitudes towards women and girls.
My current research examines more contemporary modes of female representation including the GAA initiatives #20×20, #Show Your Stripes and #If She Can't See It She Can't Be It, the Esker Women's Boxing Club, the Six Nations Women's Rugby and the Always 'Run Like a Girl' campaign, all of which work toward redressing the balance of the persistent notion that a woman's looks are her most important asset.
As part of this research I attempt to give life, mobility and action to Barbie type dolls by dismantling and reconstructing them as puppets and marionettes. I make videos of, and photograph this process, at regular intervals. I position these creations in tableau and or place them in dioramas. This is part of an ongoing process.
Lisa Freeman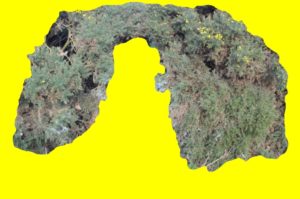 I am visual artist, my work broadly speaking, is process-driven and research focused with the objective of gathering performative digital-based materials for video, performance and installation outcomes. I am developing a project based on the 19th century 'Wrens of the Curragh' who were a group of women that lived in gorse bushes outside the army base in Kildare and were sex workers.
I will develop a site specific performance at the Curragh involving a cast of actors. I will conduct research through site visits, script development and workshops with the actors. The performance will be defined and sculpted by five different elements: script, sound, actors, costumes and location. I will use the location to contextualise the past and create a discussion based around women's rights and societal attitudes around this.
Marie-Louise Halpenny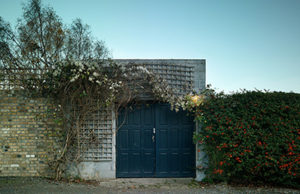 I am producing a body of work depicting a series of spaces that have a relationship to crime, and I am researching this through a combination of photography, data and mapping.  I am interested in our relationship to a space through memory. My work explores how events can change a space, how a space can change events, and how a space can be altered by the way we use it and pass through it.
I am interested in the altering of images, and the combination of spaces or events within one single image. My fascination with light, and with the movement of people through space has developed through my work with architectural photographs over the past 12 years.  I aim to approach my subjects with empathy and openness, creating images that can strike you hard and awake another sense of the life of a space or building or context.
Marie Phelan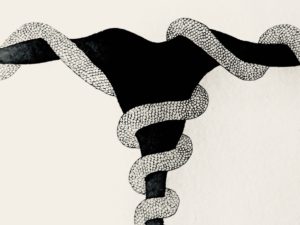 Therianthropy is the belief that a person has a non-human or animal part and Shapeshifting is the ability to transform fully into another creature. My project considers the Shapeshifter in the context of ritual and belief systems and their connection to place. This place, when within the rural landscape, can have many other associations and the boundaries and crossover of these realities can be blurred. This can lead us to the question: What is real and what is not real? My work aims to understand and explore this question and to somehow connect with those blurred realities through multidisciplinary tools including sound, video, drawing and sculpture.
Dylan Ryan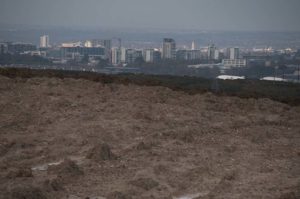 I am working on an ongoing project, which started in January 2017. I am very interested in a building development in my local area. I began documenting the site for the Cherrywood Master Plan, which has been in the planning and design stage since the 1990s. The project is partly informed by my memory of playing on suburban building sites as a child, as they continually extended over the diminishing open grounds, housing my new neighbours. But this time I am playing with a camera. In my photographs, the viewer can see the alteration of the land. Rich with archaeological sites and farm history, it is being transformed into a functional urban landscape. The photographs, depicting machinery, materials and tamed earth, can be dramatic, surreal and sometimes humorous, capturing the beginning of a new New York-style town with its own amenities.
Cherrywood is an example of urban sprawl as the city moves out, taking over rural and farm land with its benign hills and trees, replacing them with buildings, roads, parks. These photographs show the meeting point between concrete and wild countryside, and the shaping and utilisation of land for use by suburban dwellers.
Audrey Walshe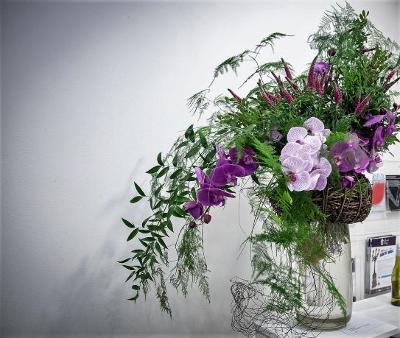 I have an interdisciplinary background and hold a BA Irish Studies (TCD, 2017). As a working florist I am researching how artists use botanical materials to produce work, in the conventional sense as a form of artistic/scientific documentation of species as well as installation work using organic and natural materials. I am observing how the tension of working with a deteriorating material is resolved and expanding my own creative practice to explore how creating work that is transitory invites the viewer into a collaboration which can't endure.  I am exploring themes of decay and temporality and investigating how the use of botanical materials emphasises a state of impermanence.
I am interested in the commodity culture that surrounds flowers and natural objects, specifically in relation to the wastage and decay that is usually hidden from consumers. My current research interests seek to bring together my academic and practical backgrounds.  I am historically contextualising this artistic research around the Victorian Flower Market in Dublin and curating an event, at another location, to take place on Bloomsday 2019 which will bring together nature, art and culture in a collaborative process.