ARC 2017 students presented their work in exhibitions, performances, product launches, screenings and panel discussions at various public venues, including The Darkroom, The Chocolate Factory, IFI, the LAB, Millennium Court Arts Centre and St. Stephen's Green. Further information on ARC Major Projects 2016-17 is available here
ARC 2018 Researchers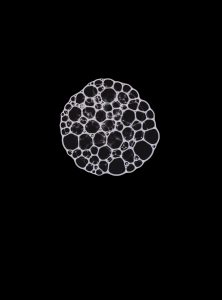 Sophie presents her work in multidisciplinary installations characterised by an emphasis on analogue photographic practices and sculptural elements. Her work is concerned with material experimentation and the transitional properties of matter. It explores the negotiable delicate balance of things in this world and the constancy of change. Sophie investigates invisible forces, particularly that of thought and thinking and creates sequences of works that are near nothings, that fold in on themselves and become reflexive precarious things. She is interested in the space between thinking, language and making and exploring if language can shape form and vice-versa.

I am a visual artist living and working in Co. Louth. My background in painting and photography informs my work, regardless of method and form. My research involves looking at the concepts behind boatbuilding; the force of buoyancy, the exploration of the sea surface and in particular the notion of the waterline.'Casting Invisible Lines' is a collaborative video installation piece exploring the connectivity of the sea, but also the barrier that the ocean skin presents. I have invited artists around the world to interpret their relationship with the sea surface through the medium of video, all together forming a short film.
https://www.instagram.com/petraberntssonartist/
Isadora Epstein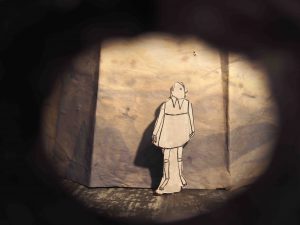 I am researching the guest/ host relationship which performance creates. I am making a series of  performances in which the performer becomes a host in the more supernatural sense of the word. The performer will become a medium/ oracle /soothsayer and become a host to visions/ voices/ texts. I am using historical examples of automatic writing and drawing as sources for the text. My writing will also borrow the humorously decadent language of occult ceremony to create a confusion between the real and unreal.  Alongside the performances, I am making publications of "Automatic" writing and drawing which will use the same ritualistic language used in the performances. The publications will serve both as documentation of the performances but also as autonomous works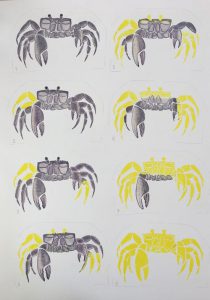 I am a visual artist, living and working in Dublin. I work with mixed media, cutting and sticking, printing, paint, ink and gold leaf on paper. My research over the last year, has been looking at the material of 'plastic', in particular that of micro-plastics (smaller than 5mm in diameter) in the marine environment. These micro-plastics, along with other plastic waste, are making their way into the food chain of marine animals, birds and fish. The image above imagines this crab on an '8 week yellow micro plastic diet'. Over this period of time he is able to transform himself to a fully plastic supernatural everlasting crab.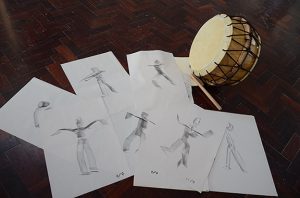 The core of my art practice relates to interacting with members of the public, with the aim to explore the themes of Identity and Culture, using audio and performance as a medium. My research relates to the aspects of 'dual identity' from my perspective as a naturalized artist from Asia who has adopted Ireland as their home country.  I aim to explore how individuals deal with this split identity and the struggle to adapt into a foreign country and culture.  I intend to explore these issues of crossed cultural identity within the areas of voice, language, and traditional music. More broadly I aim to explore the issue of conflicted identity through themes of longing, the conflict or compatibility between cultures and of divergent identities. My work has endlessly agonized over what an artist's duty and role should be in the society where the artist lives.  In this way, my works do not comment merely in the artistic area; they say something about society, politics, economics and history; they are laden with multi-layered meanings.
http://jungahanvisualartist.ie
https://www.facebook.com/Jung-A-Han-visual-artist-1733957240230834/
https://www.instagram.com/junga7318/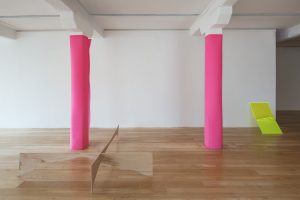 Maeve Lynch is an artist, curator and arts project manager. Her work is driven by her interest in perception, materiality and structures. She works in a variety of media including print, sculpture, installation, sound and artist books. She has exhibited widely in Ireland and Internationally including China, Lithuania and U.K. Her work has developed in response to the examination of interstitial space, shifting terrains, structural precariousness and site specificity. Her work is concerned with architecture and landscape as site and manipulating space within existing structures through installation, video and sound. Maeve is interested in the live, illusionary and transformative quality of materials, the materiality of sound and how these can blur the line between two and three dimensionality. There is a constant interplay in the work between the spatiotemporal dynamics of positive and negative space through repetition and reproduction in an attempt to highlight a sense of shifting space.
Eoghan McIntyre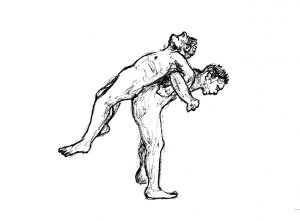 Consider a document that  proves that humanity did not evolve from apes as once thought, but evolved from a single pair of trousers found in Devon. This would cause a shockwave to our understanding of genetics, reproduction, textiles, time and logic, and would make the work of thousands of writers and academics obsolete. Therefore this document, if found, must be quickly incinerated by its discoverer or, even better, ingested (this would save time as there would be no need to start a fire). Another approach that one can take when dealing with such dangerous documents is to publish them, but claim them to be works of fiction. Just in case a reader suspects an element of truth to the tales it is expedient for one to concurrently create the most elaborate and ridiculous of fictions and present them as fact, thus destroying one's credibility as a purveyor of truth.  This is in essence my methodology, producing texts that oscillate between the academic and the inane. I also write fiction and non-fiction though I am not sure which is which. I'm interested in making people up, performance, and generally frustrating others.
Rosie O'Reilly
An increasingly rationalist-constructivist view of human action separate to the world around us informs artist Rosie O'Reilly's current research. Through large-scale audio/visual instillations she aims to create an alternative experience of how we are in the world.  Rosie's current research is concerned with how the application of phenomenology as rhetoric for understanding this position can give insight in to our relationship to space, time and landscapes.
Sarah O'Toole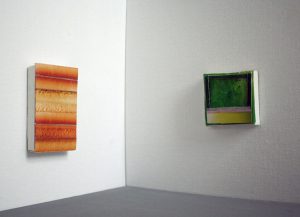 Having been immersed in motherhood and the home for several years, my recent art practice has emerged from spending lengthy periods in a domestic setting. My work uses utterly familiar materials to explore ideas of visual representation. My research practice explores the role of the artist to copy. Current practice centres on a reinterpretation of the inexpensive packaging of household consumer products and the intrinsic qualities of such ubiquitous items, noticing the potential of these unassuming materials (envelope interiors, paper bags, crisp package seal) for new means of engagement for the viewer. I am struck by packaging design that often goes unseen, when reassembled and photographed, it becomes something different. Tools for current research practice include collage, scale, model making and photography and have resulted in a reinterpretation and subvention of abstract expressionist painters (Rothko, Scully). Gallery series questions an audience's response to viewing modern expressionist masters. It investigates what happens when a viewer first sees a large abstract expressionist painting with what happens when scale is changed and the piece is photographed. By re-assembling and re-presenting everyday packaging and photographing it, the results can be viewed through a fine art lens. How do these materials affect how the viewer responds to the work? Future research plans focus on patterns of human behaviour (preferences and tastes, needs, luxuries and seasonal patterns) through domestic waste materials (for example shopping lists collected over time). I would be interested in embedding my social research experience in my fine art practice. A second strand of future research is the fine art source material of graphic design for crockery, wrapping paper, department store bags etc, and potential use of these designs in current visual art practice.
Julia Ptak
My research to date has been concerned with photomontage as a commentary on economic, social, and political conditions in mass culture, particularly in relation to advertising and the consumption of images. In this I draw my inspiration from the works of Hannah Höch, John Heartfield, Peter Kennard and Barbara Kruger, as pioneers of socially engaged art. My work seeks to question the relationship we have with consumer culture in the digital world that surrounds us. I want to interrogate the scale by which we measure the value of material goods, the impact of mass media and advertising driven purely by our desire for possession. I aim to expose how power is disseminated in a media dominated world. I will be engaging with the impact of consumerism on human life. My proposed research will focus on the themes of capitalism, consumerism, advertising and mass culture. I want to expand from a purely photographic practice into installation and sculpture, to better address the impact that capitalism has on our lives today and how we are distracted from the actual conditions of society
Benjamin Stafford
My research involves looking at the life of objects in the context of collecting. The project seeks to uncover overlooked instances and stories that point to the wider reasons why we collect and how objects – both sacred and mundane – shape our individual and collective identity. The psychologies of collecting, with particular reference to how collective cultural memory influences the value placed on different categories of object and artwork, and how museum collections reflect ideas of cultural and aesthetic value.
Moving from collecting as a pursuit of aesthetic, artistic or academic high-mindedness to the compulsive, relatively indiscriminate amassing of hoarding, the project will examine how acquisition of objects can be used as a way of creating narratives, to put a structure and form on something otherwise incomprehensible. Through looking at these elements such as public / private collections, hoarding, or collective or individual appropriation of objects, the project seeks to understand people's relationship to things, whether as a prestige possession, comfort or anchor, or symbol of identity, appropriated or otherwise.
Ownership is the most intimate relationship one can have to objects. - Walter Benjamin
ARC 2019 Researchers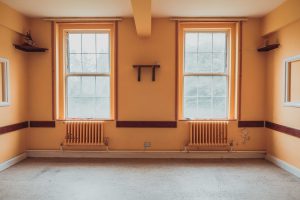 Becks is a multidisciplinary artist working particularly with lens based practices. Her work is informed by developmental theories of identity and anthropological approaches. Becks is currently focusing on institutions that embody identity. As we work to explore the varied discourse of our nation's utopia, we must ask ourselves some basic questions to explore the truth. In the past number of years, society has taken a massive jump into the future. We are now questioning, more than ever our laws, our religious devotion, and our traditions. Who are we? Where have we come from? Where are we going? Is our mindset based on how we see our past and can we think differently about it?
Martina Coyle
I am a multidisciplinary artist working predominantly in the field of Sculpture. My practice is made up of three inter-related strands; studio based artwork / installations, public art and art facilitation. My studio practice deals with the consideration of the nature of substances, material as an emotional trigger, the transformative aspect of light, our relationship to and how we engage with the built and natural world, the process of learning and the act of making. I am interested in making work that on first viewing may appear simple but in fact can only come into existence and function through in-depth understanding of elements. My public art works are site responsive, research based and site sensitive. My public work often involves participation or collaboration with individuals or groups and professionals. To date these have included an ecologist, archeologist, multidisciplinary artists, sound artist and sewing factory machine operators. As a professional artist, I am committed to the role an artist has to play in education and in day to day life. I have extensive experience facilitating art workshops with groups and individuals in both Ireland and France. My approach is primarily non-directive and incorporates aspects of art therapy.
Eliane Lima Del Carlo
Meghan McLachlan
Andrea Neill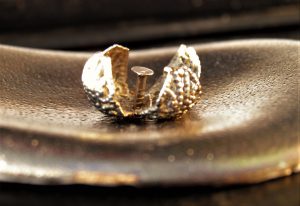 My research seeks to unravel how the non-ethical construction of our 'civilisation' confines us still, and to which nigh-all making, motive, meaning and metaphor is ascribed. Somehow long ago the body as the site of experience and knowledge lost her credibility. Several thousand years of engendered refinement has submerged, dislocated our inherent being. It seems to hang or be traced aloft as if suspended beyond enactment. Stories became myth, legend and religious canon inflamed by equally age-old scapegoating rites and the invention of hierarchy, then privileged the judicious metaphor of dualism. To reimagine the canon's rigid paradigm of duality and motive would further the unfurling of the embodied feminine collective un/consciousness.
Astrid Newman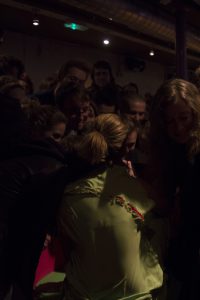 If Astrid was to meet you right now, she'd probably shake your hand and look you in the eye. The ideal handshake is firm. Not forceful, firm.
If you asked Astrid how she was she would probably answer honestly and tell you that she was feeling a little anxious. She'd say something like this, 'Did you know that in 2014 there was a Buddhist monk at the World Economic Forum, lecturing world leaders on mindfulness? The commodification* of well-being. It's always been ours for the taking and now…'
She'd trail off then, not because she had lost her train of thought but rather because she could see that the answer you had been hoping for was a simple and resolute 'fine'.
*Every time something is transformed from a right into a commodity the power of the profit motive to dictate our lives is increased. ('The New Prophets of Capital', Nicole Ashoff)
Astrid's practice is predominately performance based. She is co-founder of CONCH and of Apricity – collectives based between Dublin, Edinburgh and Glasgow. She is looking for ways to navigate the impasse and expand on collaborative practices.
Ciara Roche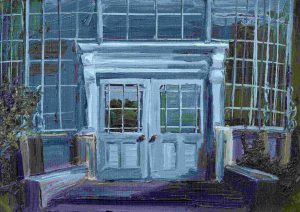 I am primarily a painter with a keen interest in the notion of place. My paintings are often a documentation of a place, sometimes suggesting a narrative or an action that has either happened or might be taking place just outside the frame. Previous projects include a commission to document the grounds of Lismore Castle. This led to a series of paintings that became a portrait of the castle and grounds, resulting in a show in St Carthage Hall, Lismore in 2016. The titles of my works often refer directly to the process of making documentation, linking the paintings to a specific time and place.  At present, I am researching various ways of documenting a place. My current project is a body of paintings made in response to a location that I have chosen to document primarily through writing. I am interested in exploring how paintings produced in this way can become a fragment of memory, blurring lines between the real and the imagined
Mella Travers