ARC 2019 Researchers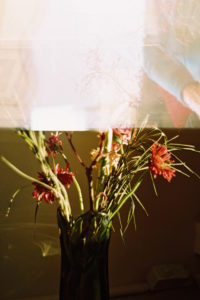 When I was ten years old, my mother told me of a lady who had been in contact with her. Her name was Anne. She was my mother's birth mother. I became fascinated by the possibility that those who passed me on the streets could be my own flesh and blood.
Adoption implies the injection of a foreign element into the fabric of family life. It serves to underline the fragility of blood lines. This destabilization can be understood as a disturbance of the order of things, expanding the concept of family and the intimate, dream-like inception of human connection.
Becks Butler is a multidisciplinary artist with experience in the field of photography and science. Her current work 'Taxonomy' explores narratives within human lineage, drawing on systems that connect and contrive their existence. Becks has been making work as a response to the role of origins in the formulation of human subject, and feels compelled to investigate the mother as a figure of the other. 'Mother', as a representation of past onto present, resists all orders of lineage, so her image and presence can be felt as posthuman. It is this concept that informs phase two of her research project, which aims to investigate the role photography plays as a site of representation of the posthuman.
Martina Coyle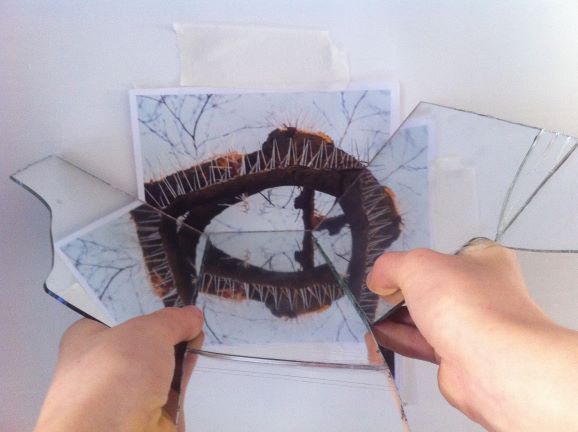 I am currently developing new work for an exhibition titled Paradise Is Too Far. The exhibition will comprise of an installation of sculptural elements, drawing, photography, and light. This work relates to how we seek to control the freedom of, in this case, birds to access locations to nest or rest. The initial impetus to research and develop this work came about by seeing a photo on the internet of a tree covered with anti-bird spikes. We are familiar with the presence of anti-bird spikes in urban landscapes and, for the most part, they go unnoticed and are deemed acceptable. However, an anti-bird spike on a tree is not.
This work seeks to generate a dialogue around anthropocentrism, our relationship to our environment and the other species which also inhabit it. My work is also an exploration of the transformative aspect of light, a consideration of the nature of substances, an inquiry into how we engage with the built and natural world. I am sensitive to the utilization of materials and their impact on the environment. Although the work refers to human attempts to control wildlife, it aspires to create an imaginary link to the universal instinct to seek shelter.
Judy Foley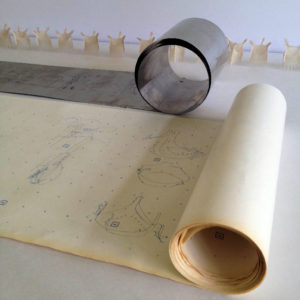 My core concerns originate from an anti-subjective stance with a focus of interest on the process of drawing and handcraft. Key to this apparent conflict is my working method which is painstaking, precise, repetitive, and predetermined or rule bound; a method with the potential to foster a remove from the outcome of the work and of relevance to my enquiry which seeks to distance subjective decision making and to privilege the inherent or latent.
My current research is informed by a model of handcraft employed in the medical device industry, specifically the manufacturing process of the bio-prosthetic heart valve, a highly skilled and tightly regulated craft process that involves hand stitching of component parts, taking 2 to 3 days to complete a single valve and involving up to 2,000 stitches. This is an industry linked with the technology of the post-human yet at its core it involves the ancient craft of hand-sewing. Moreover it profiles a very unique model of handcraft with an ideal that precludes the ego or individuality of the maker.
Yvonne Higgins
Meghan McLachlan
The practice of my work fuses experimental photography methods with storytelling. I have fervently worked with the 'blue printing' method as I believe not only the image tells a story but the process does as well. The virulent blue leaves a remnant of its inventor and I like to think a little piece of Anna Atkins (one of the originators of the Cyanotype) is embedded into the fabric or materials that I am printing.  Working with film and sculpture has also formed a large body of my work. As an ARC researcher, I am planning to create a short film, with images based on historical documents discovered, and also to produce a publication entitled The Shell Seeker, based on a book I found in an old abandoned psychiatric hospital, with the underlined passages in the book acting as my guide.
Andrea Neill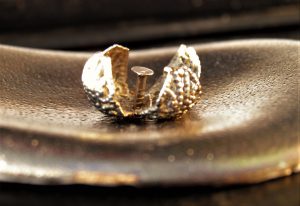 My research seeks to unravel how the non-ethical construction of our 'civilisation' confines us still, and to which nigh-all making, motive, meaning and metaphor is ascribed. Somehow long ago the body as the site of experience and knowledge lost her credibility. Several thousand years of engendered refinement has submerged, dislocated our inherent being. It seems to hang or be traced aloft as if suspended beyond enactment. Stories became myth, legend and religious canon inflamed by equally age-old scapegoating rites and the invention of hierarchy, then privileged the judicious metaphor of dualism. To reimagine the canon's rigid paradigm of duality and motive would further the unfurling of the embodied feminine collective un/consciousness.
Astrid Newman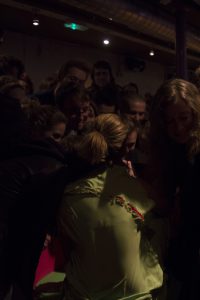 If Astrid was to meet you right now, she'd probably shake your hand and look you in the eye. The ideal handshake is firm. Not forceful, firm.
If you asked Astrid how she was she would probably answer honestly and tell you that she was feeling a little anxious. She'd say something like this, 'Did you know that in 2014 there was a Buddhist monk at the World Economic Forum, lecturing world leaders on mindfulness? The commodification* of well-being. It's always been ours for the taking and now…'
She'd trail off then, not because she had lost her train of thought but rather because she could see that the answer you had been hoping for was a simple and resolute 'fine'.
*Every time something is transformed from a right into a commodity the power of the profit motive to dictate our lives is increased. ('The New Prophets of Capital', Nicole Ashoff)
Astrid's practice is predominately performance based. She is co-founder of CONCH and of Apricity – collectives based between Dublin, Edinburgh and Glasgow. She is looking for ways to navigate the impasse and expand on collaborative practices.
Ciara Roche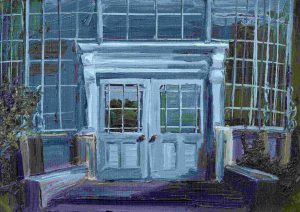 I am primarily a painter with a keen interest in the notion of place. My paintings are often a documentation of a place, sometimes suggesting a narrative or an action that has either happened or might be taking place just outside the frame. Previous projects include a commission to document the grounds of Lismore Castle. This led to a series of paintings that became a portrait of the castle and grounds, resulting in a show in St Carthage Hall, Lismore in 2016. The titles of my works often refer directly to the process of making documentation, linking the paintings to a specific time and place.  At present, I am researching various ways of documenting a place. My current project is a body of paintings made in response to a location that I have chosen to document primarily through writing. I am interested in exploring how paintings produced in this way can become a fragment of memory, blurring lines between the real and the imagined.
ARC 2020 Researchers
Brenda Brady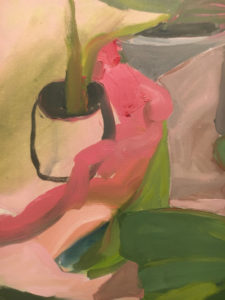 My ongoing research will be grounded in the traditional mediums of painting and drawing. The investment of time and engagement with these ancient technologies will enable thinking through material. The development of a personal language to foster my emerging practice is the ambition of this project. Paint has endless and fascinating qualities linked to pigmentation, viscosity and surface. Paint can be utilized, manipulated and perceived through entire sensory and bodily mechanisms. The opportunities to surprise, invent and create meaning are immense, providing a support around which ideas and perspectives can evolve. Despite rapid developments in technology, many artists are recommitting to the materiality of paper and pencil. Drawing asks us to slow down, concentrate, observe and record what we see.  Its resilience as a device to explore and respond to contemporary questions concerning dialogue, narrative and representation is I believe secure.
Scaffold, support, shape, tone, motif, scrape, submerge, variation, trace, mask, element are typical of words and actions intuitively used to allow idiosyncrasies appear. Images combined, collaged or layered with an assemblage of found objects, photos, typography or other media will initiate the process and challenge the dialogue in my head. Drawings capacity to assimilate and synthesize other artistic, media and research methods will signpost a line of enquiry. Following my instincts and being cognisant of colour, surface and structure, methodologies and visual relationships will emerge.
Anishta Chooramun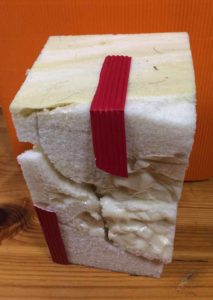 My work is informed by the diverse components that create our society and that influence our identity. I think of our society as a jigsaw puzzle. As we move through the environment, progress from one place to another, encounter different aspects of life, meet new individuals, or encounter a novel situation, we transform who we are, and shape our identity. We pick up and add to aspects of our identity, we also let go of identity markers that no longer fit us. Whilst these changes help us grow and become who we are, we also lose a little of ourselves as individuals. The process of making the artworks is self-educating. During the fabrication of the final work I adjust to the materials I am using and the scale. In life, we experience so much fragmentation of thought and feelings. While creating my sculptures I keep these fragmentations in mind and create an abstract jigsaw puzzle. My work often comprises a series of sculptures made from various materials, metal wood, fabric, glass, linoleum and paper, to name a few. When the audience move though the installed work they can visually piece together all the different fragments of the jigsaw puzzle to complete the artwork.
Heather Cody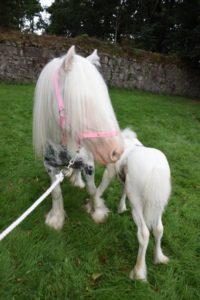 My photographic practice centres on the Travelling Community in Wexford. I am interested in exploring their culture, experiences and beliefs through photography and have already completed a documentary series focusing on Irish Travellers at Horse Fairs in Ireland. I am now working on a project in which I intend to explore the situation of children with special needs within the Travelling Community. As members of a marginalised group in Irish society, these children and their families face particularly difficult challenges, which I intend to document using photography.
Penelope Collins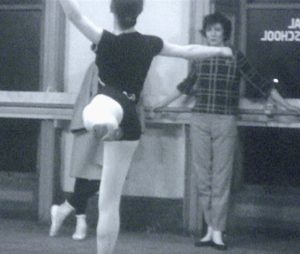 I am researching the history of Ireland's National Ballet School, and the associated professional ballet company, based in Dublin during the 1950s and 1960s. My research focuses partly on the work of my mother Patricia Ryan (teacher, choreographer and Artistic Director at the National Ballet School) and it is informed by interviews with her students and other dancers associated with the ballet school and company, and archive materials such as photographs and documents of the school and company productions. I am planning to develop a documentary short based on this research. It will incorporate rare film footage related to my mother's childhood in the 1920s, as well as material from the 1950s and 1960s, footage of theaters and rehearsal rooms, and interviews with students, directors and artists who visited the dance studio to observe or sketch the dancers.
Collette Farnon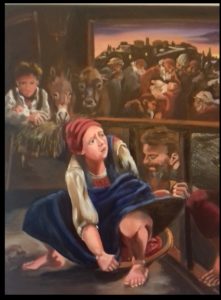 Much of my work wrestles with traditional notions of representation through the appropriation of historical tropes. My physical embodiment of two-dimensional characters sourced from history paintings began as preparatory exercises involving the mechanics of the human form. This shape-shifting inhabitation of the historical canon is the central device used to create a dialogue between woman and her body in three strands: subject, medium and producer.  Found images and photos of myself constitute the source material for the figures in my work. A Frankensteinesque process — of a limb here and an eye there— begins and continues, until finally a convincing picture emerges.
Lisa Freeman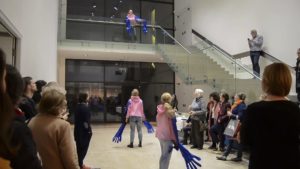 I am visual artist and my work is process-driven and research-focused, with the objective of gathering performative digital-based materials for video, performance and installation outcomes. I draw upon elements of society, using props, costume and sound.  I am interested in the formal properties and language of materials, their aesthetic, spatial and surface qualities. In terms of research, I adopt content both from original and found sources and I employ synthetic materials that reference technology and the body. I have chosen to take the role of a 'director' to allow me the space to see how I can expand on my performances and I now want to bring this aspect of my practice into the development of a new digital video, I aim to focus on developing a script that deals with ideas around feminism, power and capitalism in an experimental way.
Marie-Louise Halpenny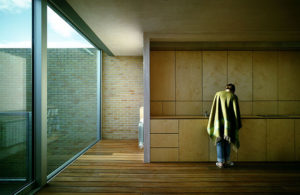 I would like to produce a body of work depicting a series of spaces that have a relationship to crime, and I am researching this through a combination of photography, data and mapping.  I am interested in our relationship to a space through memory. My work explores how events can change a space, how a space can change events, and how a space can be altered by the way we use it and pass through it.
My work often involves the altering of images, sometimes including a combination of spaces within one single image, or the neutralisation of spaces, blurring their identity. My fascination with light, and with the movement of people through space has developed through my work with architectural photographs over the past 12 years.  I aim to approach my subjects with empathy and openness, creating images that can strike you hard and awake another sense of the life of a space or building or context.
Marie Phelan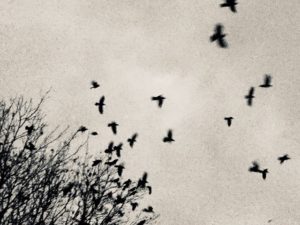 Therianthropy is the mythological belief that a person has a non-human or animal part and Shapeshifting is the ability of a person or being to transform fully into another creature, predominantly animal or bird.
My project considers the Shapeshifter in the context of ritual and belief systems, their connection to place and the crossover of realities that is associated with this. This crossover can often be understood best in the landscape where place, belief and superstition can co-exist and depend on each other to survive. The boundaries between these are blurred and create an additional form of reality.
My work aims to understand and explore this concept through multidisciplinary tools including but not limited to drawings, video, sound and the written word. The importance of storytelling and the many ways in manifests itself plays a key role in this work and there is a strong relationship with the natural world.
Dylan Ryan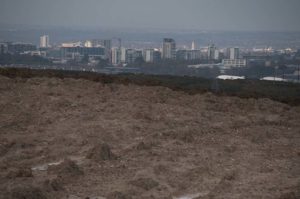 I am working on an ongoing project, which started in January 2017. I am very interested in a building development in my local area. I began documenting the site for the Cherrywood Master Plan, which has been in the planning and design stage since the 1990s. The project is partly informed by my memory of playing on suburban building sites as a child, as they continually extended over the diminishing open grounds, housing my new neighbours. But this time I am playing with a camera. In my photographs, the viewer can see the alteration of the land. Rich with archaeological sites and farm history, it is being transformed into a functional urban landscape. The photographs, depicting machinery, materials and tamed earth, can be dramatic, surreal and sometimes humorous, capturing the beginning of a new New York-style town with its own amenities.
Cherrywood is an example of urban sprawl as the city moves out, taking over rural and farm land with its benign hills and trees, replacing them with buildings, roads, parks. These photographs show the meeting point between concrete and wild countryside, and the shaping and utilisation of land for use by suburban dwellers.
Audrey Walshe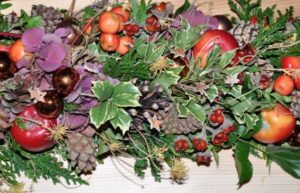 I have an interdisciplinary background and hold a BA Irish Studies (2017).  As a working florist I have an interest in how artists use botanical materials to produce their art in the conventional sense as a form of scientific documentation and conservation of species as well as installation work using organic and natural materials.  I am observing how the tension of working with a deteriorating material is resolved.  My current research interests seek to bring together my academic and practical backgrounds.  I am exploring themes of decay and temporality and investigating how the use of botanical materials as an artist's medium emphasises a state of impermanence. I intend to historically contextualise this artistic research around the Victorian Flower Market in Dublin to comment on its demise.