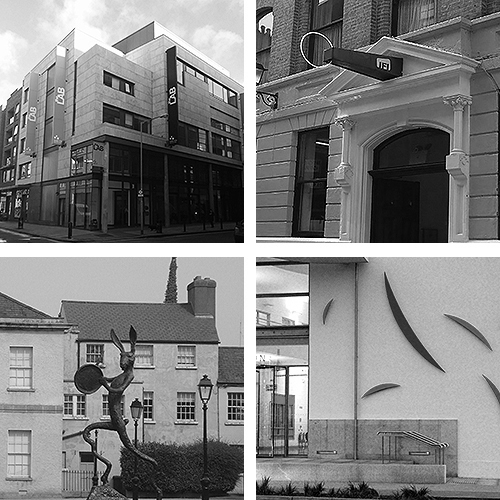 Led by Maeve Connolly and Sinead Hogan, the Art and Research Collaboration (ARC) programme is a full time practical taught masters.
ARC is an 18 Month programme, and students are timetabled one day a week.
Year 1, October – May (Thursdays, 10am-5pm)
Year 2, October – January (Fridays, 10am-1pm)
Programme Fees: EU Fee €6,000 total. €4,000 year 1 and €2,000 year 2
International Fee: €16,000 (total full course)
If you are interested in applying to ARC, please contact maeve.connolly@iadt.ie or postgradadmissions@iadt.ie
All ARC classes are taught in Dublin city centre, either at the LAB on Foley Street in Dublin 1, or in the studios of the Irish Museum of Modern Art, in Kilmainham.
ARC students can, if they wish, use project-based studios, art production facilities and technical training workshops on the main IADT campus. They also benefit from full access to the IADT art studios during the summer months.
The ARC programme is open to artists, critics, curators and those engaging with art in other roles. Students and graduates of the programme have developed projects exploring how art intersects with many different fields of enquiry, including archaeology, architecture, biology, computing, craft, dance, design, education, engineering, environmental science, fashion, fiction, history, geology, philosophy, publishing and theatre.
ARC students are encouraged to install and present their work in a variety of studio, rehearsal and gallery contexts. Students also get professional practice guidance on their Major Project including advice on funding from public and private sources, fabrication, insurance and public liability.
ARC students are regularly invited to present their work to professionals in the art world. Recent visiting artists, critics and curators have included David Beattie, Catalyst Arts, Mary Conlon, Chris Fite-Wassilak, Damien Flood, Jennie Guy, Isobel Harbison, Emma Haugh, Alissa Kleist, Jaki Irvine, Sasha Litvinseva, Peter Maybury, Paul McAree, Maria McKinney, Ciaran Murphy, Gavin Murphy, Nathan O'Donnell, Marguerite O'Molloy, Matt Packer, Livia Paldi, Sue Rainsford, Read That Image, Linda Shevlin, Lucy Steeds (Afterall publications), Kate Strain, Marysia Wieckiewicz-Carroll and Oonagh Young.
The ARC programme is offered by IADT and incoporprates a project partnership with Dublin City Council Arts Office, led by the LAB. ARC regularly devises events and projects in collaboration with other organisations, such as Irish Museum of Modern Art (IMMA). The Dock, Highlanes Gallery, Pallas Projects, PLASTIK Festival, Irish Film Institute (IFI) and Temple Bar Gallery + Studios.
Information on the application process is available on the IADT website https://iadt.ie/courses/art-and-research-collaboration/