Over the coming weeks, second year ARC researchers will present their work in exhibitions, launch events, performances and screenings at many different locations. The ARC website, and our facebook and twitter feeds, will be updated with booking information as soon as it becomes available.
In the meantime, Save the Dates!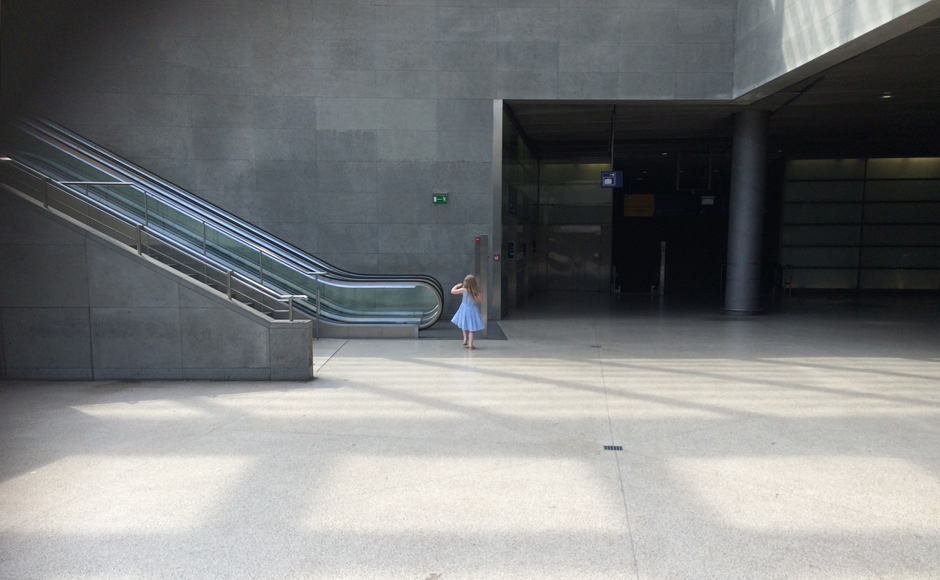 Wednesday 29 March 2017 (screening time to be confirmed)
Venue: Irish Film Institute, Temple Bar, Dublin
Susan Gogan, Potsdamer Platz, film trailer screening
Artist and filmmaker Susan Gogan will present a screening of her unique filmic work, which takes the form of a trailer preceding a feature presentation at the Irish Film Institute, Dublin. Potsdamer Platz imagines an alternative future for the city of Berlin following a massive global financial crash. Its experimental structure pivots around the restaging of a key moment in Berlin's cinematic history, and exposes the precariousness of our global capitalist system. Through the trailer format, Susan invites the cinema audience to participate in creating a new story for the future of Berlin. The associated feature presentation at the Irish Film Institute will be Aquarius (2016) from Brazilian director Kleber Mendonca Filho.
Thursday 30 March 2017, 6:30pm-8:30pm
Venue: The Chocolate Factory, Dublin
Jai Thorn, I sometimes wish I stayed inside my mother, fashion-art launch event.
This fashion-art event on the 30th of March marks the launch of Jai Jai, a new brand by Jai Thorn. Jai Jai responds to the materiality of the human body as one object in a spectrum of living organisms. Using a range of organic materials and fabrics that mimic the human form, Jai Jai art garments are developed in relation to living display structures that represent the human form. In this fashion-art event, choreographed models will be intentionally object-ified as living organisms to display the garments, which are purposefully conceived as gender non-specific.
Thursday 6 April 2017, 7:00pm-8:30pm
Venue: The Darkroom, 32 Brunswick St N, Smithfield, Dublin 8
Eavan Aiken, Behold! The Anchoress
Behold! The Anchoress is a graphical and auditory performance that invites the audience to swim in the layers of translation that stand between the present and the medieval reality of the first known female writer, Julian of Norwich. Julian describes the mystical experience that inspired her to become an anchoress, becoming dead to the world and living in a cell in a church. Radically defying the traditional public advisory role that could only make use of the pre-existing scriptures, Julian wrote and interpreted her own 'shewings', visceral scenes of Christ's Passion, and in so doing became the earliest documented female writer in the English language. Her writings are preserved through manuscripts transcribed by nuns in the 16th century. Dublin filmmaker and artist Eavan Aiken and poet / translator Edwin Kelly will present an audiovisual performance that translates the mystical experience through the acousticity of voice and live drawing. The event will also mark the launch of Kelly's translated pamphlet of Julian's text 'And After This I Saw'.
Friday 7 April 2017, 1:00pm-2:00pm
Venue: Main Bandstand, St Stephens Green Park, Dublin
Debbie Paul, A Question of Communication
A Question of Communication (working title) is a site-specific dynamic performance rooted in place. Curator Debbie Paul in collaboration with artist Ruby Wallis will reimagine the architecture of a public park in order to unearth and gently challenge how people embody the underused space of the bandstand. Acknowledging that we are increasingly disconnected from our physical environment Paul and Wallis will create a situation for spontaneous collective engagement. Examining the question of whether it is possible to cause a shift in how a familiar place can be experienced anew.
Saturday 22 April 2017, 6.30pm (bus departs from Dublin for Drogheda)
Venue: Return journey by bus from Dublin to Drogheda, with CD launch at Clarke's bar and car park, Drogheda.
Aimi Farre, PARK (in collaboration with Dullahan Down and Richie Brennan)
PARK is a sound art event, created in collaboration with sound artist Dullahan Down and videographer/editor Richie Brennan, which evolves in transit from Dublin to Drogheda. It is an investigation into space and time in peripheral spaces that we regularly travel through to reach a different destination. PARK encompasses an auditory bus journey from Dublin to Drogheda, an interactive sound piece, video and audio installations, followed by the launch of a free CD. Tickets for the bus journey are free but places are limited and will require prior booking via Eventbrite (details to be circulated).
April 2017, details to be confirmed
Steven Nestor, A Natural History of Destruction
A Natural History of Destruction references the English title of W G Sebald's Luftkrieg und Literatur (2001) which deals with literature and destruction in Germany at war and in the post war years. Since 2013 Steven Nestor has been both photographing and collecting images and artefacts surrounding the destruction and rebuilding of the historic central Italian monastery of Montecassino and its surrounds. From his examination of its recent history and topography, a publication and single image are being prepared for open submission to events such as Belfast Photo Festival and the RHA Annual Exhibition. Marking an expansion on his practice as a photographer, the single piece, The Sacred Shard, is that of the very spectacle and physical memory of the destruction of the monastery of Montecassino in 1944. The image was made in a traditional darkroom by Nestor from an original large format negative with an embedded recovered shard from the destruction of the monastery, covered in gold leaf.
Thursday 6 July 2017
Venue: Gallery One, Platform Arts, Belfast
Paul Moore, #nonarnia
Curated by Moran Been-noon, Paul Moore will be exhibiting outcomes of his current research work and performance events from his #nonarnia project. The work will include site specific sculptural elements alongside new sound and video work and will conclude with a performance on the closing night. The exhibition will be accompanied with a live online document that will outline the expanding themes and context of the research and project.