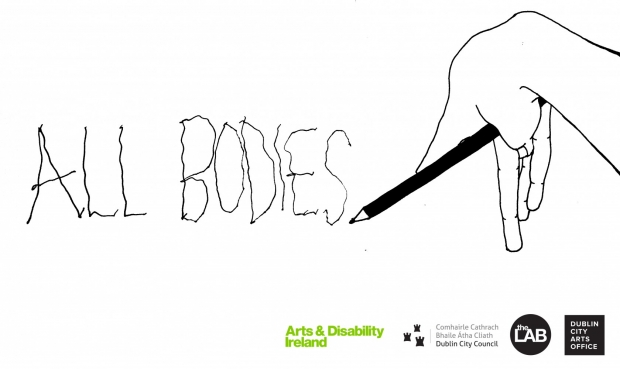 ARC-LAB Curatorial Scholar Roisin Power Hackett has created  ALL BODIES – a new Podcast Launching Friday 18th September Culture Night 2020.
The podcast is available on the LAB Gallery's website and across their social media platforms including Sound Cloud, Instagram + Facebook

Here is a link to the podcast: https://soundcloud.com/dublin-city-council-arts/all-bodies-podcast
A transcript of the podcast is also available: https://roisinphackett.files.wordpress.com/2020/08/all-bodies-podcast-transcript.pdf
Disabled people have bodies that function differently from the socially "normal" body that is accepted and assumed. ALL BODIES is a film and a podcast whose artists and curator have disabilities. The podcast includes artworks and conversations with Banríon's fronts person Róisín Ní Haicéad, poet Philip Kenny and theatre practitioner Mairéad Folan. This podcast aims to examine disability in an insightful and personal way by reflecting on the artists' and curator's experiences of navigating the normative world.
The podcast was produced for Culture Night to accommodate our challenging social landscape due to Covid 19. The LAB Gallery has adapted to these unusual times by bringing culture to you through digital platforms.
ALL BODIES is curated by Róisín Power Hackett, the ARC LAB Gallery Curatorial Scholar. Her area of research is the inclusion in and access to the arts for disabled people/people with disabilities. ALL BODIES is supported by The LAB Gallery and Dublin City Arts Office in partnership with Arts & Disability Ireland.
Further info available here