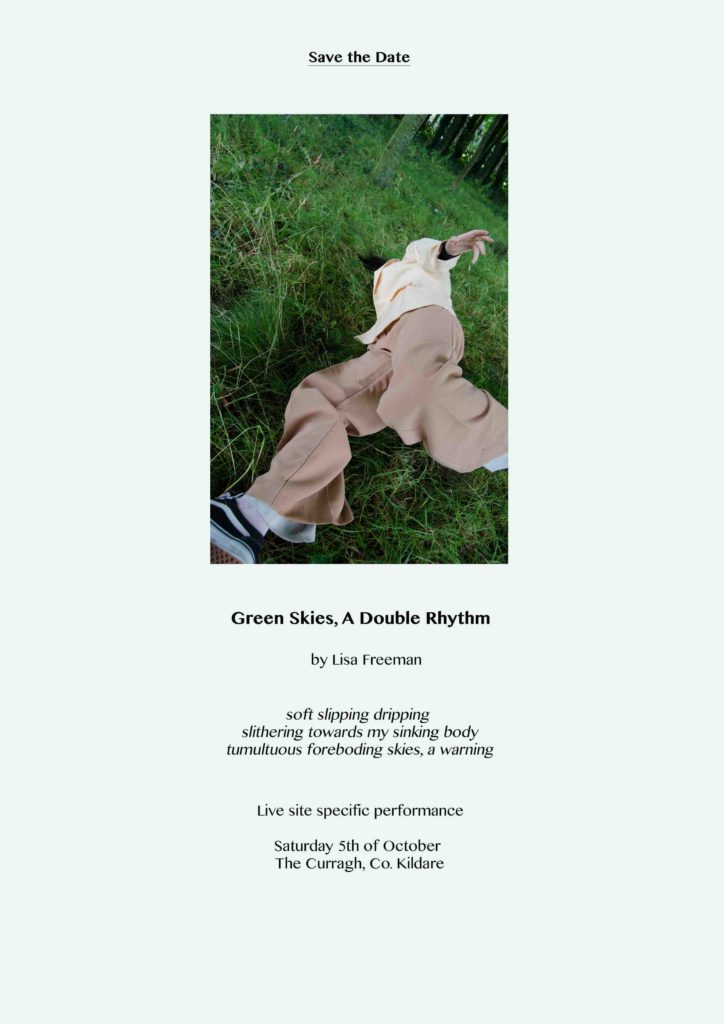 Green Skies, A Double Rhythm is a new provocative site specific performance that looks at the 'Wrens of the Curragh'; a marginalised community of women that lived in gorse bushes outside the army base in Kildare in the 19th Century. These women worked as sex workers and were outcast from society. Their actions and words are documented only through police, court, prison, hospital and workhouse records.
Using the location to contextualise the past and create a discussion around women's rights and societal attitudes towards this subject, Freeman aims to open up new conversations around feminism and politics in Ireland today.
The performance will take place on the Curragh and is approximately 25 minutes in duration. Performers will lead the audience on diverging promenade performances which are centred on a live musical score and scripts that contain moments of improvisation responding to each audience. The audience will witness the unfolding tensions of hidden and coded communications in these groups. This performance is developed in tandem with historian Maria Luddy's writings, notably her book 'Prostitution and Irish Society, 1800-1940' and Freeman's finding's in Newbridge Library's archive. The script is developed from sources including Freeman's own writing, internet forums, history books, and poetry.
Tickets
Tickets are free but booking is essential due to limited capacity.
Tickets will be available from the Riverbank Arts Centre's website from the 2nd of September.
Travel 
From Dublin City Centre a free return bus is provided to and from Riverbank Arts Centre. Further information will be available when booking tickets.
From Riverbank Arts Centre a shuttle bus will bring you to the site of the performance on The Curragh.
Important Information
The bus will leave Dublin City Centre at 12:30 midday and return from Newbridge at 16.30.
There will be a certain amount of waiting time involved on the day due to limited audience numbers being on-site for each performance.
This performance takes place in and around gorse bushes on the Curragh. Please wear appropriate outdoor clothing.
Due to the location of this event it is unsuitable for people with mobility issues.
Lisa Freeman is an artist working across performance, video and installation. Drawing from self help books, archival material, local knowledge and mainstream media, Freeman's projects explore language and how meaning and interpretation can shift when placed in different contexts. A focal point of her practice is working with actors and developing scripts for live performances both within and outside of the gallery
Freeman holds a BA in Fine Art from the Crawford College of Art and Design (2015) and is currently on the MA programme in Art and Research Collaboration with IADT, Dun Laoghaire, Dublin. She is supported by Kildare County Council (May 2019, June 2017, June 2016) and participated in residencies in Barim Arts Centre in South Korea in August 2016 and Venice in conjunction with the International Performance Association in June 2016. Recent exhibitions and performances include;'The Talk that Talks' for RHA and TBG+S' Winter Seminar The Lives of Artists (November 2018), TBC TV, Somerset House, London, (October 2018) 'The Talk that Talks', More Mutable Clouds, Prenzlauer Kunst Kollektiv, Berlin (August 2018), 'Self Defeating Zone', Platform, Draiocht Gallery, Dublin (April 2018), Solas Nua, Dupont Underground, Washington (March 2018), Glitch at Rua Red Gallery, Dublin (May 2017).
People involved
With help from Róisín Bohan (Producer), Sarah Grimes (Musician), Claire Blennerhasset, Emma Finegan, Lauren Kelly, Niamh Murphy, Mary Pat Moloney, Mary Power Cooney (Performers).
Kindly supported by Kildare County Council and Creative Ireland (funders), Institute of Art, Design and Technology, Dun Laoghaire, and Riverbank Arts Centre, Kildare (partner organisations).