ARC year one students presented their practical research in our LAB teaching space on April 20th 2023.
Events include a read-through of scenes from Padraig Sinnott's Video Ape (a sitcom in development), an installation and presentation by Damhin McKeown taking a deep dive into the cultural history of the Swimming Pool, Madeleine Hadd's illustrated introduction to Aphantasia (the absence of mental images) and Emer Wang's retelling of Grimm's Fairytales in colouring book form. Aisling McConville displayed sculptural and photographic work exploring the role of memory in bogland socio-ecological systems. Laura Flood presented experiments with natural dyes and locally sourced fabrics, focusing on sources and lifecycles of industrial waste. Breege Fahy displayed an embroidered costume celebrating vulva pride and Sorcha McNamara created a spatial poem assembled from partial, found and fragmented objects, including ceramic tiles, and plaster beading, responding to the architectural nuances of the room.
Thanks to Sorcha McNamara for event documentation
Breege Fahy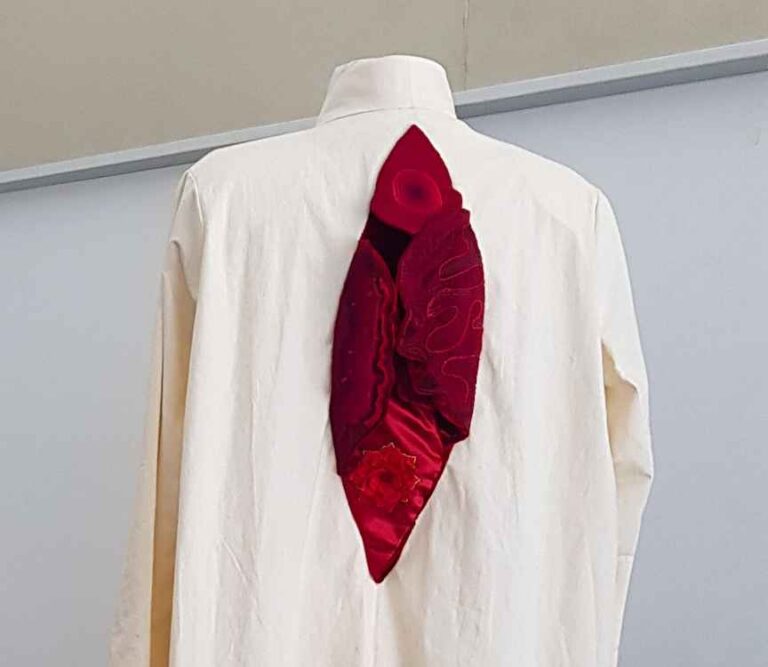 Breege has been a Costume maker for 30 years. Her work explores the symbology of the Vulva and the history of its treatment in life and art as well as symbols historically associated with the feminine. Her project is a celebration of the Vulva, of our selves, our power and Vulva Pride. Needlework is often associated with female relatives and either underpaid or unpaid, therefore unvalued. Her embroidered Vulva is on the back of the costume because so much of the reality of women's bodies and work goes on behind the scenes, unseen. This work will pay homage to the unseen long hours of learning and practicing required for these skills, rather than the knowledge being somehow inherited by gendered magic.
Laura Flood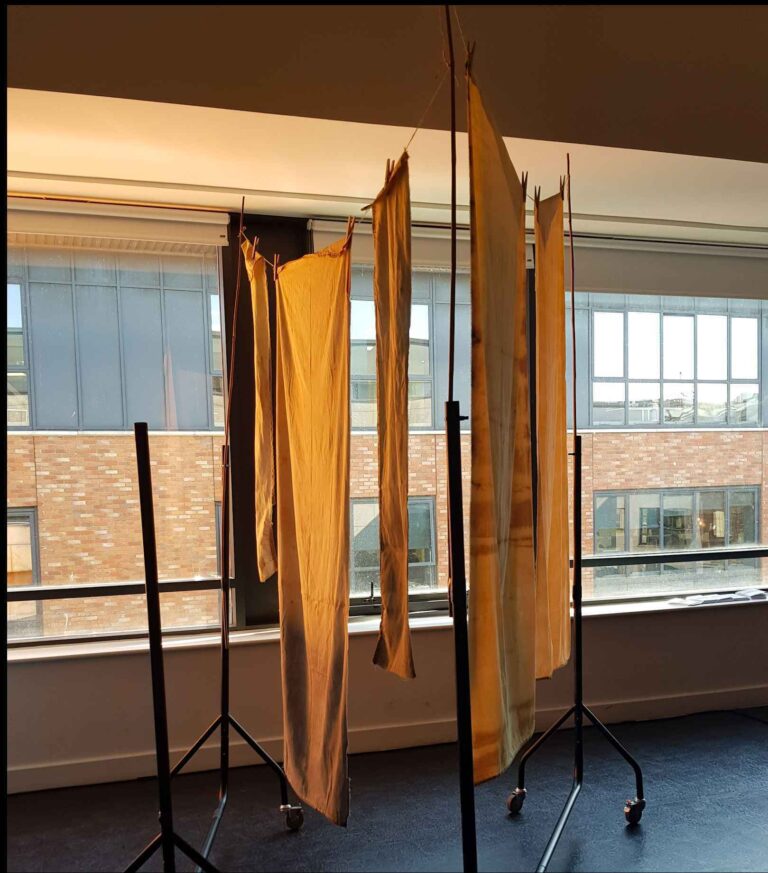 Laura's installation Products of Our Environment is based on her interest in the aesthetics of industrial waste. Second-hand mass-produced fabrics are dyed with the waste of avocados, pomegranates and coffee collected from urban cafes. The practice and theory of permaculture, informed by research on spiritual and indigenous rituals, affect the outcome of her work. Through social engagement in educational settings, Laura has led projects that celebrate local resources within the community. She searches for simple ways for us to be present with, not only the Earth, but our own inner worlds. Explorative photography, video and poetry have been her main mediums, however natural dyes and inks have been a recent area of research.  Laura's desire is to make her materials eco-conscious. In this way, she moves forward amidst a deep societal lack of Eco-literacy and the distancing between us as humans and our environment.
Madeleine Hadd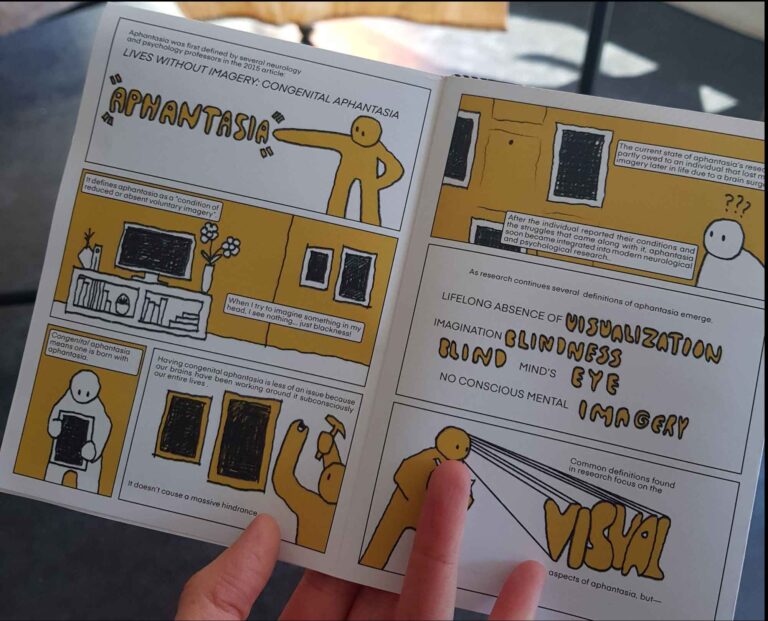 Madeleine's project FARAWAY is a graphic novel that explores aphantasia and dreaming. To most, dreams are seen as fleeting, subjective thoughts. When dreams are your only opportunity to connect your imagination with images, they take on a new role and provide a unique solace to waking life. Aphantasia is often defined as a form of imagery blindness, however the imagination's visual sense is not the only sense obstructed by aphantasia. Auditory (sound), tactile (touch), gustatory (taste), olfactory (smell) and even vestibular (movement) senses all play a part in the way aphantasia affects an individual. While her research is focused on aphantasia and dreaming, the novel will be a fictional narrative and will not delve too deeply into aphantasia as a research topic. For that reason, she will be giving a short presentation about aphantasia paired with a short informational zine/comic. The zine will provide a unique insight into aphantasia and what it means to be an artist with no visual imagination.
Aisling McConville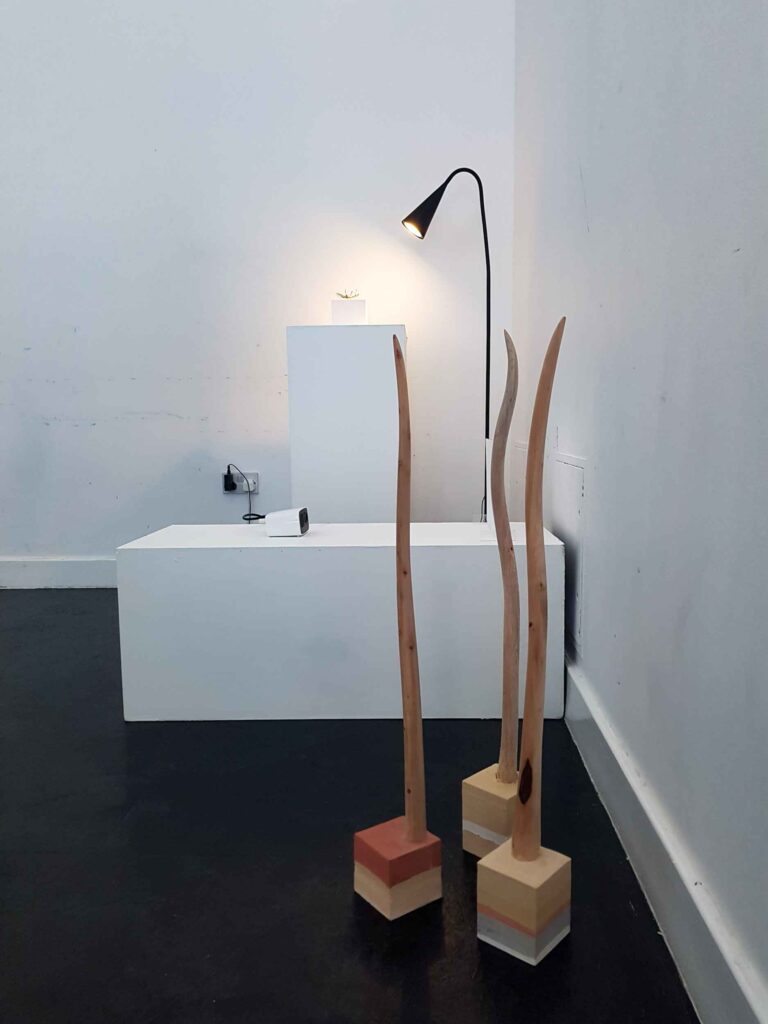 In Collective Narratives of the Living and Imagined Aisling seeks to explore relationships between memory, time and socio-ecological systems. Having grown up in the North through the Troubles and lived in Indonesia and then Peru, Aisling's memory is embedded in the land. She interprets striated and stratified geographical formations as physicalities of eroded and deposited memory over time. Supported by the National Parks and Wildlife Service, Aisling currently researches at Carriggower bog (Special Area of Conservation) in Wicklow, where she interprets the quaking bog's rich and otherworldly ecosystems. Her explorations of the bog's exaggerated forms negotiate ambiguities of the living and the imagined, and she questions how these forms might function as mnemonic tools for remembering the future.
Sorcha McNamara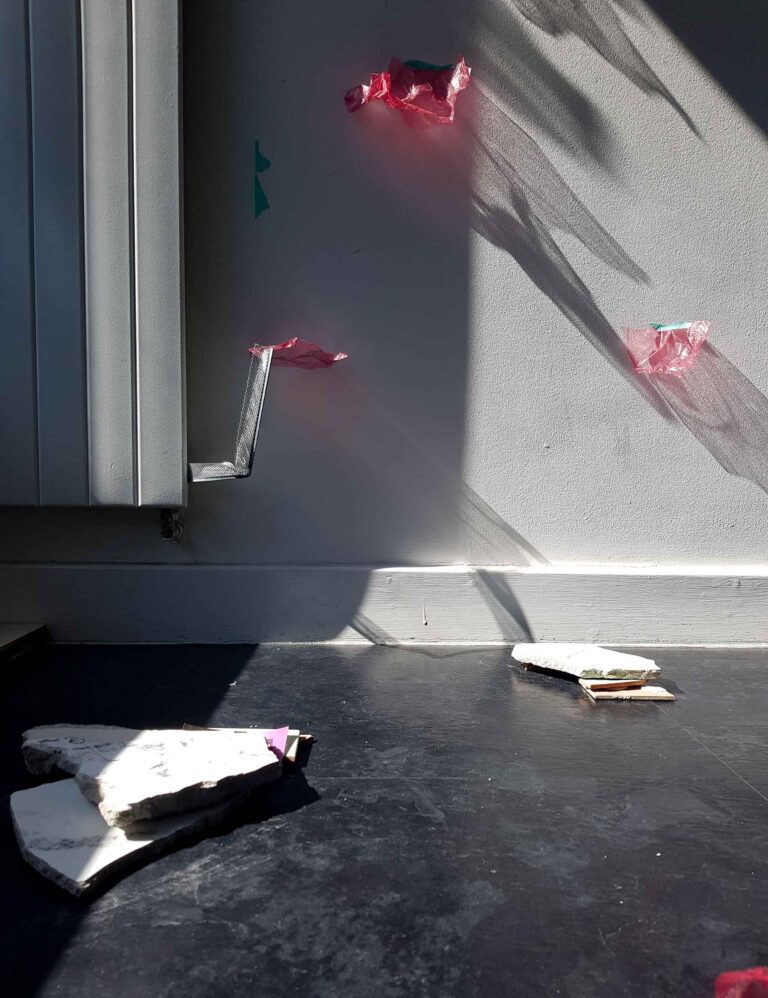 Sorcha McNamara's research project, Rigid-Body Dynamics, explores the thresholds found in everyday perception, working within deconstructive methods of painting, gestural abstraction, and site-responsive drawing with objects, space and light. For this iteration, a fragmented installation responds to a found ingression into the fabric of the Lab building.
Her highly process-based methodology actively seeks out the discarded: in the form of found objects or salvaged, unwanted debris, often taken out of context from industrial, urban and household environments. She selects material based on its immediacy, feltness, ambiguity, and inherent haptic or sensual qualities. Sorcha develops her pieces from a system of observations – of lines, shapes, colours, and textures – brought about initially as a lyrical gathering of material in the studio. The work exists in a frequent dialogue with the space it is positioned in, arranged and improvised anew by the artist in any given context. She utilises painting – in its loosest, most abstracted sense – as a way of drawing attention towards a radically heightened consciousness, albeit one existing constantly on the borders, within the unnoticed and the overlooked.
Dámhín McKeown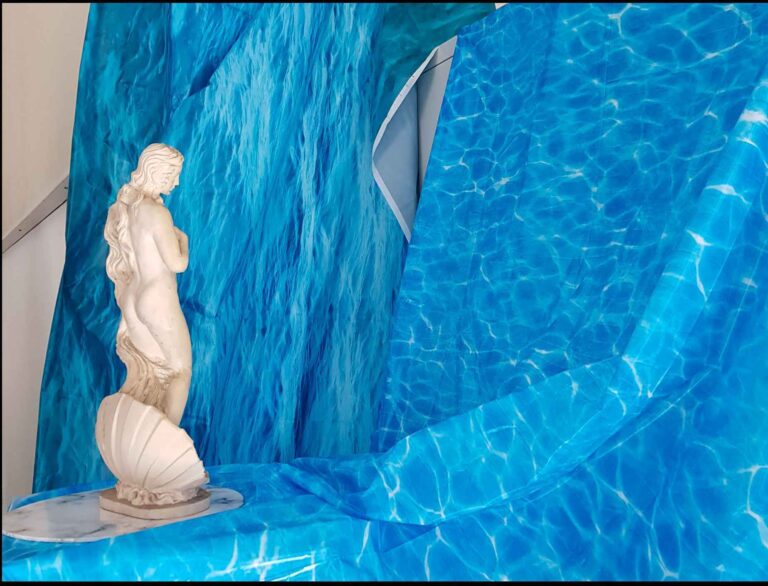 Diving deep in Shallow Water is an exploration of the cultural legacy of The Swimming Pool, examining its history as soft-power, from ancient Rome to Jim Crow. The project explores the politics of the pool through a combination of presentation and installation. The work presents the history of The Swimming Pool as a symbol of control and dominance through the control of water resources, the promotion of aspirational luxury, social cleanliness, and its role as a mimetic example of hyperreality. The audience is invited to reflect on the intersection of art and amenity and question how swimming pools shape our understanding of the world around us.
Padraig Sinnott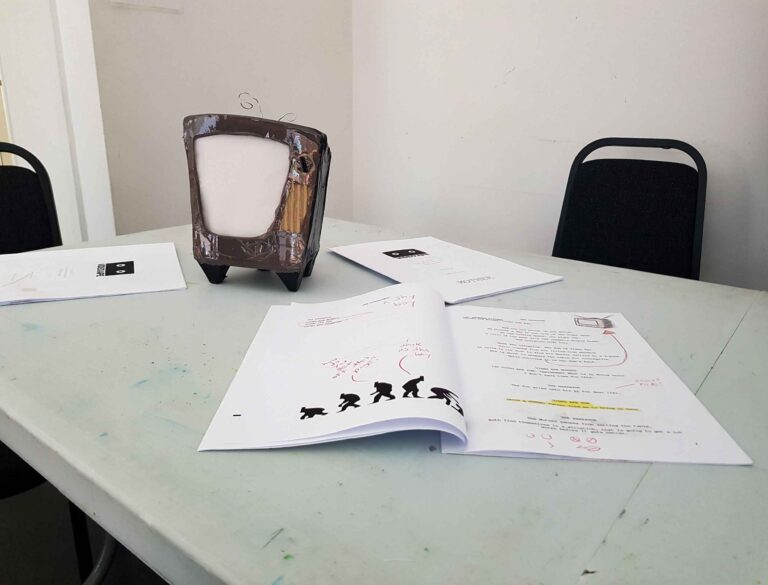 Padraig is facing into the challenge of sitcom production. In his sitcom, Video Ape attempts to reclaim the coping machine (which can be used to control time) from the feuding family members to escape the endless loop of his life. His work will mock and honour the dying breed of the sitcom format. Padraig and his classmates will take part in performing a read-through of a scene from his sitcom script. The plot follows the daily lives of the Video Apes and their eating habits and terrible table manners.
Emer Wang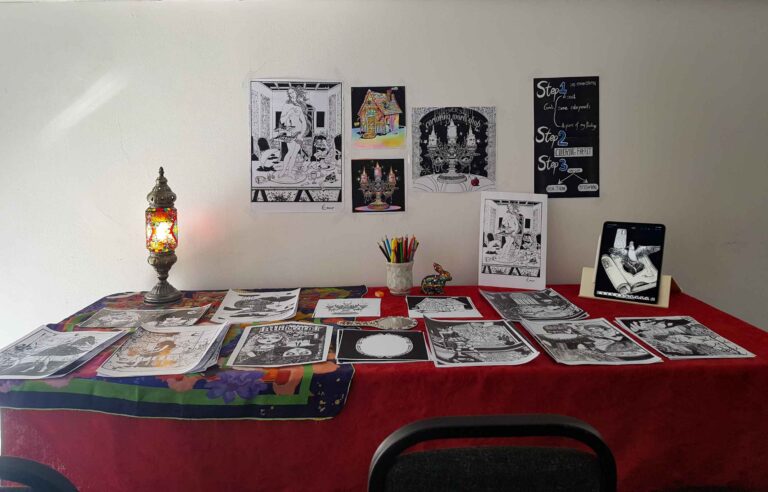 People always regard the word fairy-tale as a synonym for innocence and beauty. It always gives people a yearning for a utopian world, where the perfect ending is always realized, isn't it? But on the back of the fairy-tale, the calm water is full of turbulent undercurrents, just like magnetic poles have opposing forces, positive and negative. Beneath the beautiful surface lies a dirty and terrible truth. My work is to show the dark side of fairy-tales, I draw twisted black outlines, and you fill in the colours.