Congratulations to ARC grad Lucy Peters on winning the RHS Graduate Studio Award at the RDS Visual Art Awards 2022!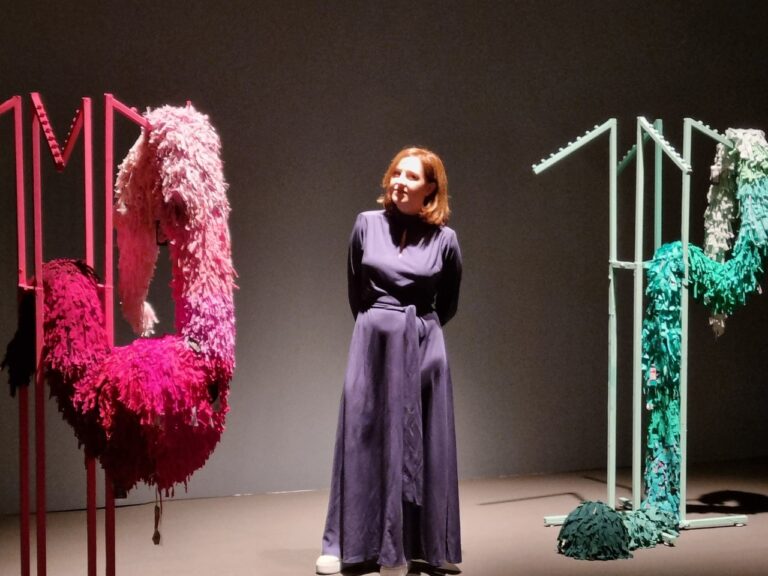 Information on all five prizewinners can be found at the RDS website.
The RDS Visual Art Awards is the most important platform for visual art graduates in Ireland. It provides a curated exhibition opportunity and a significant prize fund of over €30,000, as well as vital exposure for emerging visual artists as they move into early professional practice. The 2022 RDS Visual Art Awards exhibition takes place in the RDS Concert Hall from October 21-29. The opening hours are 10.30am-5.30pm (last entry 5pm). The exhibition is free entry and no booking is required.
Lucy Peters graduated from the Institute of Art, Design and Technology, Dun Laoghaire, Dublin, this year with a Masters in Art and Research Collaboration. She completed her undergraduate BA in Fine Art at Limerick Institute of Technology. Lucy has a background in the fashion industry. She has become increasingly concerned with the vast volumes of mass-produced clothes that are casually consumed and thrown away. Her exploration of over consumption has encompassed research into the practices of fashion retailers, including those that are closing down, as well as the strategies that have been developed by charities to manage huge warehouses full of discarded, and ultimately worthless, fast fashion clothing.
'Making It Laaaast' is informed by research into production and consumption practices, and the physical architecture of fashion retail display. It is a series of soft sculptures made from fast fashion garments. These garments are shredded down and woven to form large sculptural pieces. All material used in Lucy's work is found, recycled or donated. A slow process is used when building this work. This deliberate action contrasts with the speed at which the garment was originally made. Material used to build the sculpture is grouped together by colour, oranges with oranges, pinks with pinks, greens with greens. When building the piece, the colour of the sculpture graduates into the next colour slowly. This references methods used in the fabric factories of Prato, Italy, when breaking down the garments ready to be recycled.
The history of each garment is shown whenever possible by, for example, showing buttons, labels, holes, seams, loose threads, zips or any hidden mechanics a garment might hide. These elements reveal more about where the garment is from and the properties that make it. The support structures or retail fixtures and the bright colours reference vibrant visual tactics used by retailers to attract shoppers.