Over the coming weeks, second year ARC researchers will present their work in exhibitions, events and podcasts, across a range of contexts and venues. See below for booking links and check ARC Instagram and Twitter for updates!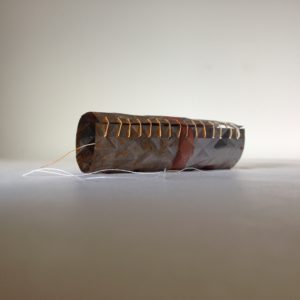 Foreign Body
Judy Foley
Opening: Thursday 14 March 2019, 6pm to 8pm.
Exhibition Continues Friday 15 March – Thursday 28 March 2019
Venue: O'Reilly Institute, Trinity College Dublin, open 9am to 5pm, Monday to Friday
Consider the medical implant, a device developed to reside within the human body for the purpose of extending and enhancing life. Now consider that this sophisticated and often tiny piece of technology might actually be crafted by hand in a highly skilled and laborious process. Such is the case with the prosthetic heart valve which is painstakingly hand stitched in a process taking two to three days to complete a single valve. The very technology used to fundamentally alter and transcend the human condition relies on the ancient craft of hand sewing for its manufacture.
Foreign Body is an exhibition by artist Judy Foley that explores the high-tech medical implant as a handcrafted object. The exhibition will be opened by Anne Mullee, curator of The Courthouse Gallery and Studios, Ennistymon, Co. Clare, and will include a guest talk by Bruce Murphy, Assoc. Prof in Biomechanical Engineering, Trinity College Dublin. A handout will accompany the exhibition, designed by writer and artist Eoghan McIntyre and featuring a conversation between Anne Mullee and Judy Foley.
This exhibition has been informed and enabled through interdisciplinary collaboration within the team of Bruce Murphy, Assoc. Prof in Biomechanical Engineering, and funded investigator at AMBER, the Science Foundation Ireland Research Centre for Advanced Materials and BioEngineering, at Trinity College Dublin, where Judy is currently an artist-in-residence. The exhibition is part funded by the Trinity College Dublin Fund for the Visual and Performing Arts.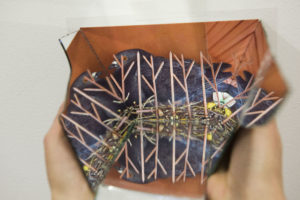 Paradise Is Too Far
Martina Coyle
Opening: Friday 29 March 2019, 7.30-9pm
Exhibition continues Saturday 30 March – 1 May 2019
Venue: Arais Inis Gluaire, Belmullet, County Mayo.
Paradise Is Too Far is a solo exhibition of current work by Martina Coyle, which explores the control of wildlife and the universal instinct to seek shelter. The initial impetus to research and develop this work came from seeing a photo on the internet of a tree covered with anti-bird spikes. These devices are widespread in urban landscapes and are often deemed acceptable when placed on buildings. However, an anti-bird spike on a tree is a different matter. This work questions the human desire to control how birds access spaces to nest or rest.
Martina Coyle is a Westmeath-based multi-disciplinary artist whose practice is made up of three inter-related strands; studio-based artwork/ installation, public artwork and art facilitation. Martina has exhibited extensively in Ireland and France. Her many commissioned public artworks, which range from permanent to ephemeral, includes collaborative and residential public projects in various locations around Ireland.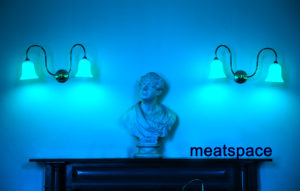 meatspace
Becks Butler, Astrid Newman, Ciara Roche
Exhibition open for one night only: Thursday 4 April 2019, 6:30 – 8:30pm, with performance at 7.30pm
Royal Irish Academy, Dawson St., Dublin.
meatspace is an exhibition that ends almost immediately after it starts. Taking place in the Royal Irish Academy on Dawson St, you'll have exactly two hours to catch a glimpse of what could be loosely described as a combination of compatible and conflicting narratives that are partially resolved but continue to evolve. Bringing together the research of Becks Butler, Astrid Newman and Ciara Roche, the show explores human behaviour within shifting environments, questioning modes of adaptation.
Becks Butler is a lens-based artist and curator. She exhibited her solo show 'Pushing Boundaries' at illuminations in 2017 and has presented work in various group shows. Her collections have been purchased by the Royal Irish Academy and various private collectors. Becks recently curated Vera Ryklova's  'Aesthetic Distance' at Triskel Arts Centre. Astrid Newman is a performance and video artist, she has exhibited and performed in numerous spaces in Japan, Britain and Ireland. She is currently a curatorial research assistant at The Lab Gallery, Dublin and is co-founder of conch.fyi an online platform publishing weekly artist interviews. Ciara Roche is a painter. She has shown extensively in group shows throughout Ireland with a solo show in Lismore Castle Arts in 2016. Her work is in many public and private collections throughout Ireland, Britain, USA and China. Together the three artists are recipients of the 2019 Wexford M11 percent for art commission.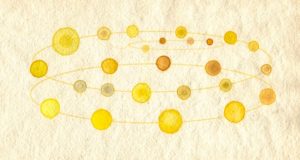 gharlands & wolves: parables in yellow 
Andrea Neill
A podcast series, which goes live on Soundcloud from Thursday 11 April 2019, 5pm.
gharlands & wolves: parables in yellow are episodes of rapt moments, with the temporality of a concentrated gaze; a brief loss of self to the here and now of an artwork recounted, where bodily sensory perception might oscillate in the hovering suspension of the imagination. These episodes are suggestions to the listener, an emotional demand.  The perceptual framing of gharlands & wolves relies on the promise of storytelling suffused with sensuality and the vile, a conduit through yellow. Promises are of primrose, sherbet fizz, soft lemon satiny silk. Blonde tones of naples yellow, pale ochre creamy flesh tones gush smooth, shaded pink from raw to burnt umber shadow.
gharlands & wolves: parables in yellow are recorded for podcast to be released on Soundcloud, conceived and written by Andrea Neill, produced by Ana Carolina Vitória.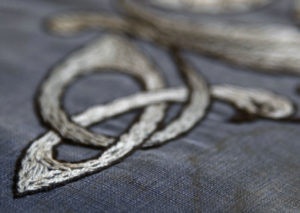 Silken Inke
Meghan McLachlan
Kamera 8, Rowe Street, Wexford Town
Exhibition opens on Tuesday 16 April 2019, 6-8pm
Exhibition continues 17 April – 29 April 2019
This exhibition is a response to a specific historical object, a silk embroidered collar, which was hand woven by Elizabeth and Lily Yeats and worn by Countess Markievicz circa 1920. The collar has been borrowed from the Wexford County Archive and it will be placed on view in the gallery for the opening night only, and then returned to its permanent storage. The silk floss threads of the collar, hand stitched in a Celtic knot work design, are explored in a series of large painted Cyanotype prints, displayed on the gallery walls. Inspired by the obscured history of the Yeats sisters, these Cyanotypes are made using the light of the full moon.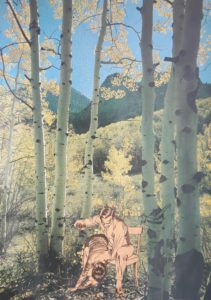 The Probable Causes of Future Experience 
Yvonne Higgins
Date: Opens Thursday 25 April 2019 6.30-9pm
Exhibition continues Friday 26 April – Wednesday 1 May 2019
Venue: The Darkroom, 32 North Brunswick St., Stoneybatter, Dublin 7
Artist Conversation: Wednesday 1st May, 6pm, The Darkroom, Yvonne Higgins will be joined in conversation with Beth O'Halloran, artist, writer and educator, in a discussion of the research that led to the exhibition.
Through paper collage works, photographs, sound and installation, The Probable Causes of Future Experi- ence takes the viewer on a surreal trip to an imaginary world where the actions being carried out are un- clear and at times unsettling.
The Probable Causes of Future Experience is an exploration of what it is to experience the world from a child's perspective. Artist, Yvonne Higgins, has used materials drawn from instructional manuals, illustrat- ed encyclopaedias, family health guides, books about wildlife and the natural world, to investigate the power dynamic between adult and child and the shifting boundaries between adulthood and childhood.
The book, titled Between Four Walls, has been published for the exhibition by Onslaught Press. It is an extension of the research through collaboration with an invited panel of international poets who have re- sponded to the collage works and photographs. It is prefaced by an essay on representing childhood by historian Dr Mathew Staunton and Ian Joyce.