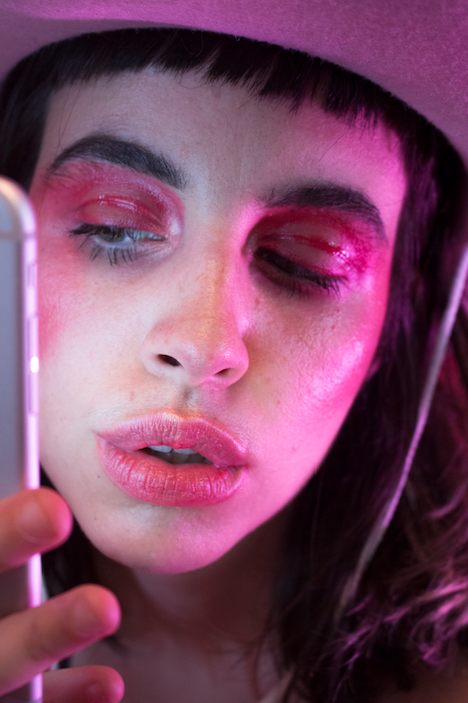 Molly Soda, WRU?2016, C-Type print on aluminium, 42.7 x 64.4 cm, (16 13/16 x 25 in), Unique, (MSod033.16)
ARC is contributing to an exciting programme of public talks developed in collaboration with Sophie Byrne, project curator of the digital_self exhibition, IMMA Project Spaces, 1 December 2017 – 25 February 2018.
digital_self, which features works by Johann Arens, E.A.T.: Julie Martin & Billy Kluver, Jonathan Mayhew, Eilis McDonald, Jayson Musson, Theresa Nanigian, and Amalia Ulman, explores how digital technologies are impacting daily life and shaping new understandings of the self.
All of these events are free, and booking is advised (see links below).
Tuesday 30 January 2018 / 6pm / Lecture Room
To be a Machine / IMMA & IADT: ARC Talk by author, blogger Mark O'Connell.
Author Mark O'Connell draws on his acclaimed publication, To be a Machine (2016) to discuss our desires, delusions and use of technology to alter the human condition to escape mortality and our biological lives. To be a Machine explores the philosophical and scientific roots of transhumanism; a movement that believes we can and should use technology to control the future evolution of our species, to enable us to live, perhaps, forever. The transhumanism movement campaigns for the direct incorporation of technology into our bodies and minds, and strives to remove ageing as a cause of death. But what does this mean for human consciousness and an embodied sense of self? These are just some of the fascinating and critical questions that O'Connell's book invites us to explore about possible futures of technology. Further details and booking here
Thursday 1 February 2018 / 1pm / Project Spaces
Actors, Performing Bodies and the Matter of Storage / IMMA & IADT: ARC Lecture by Dr Maeve Connolly
The lecture focuses on artworks that suggest material manifestations of acting or performing bodies, and combine sculptural media with technologies such as digital 3D modelling or animatronics to propose new understandings of the human body as a medium of storage. Further information and booking here
Thursday 15 February 2018 / 1pm / Project Spaces
Authenticity and the theatre of Self / IMMA & IADT: ARC Lecture by Dr Sinead Hogan
Focusing on notions of authenticity and 'the fake', this lecture looks at how differing senses of self and subjectivity effect how we might think and engage with the world. Further information and booking here
Further information on the exhibition, and a full list of all public talks and events accompanying digital_self can be found here.